They say you can't go home again … but we want to help you try! Join us for a weekend of remembering, reminiscing and reliving your college days, no matter which school you called "home."
DDD B&B Girls' Weekend
July 15-17
At the Tri Delta House at Florida State University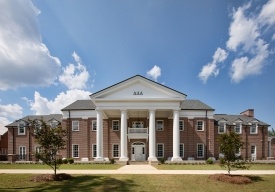 What to Expect
Enjoy a 2-night, 3-day stay at the Alpha Eta chapter house at Florida State. Rebuilt in fall 2019, the house features updated modern amenities, beautiful décor and plenty of space for sisterhood.
Kick-off the weekend with a house tour and make plans for Friday evening with your sisters to hit your favorite spot in town.
Join us Saturday morning for brunch in the dining room.
Saturday's schedule is wide open—that is, until late-night snacks are served back at the house!
Sunday concludes with milestone ceremonies for Tri Deltas celebrating 10, 25 or 50 years of membership.
Best of all, just $333 covers your entire weekend stay, brunch and snacks included. Don't miss out on the fun! Make your reservation today. Questions? Email alumnae@trideltaeo.org.