While we can't quite send you all back in time to your collegiate days, we can help you go home again!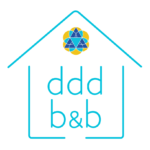 Introduced in 2022, DDD B&B offers the ultimate Deltas-only weekend! It's an opportunity to plan a weekend trip with your new member class, a getaway with sisters, a super extraordinary alumnae chapter event or a solo retreat with "bed and breakfast" style accommodations at a Tri Delta chapter house. Whomever you go with or however you plan the trip, it's sure to be a memorable weekend to re-engage with Tri Delta—and to (re)experience the once-in-a-lifetime fun of living in a Tri Delta home!
"It was just the fuel I needed to reignite my undeniable Tri Delta spirit."

—Niky Correia Hinton, South Florida, guest at DDD B&B 2022 at the Alpha Eta house at Florida State
Stay With Us This Summer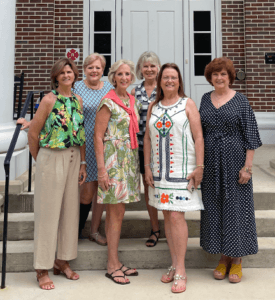 Whether there's a DDD B&B weekend planned at your chapter house or you're looking to explore one close to home, we know you will love the chance to spend time with your sisters, see the beautiful places our collegiate members call home and make new memories.
Information about summer 2024 DDD B&B locations is coming soon!
FAQs
If you don't see your question answered below, please email Beth Cline, Senior Director for Alumnae Engagement, at dddbb@trideltaeo.org.
What is included in my weekend? 
During your DDD B&B weekend, you'll enjoy:
Select meals: Friday early evening appetizer reception, Saturday brunch, Saturday late night snacks and Sunday morning continental breakfast
Twin bed space: You'll share a room with one or two other sisters (depending on the facility setup), including possible bunkbeds.
Free time to relive your college days: Visit your favorite hangout spots, walk around campus and check out what's new on Greek row. If this wasn't your campus—happy exploring!
The chance to revisit living in a chapter house along with the opportunity of a lifetime to make new memories there
Onsite staff to answer questions and assist in facilitating the weekend's events
What is the cancellation/refund policy? 
We understand sometimes cancellations happen. You may cancel your reservation up to 1 month in advance of your arrival date for a 50% refund. Please contact Beth Cline, Senior Director for Alumnae Engagement, at dddbb@trideltaeo.org with any questions regarding your cancellation.
What is the schedule for the weekend? 
We've arranged organized activities with unscheduled free time for a balanced weekend. Below is what you can expect daily:
Friday
Check in after 2 p.m. (If you need to make special arrangements, please contact Beth Cline, Senior Director of Alumnae Engagement, at dddbb@trideltaeo.org.)
Kick off the weekend with an early evening house tour and appetizer reception.
The rest of the evening you'll be on your own with your sisters to hit your favorite spot in town or explore new ones.
Saturday
Join the whole group for a bed and breakfast-style brunch in the dining room, where we'll also celebrate membership milestones for Tri Deltas celebrating 10, 25 or 50 years of membership.
After brunch, Saturday's schedule is wide open!
Low-key late-night snacks will be available back at the house while you relax, play games, reminisce and so much more!
Sunday
Enjoy a quick and easy continental breakfast before you head home!
Check out no later than noon.
What types of activities are available for us to do throughout the weekend?  
We suggest a Google search of the city and campus for location-specific activities. Below is a list of fun things to do regardless of location:
Schedule a campus tour
Schedule spa appointments
Visit your favorite college hangout spots
Take in the local scenes
Exercise together at a yoga studio or Pilates studio or take a walk/hike
Relax and unwind at the chapter house
How do I know who is attending my DDD B&B event weekend?  
It's nice to know who will be sharing this experience with you. We will share a list of participants prior to arrival.
What things do I need to bring for the weekend? 
The items below are necessary for your stay as they are not provided:
Your own bedding (twin flat and fitted sheet and blanket)
Pillow
Towels
Toiletries: Soap, shampoo, razor, hair dryer, etc.
To add to your comfort, we suggest:
Robe
Flip flops
Shower caddy
Socks or slippers to keep your feet warm
Water bottle
If I'm flying in for my DDD B&B event weekend. Is there anything special I should know? 
The following are the closest airports for each DDD B&B event weekend:
Cincinnati – Cincinnati/Northern Kentucky International Airport (CVG)
Kansas – Kansas City International Airport (MCI)
For transportation to the chapter house, use your favorite ride-share company or make plans for a chapter sister who is driving in to pick you up.
What are the sleeping & bathroom arrangements? 
Depending on the facility, you may be sharing a room with one or two sisters. However, no roommate assignments will be made before the event and you will get to choose those when you arrive. Additionally, some of our facilities have rooms with bunkbeds.
Depending on the facility, you may be sharing a bathroom with a neighboring room and/or using one or two common bathrooms with everyone on the floor.
What special accommodations are available to guests during a DDD B&B event? 
We will do our very best to accommodate dietary restrictions and individual needs for events where food is provided. Attendees are encouraged to list dietary restrictions (such as allergies) on the registration form.
Not all DDD B&B locations are wheelchair accessible. Accessibility is outlined by location below:

The University of Cincinnati facility is ADA compliant.
University of Kansas attendees will need to navigate a maximum of six stairs to reach the closest residential room. There is not an elevator.
I am participating in the milestone ceremonies. How can I purchase my milestone pin?  
Click here to visit Herff Jones to purchase your milestone jewelry.