On Jan. 14, 2018, Alice Rossiter Lewis, Pennsylvania, had the opportunity of a lifetime. She pitched her business, Alice's Table, on ABC's "Shark Tank" to five successful entrepreneurs and potential investors: Mark Cuban, Daymond John, Kevin O'Leary, Lori Greiner, and Tri Delta alumna Sara Blakely, Florida State.
The concept of Alice's Table is simple: It provides women (event execs) with all the tools and knowledge they need to set up and host their own flower arranging classes, giving budding entrepreneurs the avenue to be their own boss.
Alice first got the idea for Alice's Table a few years ago when she felt inspired to create more opportunities for women. "I started it with the idea that there are so many women looking for flexible opportunities and ways to make money. It could be because they stepped out of the workforce when they had kids, or they could be a millennial looking for a side job."
It should come as no surprise that Alice decided to start a business that would support other entrepreneurs – both of her parents are entrepreneurs, so it seemed a natural fit. With a background in art, Alice initially started her career in a tech start-up. But when the idea for her business hit her, Alice knew it was too good an opportunity to pass up.
Alice's Table provides all the training, supplies and in-house support for their event execs, so they can focus their creative energy on hosting their flower arranging classes.
The classes themselves are a fun way for attendees to meet people, learn a new skill and create their own beautiful flower arrangement that they can then take home. These events can range from charity fundraisers, bridal showers, birthday parties, a girls' night out, or anything else you can dream up.
"The best part of our events is that they're always different," says Alice.
In addition, a staple of Alice's Table is the sense of community it creates for women —it's something that's very important for Alice.
"I joined Tri Delta at the University of Pennsylvania, and the biggest takeaway was the importance of community," she says. "Tri Delta does a great job building a community, building a group of women that are like your family; it's the group you always go back to and you know is always there for you."
When Alice began building Alice's Table, it was this sense of community that Tri Delta instilled that she wanted to replicate with her event execs. "Some of the pieces and parts I learned translated into the type of community we're trying to build and are building for our execs —they are kind of a sorority group of women. They are all working hard for the same mission but have a community that understands what they're going through at any juncture —just like Tri Delta did for me."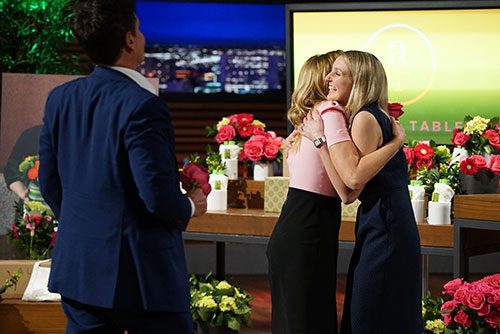 Currently, more than 200 women have started their businesses with Alice's Table across the U.S., and by the end of her "Shark Tank" appearance on Jan. 14, Alice had brought both Mark Cuban and her own Tri Delta sister and SPANX creator Sara Blakely on board as investors.
"It was such an exhilarating experience," says Alice of appearing on the show. "It was exciting to be able to go and pitch and to have the opportunity to have the most incredible investors on board. I was really excited about Sara Blakely's involvement. She exemplifies female entrepreneurship and is such an incredible success story in how your hard work can really pay off. She understood the business as a way to help other female entrepreneurs be successful."
The success from "Shark Tank" has shone the spotlight on Alice's Table in other ways. In February, Alice made a guest appearance on "Live with Kelly and Ryan" where she demonstrated flower arranging, and Good Housekeeping named Alice's Table the number one experience to gift.
But even amidst her current success, Alice is already looking for ways to expand her business model.
"Flexible career opportunities is something so many want, but to do that in isolation is nearly impossible," says Alice. "It takes a group of women to give you the confidence to start your own business and to build something. To create a community that does that is so important to me. It's the foundation of success."