In the heart of the Greek system at Illinois State University is the story of the Tri Delta's Beta Omicron Chapter. This smaller chapter with huge potential has had an amazing journey. They have experienced great success and, thanks to remarkable renovations to their home over the last few years, helped to start a trend that elevated the entire campus!
Leading the Way
An aging structure with small rooms, worn flooring and outdated fixtures and furniture made life difficult for members. Recruitment was a challenge and participation at the house for sisterhood activities suffered. Recognizing these challenges as opportunities, Alumna Advisor Kelly Reigle Scarfe, Southeast Missouri, led the way in exploring options to address them. With a deep passion for Tri Delta and a strong desire to create a home that embodies the spirit of Tri Delta, Kelly learned all she could about housing. She felt it was important to explore ways to invest in the physical space that serves as the foundation for the chapter.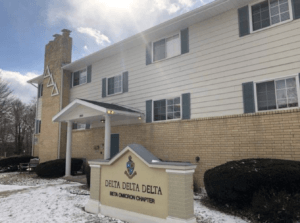 With help from Tri Delta's Executive Office staff members, Kelly and the chapter were guided through the process of partnering with Tri Delta Housing. The chapter made an informed decision and decided for their circumstances it was best to transition ownership and management to Tri Delta Housing.
The chapter worked diligently to ensure a smooth process. During the first summer of projects, Tri Delta Housing engaged alumnae and volunteers to assist with planning and renovations. Initial and noticeable renovations included the exterior, downstairs bathrooms, a new chimney and new flooring in the basement.
By the time the doors opened again that August, the chapter was greeted with a transformed space. These renovations have been essential in the chapter consistently filling the house to capacity as well as improved recruitment and retention.
Committed to Our Members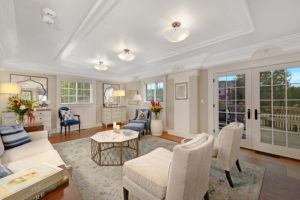 The Beta Omicron house became a catalyst for change, inspiring other organizations on Illinois State's campus to invest in their housing facilities. As other organizations followed suit, the campus as a whole benefited from a renewed sense of pride and a commitment to providing exceptional housing experiences for their members.
Kelly shared that Tri Delta Housing "has a high level of attention to detail, whether it be selecting vendors or food services, or ensuring the house is equipped with updated security features and modern amenities like new washers and dryers. The commitment to regular maintenance and improvements is evident. They're always looking ahead to see what they can do next to elevate the living experience for our members."
For Beta Omicron chapter, this journey was not only about the physical transformation but also about creating a safe and quality space for members—a place that would be well-maintained and provide reassurance to collegians, advisors, alumnae and collegians' family members alike.
"The smaller chapters often have misconceptions that they don't receive as much support as larger schools. However, Beta Omicron has witnessed firsthand that Tri Delta Housing dedicates equal attention and resources to all chapters, regardless of their size," said Kelly.
Each Chapter and its Needs are Unique
If you want to talk with Tri Delta Housing to see what they can do for your home and chapter, reach out to housing@trideltaeo.org .