Each month, Tri Delta publishes In Memoriam, highlighting the lives of some of our Distinguished Deltas and longtime volunteers and sharing a full list of sisters who have recently passed away. Below is the In Memoriam for August 2021.
Past Fraternity President Jeanne Johnston Phillips, Southern Methodist
It is with great sadness that Tri Delta shares the loss of a beloved sister, leader and past Fraternity President, Jeanne Johnston Phillips, Southern Methodist, on Sept. 25. Jeanne was initiated into Theta Kappa Chapter in 1942.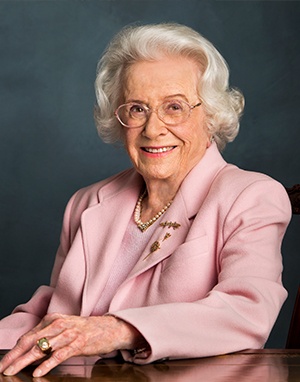 During her time at SMU, she was very involved in Tri Delta and campus organizations. She was rush chair (now called vice president of membership experience) during her sophomore year and became collegiate chapter president her senior year.
Her campus involvement included treasurer of the freshman class, president of the geography club, Panhellenic delegate, and a member of Phi Lambda Theta and Kappa Delta Pi.
Jeanne's love for school and SMU never ended even after graduating in 1945 with a Bachelor of Arts in geography. She went on to receive a master's in geography in 1953. She also taught geography at SMU and was chairman of SMU Sororities Council.
After graduating, Jeanne's involvement with Tri Delta grew even more. Her volunteer roles included scholarship advisor and alumna advisor for Theta Kappa Chapter, district president (now called collegiate district officer) for five chapters in Texas and national program chair for pledge trainers (now called directors of first year experience). She also served the Fraternity as an associate director from 1970 to 1972.
She joined the Executive Board in 1972 and continued to serve the Board until 1980. During this time, she was elected Collegiate Vice President 1972-1976, and served as Fraternity President 1976-1980. Jeanne also served as a member of the Fraternity Council 1970-1984 and became chair of the council in 1980 until 1984. During the same period, she was also chair of the Nominating Committee (now called Leadership Development Committee). Other volunteer roles included a member of the Foundation Crescent Fund Committee 1982-1988, a member of the Century Fund, a member of Theta Kappa Chapter House Corporation Board and president of the Dallas Alumnae evening group.
Jeanne enjoyed music ministry for many years. She was an organist for a small church and played piano for Presbyterian Rehab Center, numerous nursing homes and Women in Bible. The Senior Sunday School class at Park Cities Presbyterian in Dallas, Texas, enjoyed her music every Sunday. She was also a member of The Daughters of the Republic of Texas and a member of the National Society of Daughters of the American Revolution.
We are so grateful for her lifetime membership, and Jeanne's loyalty and devotion to our Purpose will continue to live on in Tri Delta.
For those who wish to make a donation in memory of Jeanne Johnston Phillips and in honor of her dedicated service to Tri Delta, please visit give.tridelta.org.
Kathryn "Katy" Goodwin, Denison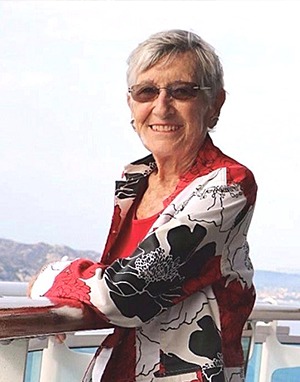 Kathryn "Katy" Goodwin attended Denison University where she met her future husband, R. William "Bill" Goodwin. At Denison, she joined Tri Delta and was selected as one of six Denison Campus Government Association leaders. After college graduation, she went to work for Proctor & Gamble. Bill and Katy were married on May 21, 1955, and settled in Granville, Ohio, where they adopted their two children, Becky and Ross.
They later moved to Ann Arbor where Katy took a job in the President's Office at the University of Michigan. She also was a tour director for Conlin Travel, where she traveled to places all over the world. Bill and Katy finally settled in Sarasota, Florida, where she was active in the local Tri Delta alumnae chapter, serving as president from 2011-2013. In addition to Tri Delta, she was also involved in Friendship Force, where she also served as president twice, Friends of the Sarasota Ballet, and Singles on the Go. She ushered at the Van Wezel Performing Arts Center for over 30 years, West Coast Black Theatre, Sarasota Ballet, and the Asolo. She also worked for Sarasota Memorial Hospital in the finance department. Katy loved to travel, having visited over 100 countries.
Harryette Campbell, Missouri
Harryette joined Tri Delta at the University of Missouri, graduating in 1948. After graduation, Harryette spent a year in Hawaii where she worked at Queen's Hospital in the bookkeeping department. She moved to Sikeston, Missouri, in 1950 when she and her brother, T.E. (Sonny) Campbell purchased the Bell City Cotton Gin Co. in Bell City, Missouri, and operated the business until 1972. She was still handling her farming operation until her death.
Harryette set up the Harryette B. Campbell Endowed Anthropological Fund at Southeast Missouri University which enabled students to study abroad. She also supported scholarships in agriculture and liberal arts. In 2005 Southeast Missouri University honored her with the Distinguished Service Award for her lasting contributions to the university and in 2011, she was honored with the Friend of the University Award.
In Memoriam
This In Memoriam list includes sisters who were reported as deceased to Executive Office Aug. 1–30, 2021. If you know of a sister who has passed away, please report her information to Executive Office by emailing memberrecords@trideltaeo.org.
ALABAMA
Cutler, Sharon Smith '46 d. 11/2019
Jordan, Henriette Rowe '46 d. 5/2020
ALBERTA
Munford, Enid Glauser '46 d. 2/2016
ARIZONA
Culhane, Virginia Houghton '46 d. 11/2017
Munn, Margaret Bell '46 d. 5/2010
Pinney, Barbara Parker '46 d. 10/2016
Strauch, Lorna Christian '46 d. 10/2017
Wardell, Frances Potter '46 d. 7/2021
ARKANSAS
Chancey, Rebecca Wright '46 d. 10/2018
Gallegly, Mildred Johnson '46 d. 3/2013
Garrison, Betty Parker '46 d. 11/2017
Griffin, Kathryn Sayle '46 d. 9/2017
Schumacker, Mary Scurlock '46 d. 8/2017
ARKANSAS-LITTLE ROCK
Sagor, Anne Taxter '64 d. 7/2021
AUBURN
McHugh, Kathryn Markle '65 d. 5/2021
BAKER
Detter, Joan Penley '46 d. 4/2020
Dooling, Theodora Christensen '46 d. 3/2019
BELOIT
Erb, Shirley Gesme '46 d. 4/2019
Jackson, Audrey Schroeder '46 d. 4/2017
Schmitt, Phyllis Adolphson '46 d. 3/2019
Warnimont, Kennette Glentzer '46 d. 8/2015
BOSTON
Martin, Anna Rines '46 d. 10/2018
BRENAU
Corey, Virginia Cullom '46 d. 9/2019
Ditzel, Barbara Smith '46 d. 12/2016
BUCKNELL
Fagan, Shirley Schweiker '46 d. 8/2013
Walgran, Martha Chance '46 d. 11/2015
CA-BERKELEY
Crane, Rosemary Pratt '46 d. 3/2015
Deng, Rachael '20 d. 4/2021
Hawley, Mary Follen '46 d. 2/2019
Keller, Jane Keeler '46 d. 8/2017
Vogel, Marion Jacobus '46 d. 8/2014
CA-LOS ANGELES
Fore, Elizabeth Stauffer '47 d. 8/2021
Gabel, Shirley Illo '46 d. 11/2017
Schmida, Brenda Ullman '46 d. 4/2017
CARNEGIE MELLON
Braun, Beverly Huggler '46 d. 10/2018
Clay, Wanda Forsythe '46 d. 1/2020
Fantaski, Jane Bates '46 d. 7/2017
Haring, Joan Zepfel '54 d. 7/2021
Huffman, Virginia Rosendahl '46 d. 9/2020
Malter, Doris Moore '46 d. 8/2018
Michael, Anita Mortimer '46 d. 1/2017
Simon, Janet Portmann '47 d. 3/2020
CINCINNATI
Katz, Catherine Stewart '46 d. 1/2015
COE
Berg, Janice Reid '46 d. 9/2014
Hickman, Meg '74 d. 5/2021
Ovrom, Mary Hamblin '46 d. 6/2018
Skok, Carolyn Doyle '46 d. 2/2019
COLBY
Daggett, Virginia Cole '46 d. 3/2018
COLORADO
Hatfield, Jacqueline Snook '46 d. 2/2018
MacDonald, Mary Goedde '46 d. 9/2015
Tuttle, Midge Gregg '46 d. 9/2019
COLORADO STATE
Brown, Astrid Svedlund '46 d. 10/2020
Duffy, Pauline Prather '46 d. 7/2014
Norton, Eloise Euwer '46 d. 12/2018
CORNELL
Erdman, Mary Lou Dorward '46 d. 1/2017
Koop, Lucille Bast '46 d. 1/2018
Neel, Elizabeth Jewett '46 d. 10/2018
Watkins, Joanne Halla '46 d. 8/2015
Wiles, Norma Johnson '46 d. 12/2017
DENISON
Martin, Patricia Fagan '46 d. 10/2012
DEPAUW
Morey, Jean Wuerfel '46 d. 4/2015
Sampson, Joan Hoy '46 d. 3/2015
DUKE
Jones, Rowena Kuykendall '46 d. 10/2014
Mullins, Laurie Izlar '46 d. 3/2019
FLORIDA STATE
Holbrook, Margie Norris '46 d. 12/2018
McKay, Joan Hedrick '56 d. 8/2021
GEORGIA
Bowers, Minnie Powell '46 d. 12/2016
Florence, Eleanor Hunt '46 d. 4/2019
Thompson, Betty Ledbetter '46 d. 12/2019
ILLINOIS
Morgan, Madge Berkey '46 d. 9/2020
Rice, Dorothy Seeman '46 d. 9/2019
INDIANA
Gale, Margaret Willson '46 d. 6/2018
Quick, Charmion Tooley '46 d. 6/2014
Williams, Elizabeth Evans '45 d. 8/2020
IOWA
Cray, Jane Lord '46 d. 3/2016
Huffman, Imogene '49 d. 1/2019
Lockhart, Barbara Allen '46 d. 10/2016
IOWA STATE
Harris, Phyllis Thompson '46 d. 9/2020
Savage, Marjorie Allen '46 d. 7/2014
Woodard, Martha Pray '46 d. 10/2018
KANSAS
Ewers, Marjorie Dinsmore '46 d. 5/2017
Rush, Mary Martin '46 d. 1/2016
KANSAS STATE
Shelor, Roberta Royston '46 d. 8/2018
Stratton, Mary Mustard '46 d. 8/2020
KENTUCKY
Bland, Caroline Palmer '46 d. 4/2015
Chatham, Shirley Ellis '50 d. 7/2021
Fowler, Jane Price '46 d. 5/2020
KNOX
Hageboeck, Helen Parker '46 d. 10/2020
Meyer, Mertyce Erickson '46 d. 6/2015
LOUISIANA STATE
Eunson, Roberta Steele '46 d. 8/2018
Love, Ann Jackson '46 d. 2/2016
MAINE
Cervone, Carol Smith '46 d. 3/2021
Litchfield, Harriette Watson '46 d. 11/2018
Pelliteir, Gloria Dow '46 d. 7/2014
Walsh, Agnes '39 d. 6/2021
MARYLAND
Day, Jane Lynch '46 d. 1/2018
Everett, Mary McCaslin '52 d. 4/2021
Weldon, Lucile Andrews '46 d. 11/2018
MIAMI-OH
Benz, Frances Pedrick '46 d. 9/2013
Burley, Helen Hinchman '46 d. 7/2015
Shackleford, Mary Peters '46 d. 5/2014
MICHIGAN
Gnaegy, Betty Estes '46 d. 1/2017
Jacobson, Marian Reus '46 d. 3/2018
Michael, Barbara Anderson '56 d. 12/2020
MINNESOTA
Hoffman, Mary Palm '46 d. 9/2019
Kropp, Dorothy Seifert '46 d. 7/2014
Kwiat, Janice Enger '46 d. 8/2018
MISSISSIPPI
Clark, Emily Russell '46 d. 1/2018
Dalton, Bonnie McCain '46 d. 12/2019
Jones, Mary Ann Brandon '46 d. 10/2019
Merrell, Pauline Covington '46 d. 1/2020
Smith, Eva Wilbourn '64 d. 2/2021
Washburn, Nancy Harton '46 d. 2/2017
Wilkinson, Mary Andrews '46 d. 2/2020
MISSOURI
Bensiek, Tacy Adams '56 d. 8/2021
Knight, Sarah '63 d. 7/2021
MOUNT UNION
Hill, Eileen Nettro '46 d. 3/2013
Hood, Marthajane Silver '46 d. 4/2015
Shreve, Donna Day '46 d. 11/2017
Wheaton, Martha Scott '46 d. 1/2015
NEBRASKA
Gould, Grace Burkhardt '51 d. 7/2021
Thompson, Sandra Sick '53 d. 8/2021
NORTH CAROLINA
Meares, Dorothy Swain '46 d. 5/2017
Pendergrass, Audrey Johnson '46 d. 10/2018
Simons, Barbara Lynn '46 d. 1/2012
Sisson, Mary Helm '46 d. 6/2019
Spangler, Nancy Waugh '46 d. 4/2014
Warwick, Elizabeth Greve '46 d. 9/2020
NORTHERN ARIZONA
Bonet, Susan Portenstein '66 d. 7/2021
NORTHWESTERN
Bosworth, Janet Rademacher '46 d. 7/2018
Price, Alma Womble '46 d. 3/2017
Stock, Frances Strom '46 d. 7/2014
OHIO STATE
Adams, Mary Lou Rankine '53 d. 7/2021
Loehnert, Tony Oelgoeta '46 d. 8/2016
Skinner, Joanne Theado '46 d. 3/2016
OHIO WESLEYAN
Croy, Sara Utz '46 d. 9/2020
Scurlock, Roberta Clark '47 d. 7/2021
OKLAHOMA
Brown, Phyllis Hellar '46 d. 7/2018
Curtiss, Margaret Geatches '46 d. 11/2019
Gorman, Rowena Cain '51 d. 8/2021
Snodgrass, Joan Fisher '46 d. 1/2019
Warner, Mary Wallace '50 d. 8/2021
OREGON
Ross, Elizabeth Basler '46 d. 12/2015
Taggesell, Shirley Kissling '46 d. 4/2020
OREGON STATE
Wagner, Mary Perkins '46 d. 9/2016
PENNSYLVANIA
Hagan, Anne Zentgraf '46 d. 10/2020
Jacobs, Patricia Reilly '46 d. 11/2019
RANDOLPH-MACON
Carroll, Merle Tilley '46 d. 1/2021
Crawford, Jean Bass '46 d. 8/2015
Love, Mary Lathram '46 d. 10/2019
Taylor, Jean Campbell '46 d. 7/2015
Yarbro, Peggie Nickels '46 d. 6/2012
RHODES
Love, Anne '46 d. 4/2018
Turner, Sue Henry '46 d. 9/2018
Wells, Mary Grainger '46 d. 2/2018
SAINT LAWRENCE
Bennett, Barbara Sniffen '46 d. 3/2020
SIMPSON
Jordison, Sula Laird '46 d. 9/2017
SOUTHERN CALIFORNIA
Basler, Mary Mohlengraft '46 d. 9/2017
Megginson, Jayne Wightman '46 d. 9/2017
SOUTHERN METHODIST
Bearden, Helen Anderson '46 d. 8/2016
Boswell, Colleen Blodgett '46 d. 7/2015
Cree, Mary Anne Sammons '49 d. 7/2021
SYRACUSE
Wisniewski, Sally Swierstra '46 d. 4/2016
TENNESSEE
Biegler, Carol Newman '46 d. 4/2020
Forrester, Anne Goodloe '46 d. 6/2013
Heffernan, Mary Morris '46 d. 11/2018
Macaulay, Dorothy Gracy '46 d. 10/2018
TEXAS
Crawford, Betty Sanford '64 d. 7/2021
Eaves, Leta Garrison '46 d. 11/2017
Hoffman, Sue Wilkirson '46 d. 1/2013
Roberts, Cay Hartman '54 d. 8/2021
Runnion, Rosemary Johnson '47 d. 8/2021
Schoen, Patricia Clements '46 d. 2/2017
TEXAS-EL PASO
Boutin, June Kraut '46 d. 10/2016
McKinney, Carol Blackwell '55 d. 8/2021
TOLEDO
Boulton, Joanne Shank '46 d. 8/2018
Chapman, Jaclyn King '46 d. 11/2016
Church, Virginia Klewer '46 d. 6/2014
Geis, Jean Heiing '46 d. 12/2017
TRANSYLVANIA
Loew, Norma Cundiff '46 d. 9/2020
TULSA
Zumbro, Cornelia Maebius '57 d. 7/2021
UTAH
Pintar, Janet McAllister '53 d. 7/2021
Stevens, Sue Stoddard '46 d. 6/2017
VANDERBILT
Peeler, Betty Driver '46 d. 2/2017
VERMONT
Hunziker, Betty Anne Scott '46 d. 6/2018
Miles, Eleanor Allen '46 d. 1/2019
Post, Beverly Hall '46 d. 1/2017
WASHINGTON
Mitchell, Barbara Ross '46 d. 7/2013
Young, Jane Elliott '46 d. 11/2016
WASHINGTON STATE
Basso, Jacquelyn Hansen '46 d. 1/2021
WASHINGTON-ST. LOUIS
Conrad, Hester Warfield '46 d. 5/2016
WHITMAN
Scott, Barbara Sawyer '46 d. 3/2020
WILLIAM & MARY
Lawrence, Martha Earl '74 d. 8/2021
WISCONSIN
Howes, Donna McKee '46 d. 10/2015
Rice, Carol Levenick '46 d. 10/2019
Roberts, Dolores Westphal '46 d. 3/2016
Walker, Jean Rowen '46 d. 11/2012
WYOMING
Griffin, Esther Macleod '46 d. 10/2020
Mankin, Aline Height '46 d. 4/2015
Wataha, Dorothy Manley '46 d. 9/2019