Each month, Tri Delta publishes In Memoriam, highlighting the lives of some of our Distinguished Deltas and longtime volunteers and sharing a full list of sisters who have recently passed away. Below is the In Memoriam for January 2022.
Lynn Hardy Yeakel, Randolph-Macon 
Tri Delta was saddened to learn of the death of 2014 Woman of Achievement recipient Lynn Hardy Yeakel, Randolph-Macon, on Jan. 13. Lynn graduated from Randolph-Macon Woman's College and received a Master of Science in management from the American College.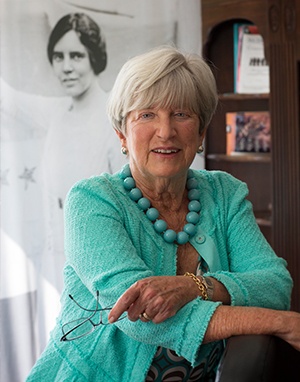 Lynn founded Women's Way, the first and largest women's fundraising coalition in the nation, and served as its CEO from 1980 until 1992, when she ran for the U.S. Senate. She drew national attention in what was called the "Year of the Woman," winning the primary and nearly unseating the longtime incumbent. In 1994, she was appointed by President Clinton to the position of Mid-Atlantic regional director for the U.S. Department Health and Human Services.
In 2002, she became director of Drexel University College of Medicine's Institute for Women's Health and Leadership where she held the Betty A. Cohen Chair in Women's Health. She went on to found Vision 2020, now called VisionForward, a national initiative to achieve women's economic and social equality by the year 2020, the 100th anniversary of women's voting rights.
If you would like to make a donation to Tri Delta's Foundation in memory of Lynn, or another sister who has passed away, click here. 
In Memoriam 
This In Memoriam list includes sisters who were reported as deceased to Executive Office January 1–31, 2022. If you know of a sister who has passed away, please report her information to Executive Office by emailing memberrecords@trideltaeo.org.
ADELPHI
Heuerman, Doris Kraemer '47 d. 12/2019
Sylvester, Patricia Wilson '47 d. 4/2013
ADRIAN
Secord, Jeanne Duncan '45 d. 12/2021
ALABAMA
Jackson, Lucy Finley '47 d. 12/2012
Scott, Martee Barner '47 d. 3/2020
Sherer, Kate Adkisson '47 d. 11/2021
Stalcup, Ann Evans '47 d. 6/2012
Young, Nancy Keller '52 d. 1/2022
ARIZONA
Linder, Phyllis Garrison '47 d. 3/2020
Stephenson, Patricia Peters '47 d. 2/2017
Wiggins, Marilyn McCartan '47 d. 1/2020
ARKANSAS
Harville, Virginia Fulk '47 d. 4/2020
AUBURN
Herbert, Diane Holmes '61 d. 3/2019
BAKER
Lewis, Mary Travis '47 d. 3/2012
Sims, Shirley Pattison '47 d. 4/2015
BAYLOR
Trone, Pam VanLandingham '81 d. 4/2021
BRENAU
Lichty, Pat Carmichael '47 d. 9/2012
McDonnell, Frances Melton '47 d. 11/2020
BUCKNELL
Butler, Betty Elliott '52 d. 1/2022
BUTLER
Hanks, Barbara Lovelle '46 d. 1/2022
Quish, Patricia Kirkpatrick '47 d. 3/2018
Stahl, Emily Smith '47 d. 10/2021
CA-BERKELEY
Dunne, Joan Didion '53 d. 12/2021
Munson, Helen Bont '47 d. 6/2021
CA-LOS ANGELES
Barrone, Ruth Westcott '50 d. 1/2022
Travis, Carol Ekegren '55 d. 9/2021
Weart, Joan Dunne '47 d. 6/2019
CARNEGIE MELLON
Allshouse, Patricia Repper '51 d. 11/2021
CHARLESTON
McMurry, R Louise Venning '47 d. 1/2019
Thomas-Lynch, Marshall Thomas '82 d. 11/2021
CINCINNATI
Keating, Nancy Nenninger '46 d. 12/2021
Young, Jody Schuck '47 d. 12/2018
COLBY
Hayes, Constance Leonard '47 d. 5/2020
Naugler, Cynthia Leslie '47 d. 12/2015
COLORADO
Schuessler, Patricia '52 d. 11/2021
COLORADO STATE
Rudolph, Dorothy McDonald '47 d. 12/2015
CORNELL
Kerwick, Patricia Gleason '47 d. 5/2004
DARTMOUTH
Naparstek, Amy '92 d. 1/2022
DENISON
Milmoe, Marilynn Meyer '47 d. 12/2015
DEPAUW
Hoyt, Deborah Pond '54 d. 12/2021
Parsons, Sandra Frakes '59 d. 12/2021
Sovereign, Barbara Wolf '56 d. 12/2021
DUKE
Wold, Barbara Armstrong '47 d. 9/2019
FLORIDA
Dunlap, Lorena Gore '56 d. 12/2021
FLORIDA STATE
Brown, Meredith Sanders '91 d. 9/2021
Chadbourne, Jane Howard '54 d. 11/2021
Cleeland, Nancy Hume '53 d. 10/2021
Dahl, Georgia Puckett '73 d. 8/2020
Watkins, Adrienne Pope '52 d. 5/2021
FRANKLIN
Winkler, Jean Peterson '47 d. 3/2013
GEORGIA
Hill, Virginia Groover '47 d. 11/2014
Keehan, Betty '47 d. 3/2020
IDAHO
McClure, Louise Miller '47 d. 9/2021
Snow, Jeanie Boyd '55 d. 12/2021
INDIANA
Keck, Patricia Carlton '47 d. 12/2017
Stewart, Josephine Justice '47 d. 1/2014
KANSAS
Hetrick, Susanne Shelton '61 d. 12/2021
Lamb, Kitty Walter '47 d. 11/2010
Sager, Shirley Wilkie '50 d. 9/2021
KANSAS STATE
Potts, Blythe Guy '52 d. 1/2022
Ubel, Olive Jantz '53 d. 12/2021
Walstrom, Betty Garris '47 d. 5/2018
Warden, Billie Tobias '47 d. 8/2021
KENTUCKY
Copelan, Patricia Thompson '47 d. 4/2021
Nemore, Doris Coleman '48 d. 12/2021
Scott, Tallu Fish '47 d. 8/2016
KNOX
Sandberg, Margaret Weir '47 d. 2/2021
Sherrick, Elizabeth Potter '47 d. 2/2015
LOUISIANA STATE
Bailey, Barbara Becker '44 d. 12/2021
Eubanks, Linda Downing '66 d. 9/2021
Luckett, Evelyn Sanford '47 d. 8/2016
McBride, Pattie Cunningham '47 d. 12/2019
Sandlin, Anita Taylor '71 d. 12/2021
MAINE
March, Carolyn Moores '47 d. 6/2020
Mawhinney, Helen Wallingford '47 d. 4/2016
Sproul, Mary Bachelder '47 d. 5/2017
MARYLAND
Karangelen, Alice Pelecanos '69 d. 3/2020
Keith, Anne Cronin '47 d. 2/2019
Neuman, Jean Hoff '47 d. 4/2015
Raymond, Dorothy Andrews '50 d. 3/2021
Spittell, Ginny Lutz '47 d. 9/2016
Turyn, Eileen Simpson '46 d. 2/2021
MIAMI-OH
Henderson, Nancy Wear '51 d. 12/2021
Kerr, Jean Hempel '47 d. 10/2017
MICHIGAN
P'Sachoulias, Stelgene Manz '71 d. 11/2021
Slavens, Virginia Correll '47 d. 8/2021
MICHIGAN STATE
Wahl, Nancy Omansiek '60 d. 12/2021
MIDDLEBURY
Sharp, Mildred Clarke '47 d. 9/2014
MILLIKIN
Dickinson, Mary Rominger '45 d. 6/2021
MINNESOTA
Tyson, Ann Lavery '47 d. 4/2015
MISSISSIPPI
Cossar, Louanne Pepper '58 d. 10/2021
Holyfield, Sarah Oden '47 d. 5/2019
Loper, Sally O'Neil '47 d. 1/2022
McElroy, Sara Graves '49 d. 1/2022
Ruff, Puddie Eason '47 d. 9/2010
West, Kathryn Johnson '47 d. 11/2019
Winter, Elise Varner '47 d. 7/2021
MISSISSIPPI STATE
Stone, Patsy Falls '74 d. 9/2021
MISSOURI
McAllister, Gayle Stauffer '49 d. 1/2022
MONTANA
Hauck, Gloria Dempsey '47 d. 12/2011
Voorhees, Carolyn Kuchinski '47 d. 6/2019
MOUNT UNION
McCready, Marion Saffell '43 d. 2/2021
NEBRASKA
Vlcek, Mary Fehrs '47 d. 5/2014
Wickham, Elizabeth Stoesz '49 d. 12/2021
NEVADA
Long, Janice Foster '53 d. 5/2021
Nugent, Lois Soucek '48 d. 1/2021
Schroeder, Susan Rauch '58 d. 12/2021
Sharkey, Helene Root '47 d. 4/2020
NORTH CAROLINA
McCormick, Catherine Holt '47 d. 12/2014
Stokes, Peggie Sapp '47 d. 6/2009
NORTHWESTERN
Clampitt, Ruth Ann Darch '45 d. 12/2021
Kenneally, Patricia Steele '47 d. 2/2022
Marr, Marilyn Gleason '53 d. 11/2021
Mueller, Nancy Bryant '47 d. 1/2020
York, Jane Holt '47 d. 8/2012
OHIO STATE
Katzer, Anne Winkler '69 d. 1/2022
Wiggins, Linda Owens '62 d. 11/2021
OHIO WESLEYAN
Brown, Mary Glass '56 d. 12/2021
Jamison, Mary Ann Spencer '47 d. 2/2021
Williams, Carol Hoffman '47 d. 1/2022
OKLAHOMA
Likes, Candy Topham '65 d. 1/2022
Sarber, Patricia Whitehead '47 d. 8/2020
OREGON
McKell, Mary Graham '47 d. 7/2020
PENNSYLVANIA
Greenawalt, Mary Ann Baker '61 d. 5/2014
Hackney, Janet Musser '47 d. 12/2018
Robinson, Jeanne Hounsell '47 d. 9/2021
Totten, Ellen Meyers '47 d. 4/2020
Weiland, Catharine McClarren '47 d. 10/2015
PENNSYLVANIA STATE
Husted, Louise Brice '47 d. 7/2021
Murphy, Mary Dorflinger '47 d. 5/2019
Tatnall, Gene Gilmore '47 d. 7/2012
PITTSBURGH
Macdonald, Elizabeth Engelhardt '47 d. 12/2020
PUGET SOUND
Masterson, Christie Noble '68 d. 12/2019
RANDOLPH-MACON
Johnson, Marianna Robson '47 d. 1/2013
Odom, Mary Vann '47 d. 11/2016
Yeakel, Lynn Hardy '60 d. 1/2022
RHODES
Patterson, Emma McAtee '47 d. 4/2012
SAINT LAWRENCE
Ingalls, Jean Graves '47 d. 1/2017
Obrien, Susan Norcross '47 d. 7/2017
SIMPSON
Hooper, Norma Mills '47 d. 2/2020
Weist, Barbara Vanpatten '47 d. 1/2022
Wyatt, Marilee Bane '47 d. 10/2019
SOUTHERN CALIFORNIA
Jencks, Joan Workman '47 d. 12/2019
SOUTHERN METHODIST
Conn, Glynda Hawkins '46 d. 3/2017
Rollins, Skippy Maiden '39 d. 12/2021
Whitt, Amy Baggs '89 d. 1/2022
SOUTHERN MISSISSIPPI
Haguewood, Jacquelyn Rainer '55 d. 12/2020
SOUTHWESTERN
McAllister, Helen Black '47 d. 1/2020
Morriss, Doris Brown '47 d. 11/2019
Young, Mildred Ellett '47 d. 1/2016
SPRING HILL
Tansey, Kathleen '05 d. 12/2021
STETSON
Pittman, Elizabeth Norfleet '47 d. 12/2020
Proctor, Betty Conway '47 d. 3/2020
SYRACUSE
Ralph, Gretchen Pierce '47 d. 9/2019
TENNESSEE
Benson, Betty Bolton '51 d. 11/2021
Schneider, Nanette Jones '47 d. 4/2013
Wallace, Gwendolyn '47 d. 7/2021
Wenk, Patricia Rainey '47 d. 4/2019
TEXAS
Cheesman, Shirley Edwards '49 d. 1/2022
Wooddy, Mary Manning '47 d. 5/2021
TEXAS A&M
Dailey, Margo Kirksey '92 d. 1/2022
TEXAS TECH
Dorsey, Karen McCulloh '67 d. 2/2021
Huggins, Mar Jo Holley '58 d. 8/2021
TOLEDO
Long, Maryse Kelley '47 d. 6/2021
TORONTO
Stackhouse, Betty Powell '47 d. 8/2015
TULSA
Asquith, Susan '72 d. 12/2021
Whitman, Patricia Graham '47 d. 5/2015
UTAH
Guggisberg, Patricia Young '47 d. 6/2018
Kiholm, Helen Hanson '48 d. 1/2018
Libby, Carol Geerlings '47 d. 6/2020
VERMONT
Trumbull, Ann Odonnell '47 d. 12/2013
WASHINGTON
Jeffers, Catherine '61 d. 7/2021
WASHINGTON STATE
Norris, Claire Dickson '47 d. 6/2018
WESTMINSTER
Lefler, Vanessa LaVigne '03 d. 1/2022
WHITMAN
Lund, Vera Burns '47 d. 8/2016
Ringhoffer, Winnifred Collier '47 d. 12/2019
WILLIAM & MARY
Barnard, Eleanor Cooke '46 d. 4/2021
Freeman, Suzanne Duis '53 d. 12/2021
WISCONSIN
Pomerleau, Kate Ryan '96 d. 1/2022
Snively, Karla Geiger '47 d. 1/2022
Tacke, Roberta Hines '47 d. 8/2021
WYOMING
Winninger, Joann Thomason '47 d. 10/2019