Each month, Tri Delta publishes In Memoriam, highlighting the lives of some of our Distinguished Deltas and longtime volunteers and sharing a full list of sisters who have recently passed away. Below is the In Memoriam for March 2021.
Anita Roberson Fitzgerald, Texas/Arlington 
Tri Delta was saddened to learn of the passing of dedicated alumna Anita Myril Roberson Fitzgerald, Texas/Arlington, on Sunday, March 14, 2021. Anita is survived by her daughter and former Tri Delta Executive Director Cari Fitzgerald Cook, Texas/Arlington, and granddaughter Ashley Fitzgerald Watson, Texas/Arlington.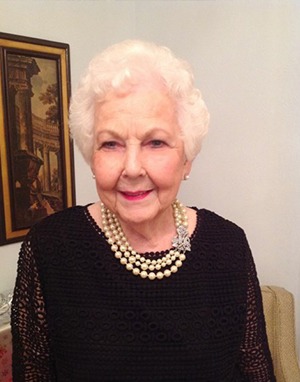 Anita ("Maw Maw") touched the hearts of every person she met with her wisdom and kindness. At times described as "intimidating," with her sharp business mind and life experiences, she always softened. She and her late husband, Harold Thomas Fitzgerald, started several commercial real estate companies including Fitzgerald Homes, Inc., Fitzgerald Properties, Inc, and A. Fitzgerald Properties, LTD, developing, investing, building and managing multiple commercial and residential real estate properties in the heart of Arlington, Texas. Described by her peers as, "the best businesswoman" in town, Anita continued to manage the commercial properties for 16 years after Harold's death until it was time to retire.
In her retirement, Anita volunteered for multiple organizations, including attending and volunteering at many Tri Delta Biennial Conventions. She served as President of Zonta International – Metroplex Club, Co-Founder of Metroplex Chapter of the Red Hats Society (an organization for fun and friendship after 50) and President of the Arlington Southwest Kiwanis Club, where she was honored in 2008 with the Kiwanian of the Year Award. She will be greatly missed by her Tri Delta sisters and family.
Jean Moeller Davis, Louisiana State 
Past Tri Delta volunteer Jean Marie Moeller Davis, a long-time resident of Baton Rouge, passed away at the age of 91 on Mardi Gras morning, Feb. 16, 2021, in Dallas, Texas.
Jean graduated from high school at 16, then attended McNeese State University for one year. She transferred to Louisiana State University in 1947, where she earned bachelor degrees in both Music and Education. Jean was the ultimate LSU fan, who had the coveted honor of being an LSU cheerleader for three years. She was also a lifelong Tri Delta member and volunteer. Jean served as a chapter advisor for LSU and as an alumnae district officer from 1978 to 1989, in addition to serving our sisterhood in other valuable appointments.
Jean's joy for life was contagious and unsurpassed, leading her to a career working with and inspiring children. She served as the Director of the Children's Learning Center at Broadmoor United Methodist Church for 38 years, where at any moment she could be found wearing a silly costume while opening doors in the carpool line, tying (and retying) roller skates for hundreds of children, or leading preschoolers—running, running as fast as they can, trying to catch the Gingerbread Man. Her true joy in life, however, was spending time with her husband, children, grandchildren and great-grandchildren.
Joan Faessel Gardner, Southern California 
Loyal Tri Delta alumna and alumnae chapter volunteer Joan Marie Faessel Gardner passed away on March 22, 2021, in Marietta, Georgia. Joan attended the University of Southern California where she joined Tri Delta. She lived for many years in Anaheim and Villa Park, California, raising her daughter, Katherine Krawczuk, and son, Timothy Krawczuk.  
After her family was relocated to Atlanta, Georgia, she became an active member of the community. She always enjoyed being a member of the USC Trojan alumni group and the local Tri Delta alumnae chapter wherever she was living. She served for many years as a Panhellenic delegate and volunteered at the Atlanta Alumnae Chapter's annual Care Affair gala, benefitting CURE Childhood Cancer and Tri Delta's Foundation.
Joan was an active supporter of the Atlanta's High Museum of Art. She also founded the Knitting Angels group Mt. Bethel United Methodist Church, which donated 2,500 handmade items a year to persons in need of warmth and comfort.
One of her proudest activities was mentoring young women on their journey to college. Whether it was through personal scholarships, advice or sorority references, she was most gratified to aid in making dreams come true for these young women.
This In Memoriam list includes sisters who were reported as deceased to Executive Office Mar. 1–31, 2021. If you know of a sister who has passed away, please report her information to Executive Office by emailing memberrecords@trideltaeo.org.
ARIZONA
Antonel, Lynette Campbell '46 d. 1/2017
ARKANSAS
Buffum, Dorothy Branting '46 d. 3/2021
BRENAU
Craft, Elizabeth Nelson '38 d. 2/2021
Reisler, Margaret Garner '42 d. 2/2021
CARNEGIE MELLON
Anguish, Virginia Rowley '46 d. 6/2019
COE
Woito, Barbara Vomacka '54 d. 12/2020
COLORADO
Starks, Patricia Hall '47 d. 1/2020
DEPAUW
Johnston, Mary Madden '46 d. 1/2020
GEORGIA
Anderson, Barbara '46 d. 12/2002
IDAHO
Comstock, Lavon Brassey '46 d. 3/2021
Copithorne, Anne '56 d. 1/2020
Duff, Lillian Tegan '42 d. 5/2017
ILLINOIS
Craver, Marilyn Polk '50 d. 3/2021
KANSAS
Shepherd, Eva Humphrey '46 d. 1/2018
KANSAS STATE
Armour, Patricia Humfeld '46 d. 11/2014
KNOX
Brook, Betty '38 d. 11/2020
Hughbanks, Barbara Pebler '48 d. 5/2020
LOUISIANA STATE
Davis, Jean Moeller '48 d. 2/2021
MIAMI-OH
Goshorn, Carole Fiedler '70 d. 3/2021
Orourke, Martha Piercey '46 d. 1/2001
MISSISSIPPI
Kasper, Lee Anne Wray '88 d. 2/2021
McClendon, Grace Gillispie '51 d. 2/2021
NORTHWESTERN
Hyde, Nancy Helm '60 d. 3/2021
OHIO WESLEYAN
Berschauer, Sandra Longmeyer '56 d. 3/2013
Cupitt, Wendelyn '73 d. 3/2021
Humpal, Eloise Monroe '54 d. 8/2016
Mossbarger, Jane Robertson '53 d. 6/2020
Priest, Mary Oliver '48 d. 3/2021
SAINT LAWRENCE
Barrand, Bobbie '46 d. 6/2016
SIMPSON
Lewis, Sally Hull '54 d. 3/2021
SOUTHERN CALIFORNIA
Adams, June Robinson '46 d. 1/2015
SOUTHERN METHODIST
Ligon, Judy Harvey '60 d. 3/2021
SOUTHWESTERN
Gregory, Nancy Olsen '78 d. 3/2021
STETSON
Evertz, Mary Gardiner '52 d. 12/2020
SYRACUSE
Klimow, Mary Thier '63 d. 1/2021
TENNESSEE
Crandell, Betsy Lytton '69 d. 6/2020
TEXAS A & M
Craddock, Barbara Gagnon '81 d. 12/2020
TEXAS-ARLINGTON
Fitzgerald, Anita Roberson '00 d. 3/2021
TOLEDO
Bacle, Norma Demun '46 d. 8/2018
Blossom, Gay Frye '55 d. 1/2016
TULSA
Holland, Judy Wells '59 d. 3/2021
Whitlock, Betty Heidinger '46 d. 1/2021
VANDERBILT
Little, Sarah Goodpasture '37 d. 3/2021
WASHINGTON STATE
Hinrichs, Janet Stone '52 d. 3/2021
WILLIAM & MARY
Ball, Melinda Duke '63 d. 2/2021
WISCONSIN
Jirucha, Mary Dawson '46 d. 2/2021
Wood, Jean Gregory '51 d. 3/2021