In November 2018, members of Lambda Chapter House Corporation at Baker University sent out a newsletter asking members to share their favorite memories of living in the chapter house. What originally started as a fundraising campaign to remodel the chef's kitchen quickly turned into a way for collegiate and alumnae members to share their favorite "Lambda Memories."
Lambda Chapter House Corporation member Elizabeth Hankins Wendorff, Baker, expanded this campaign by posting on the Delta Delta Delta – Lambda Chapter Facebook page to encourage more members to share priceless memories of their collegiate years. So far, they have received 50 submissions, with more coming in, and the house corporation plans to compile the entire collection of memories, letters and photos into a keepsake book – just in time for Founders' Day 2019.
Sharing Memories
Much to the house corporation's surprise, they received a letter from one of their oldest living members, Martha Moore Tipps, who turned 103 on Dec. 28 and who lives on Bainbridge Island, Washington. While Martha never lived at the chapter house, she was proud to express her loyalty to Lambda Chapter after all these years.
Elizabeth immediately knew the chapter should do something special for Martha. She quickly put a call to action on the chapter Facebook page asking members to send Martha a birthday card during the month of December.
After seeing this post, Lindsey Van Buskirk Cegelis contacted her pledge sister Judy Brawner Lindsley who also lives on Bainbridge Island and told her she should pay Martha a visit. Upon meeting Martha, Judy realized she had met Martha many times previously without knowing she was a Tri Delta. Martha used to shop in Judy's family's dress shop on the island."
When I was asked to pay Martha a visit, I was so happy to do that," said Judy. "She is about 5 feet tall standing on phone books, spunky, totally with it, fun, still plays the piano and full of life. I have truly made a fabulous new friend!"
Martha explained with such excitement to Judy how moved she was to receive many, many cards from Tri Deltas all over. Martha wrote down her Lambda Memories for Judy, and the chapter plans to include them in the keepsake book.
Since Elizabeth started posting about the Lambda Memories campaign, alumnae have been drawn to the page to learn more about what's happening in the chapter, and collegians have been able to read about how it used to be living in the chapter house.
She described why this campaign and serving on the house corporation has meant so much to her:
An Upgraded Space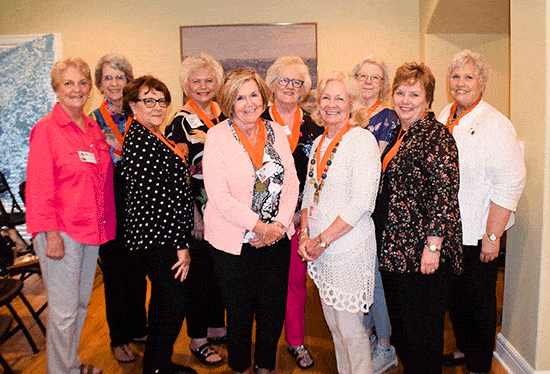 The Lambda Memories campaign has generated wonderful memories and new connections for many of the members, and Lambda Chapter House Corporation is excited to complete the renovations to the chef's kitchen to provide the collegiate members an upgraded space to gather.
The house corporation presented the remodeling plans to the collegiate chapter and more than 50 alumnae at a dinner on May 18. The official remodel began on May 20 in order to meet the changes in the state health department codes.
Before demolition, the chapter house had two kitchens separated by a hallway: the chef's kitchen was only used for food preparation and cooking while the second kitchen had the dishwasher, dish storage and a refrigerator for the women to store personal food items. Upon completion of the remodel on Aug. 12, all of the prep, cooking, dishwashing, sanitizing and storage will be done in the chef's kitchen.
Additionally, the flooring will be upgraded, and the 30-year-old gas stove will be replaced along with a new hood and exterior venting system. The remodel will also include all new, commercial-grade appliances, cabinets, countertops and backsplashes, transforming the kitchen into a modern, commercial facility.
The chapter looks forward to the completed project and having a new space to create many more Lambda Memories!