As we work to create a more equitable and inclusive membership experience for all Tri Deltas, and specifically for our Black, Indigenous and Sisters of Color, we have committed to increasing representation at all levels of our organization. Following the installation of our first two Sisters of Color as Directors on the Executive Board, we are thrilled to welcome three new members to Tri Delta's Foundation Board of Trustees and the Tri Delta Housing Board.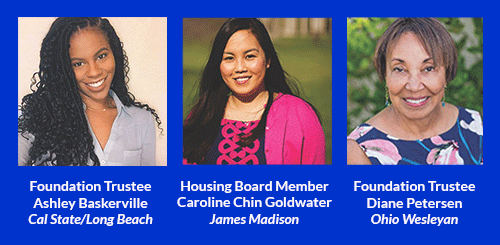 Foundation Trustee: Ashley Baskerville, Cal State/Long Beach
Ashley earned her Bachelor of Science in sport psychology and coaching and her Master of Science in sport and exercise psychology from California State University Long Beach. She is a professional mental performance coach, utilizing growth mindset techniques and effective communication in the development of a wide spectrum of sports teams and individual athletes. She is currently a master resilience trainer-performance expert for the Armed Forces and is the founder of A.B. Mentality where she is a sports psychology consultant and mental coach working with youth, semi-pro, professional and Olympic athletes.
Housing Board Member: Caroline Chin Goldwater, James Madison
Caroline earned her Bachelor in Business Administration from James Madison University and her MBA from George Washington University. She currently serves as security cooperation policy analyst for the Defense Security Cooperation Agency (DSCA). She previously worked at the Navy International Programs Office. A certified Project Management Professional (PMP), she has an extensive background in project management, strategic planning, policy development and innovation.
Foundation Trustee: Diane Petersen, Ohio Wesleyan
Diane earned her Bachelor of Arts from Ohio Wesleyan in 1966, followed by a master's degree in communicative disorders from Northwestern University in 1968 and a medical degree from the University of Michigan in 1982. She is a retired otolaryngologist/head and neck surgeon who spent much of her career with HealthCare Partners Medical Group in Torrance, California. She is also active in her local community, including 25 years of service with the Sandpipers, a South Bay philanthropic organization. Diane was Tri Delta's first Black member, and she recently shared her story with Past Fraternity President Kimberlee Sullivan, Pepperdine, in this LEADDD Now Conversation.
Learn more about the work Tri Delta is doing to LEADDD Now.