On Saturday, April 13, Tri Delta hosted
LEADDD 2019
in Southern California. Created BY women FOR women, LEADDD is Tri Delta's premier leadership development conference, dedicated to empowering all women to lead and serve in their careers, communities and families.
LEADDD officially kicked off with a welcome from Tri Delta alumna and mayor of Yorba Linda, California, Tara Campbell, Southern California. Elected as mayor last year, Tara made history by becoming not only California's youngest female mayor, but the youngest female mayor in U.S. history for a city of this size. She is also currently the youngest female mayor in the U.S.
"Tri Delta supported me and gave me opportunities I wouldn't have gotten anywhere else and surrounded me by women who supported and encouraged me," said Tara. "So many women have come before us to fight for our constitutional right to be an integral and equal partner in the future of our country so that we could be whatever we wanted to be. So, I hope we'll make them proud and achieve our dreams and get motivated by this conference to go out and do that."
Less Unicorn, More You!
Tri Delta Woman of Achievement and Emmy Award-winning Journalist Leeza Gibbons, South Carolina, kicked off LEADDD with her keynote "Less Unicorn, More You!" where she discussed the importance of optimism, connections and – above all – kindness. Leaving attendees with the image of the giant sequoia tree, Leeza encouraged them to build support systems.
"The sequoia's roots reach out under the soil, and they connect with the other trees. She holds hands, she wraps arms with the other trees. They become each other's strength, they become each other's support system. And, my Tri Delta sisters, it is exactly that way for each of us…You connect, you empower.That's exactly who we are,and that's what you're going to be celebrating all day today throughout this LEADDD Conference."
Chasing the American Dream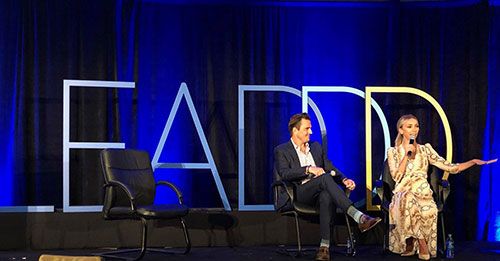 At lunch, E! Entertainment's Giuliana Rancic, an Italian-American immigrant, shared her unique perspective on "Chasing the American Dream." Giuliana told the story of how she came to theUnited States from Italy as a young child and learned English by watching the evening news. These news programs inspired her to pursue a career in entertainment journalism—eventually becoming one of the top female entertainment journalists in the world. Her husband, entrepreneur and television host Bill Rancic, surprised the audience by joining her on stage to talk about the importance of partnering and supporting a strong, successful woman.
Workshops for All Ages and Stages
In addition to inspiring keynotes, the day was packed full of empowering workshops, with topics including Women & Business, Women & Leadership, Women & Transition, Women & Wellness, Women & Finance, Women & Entrepreneurship and Women in Entertainment. The dynamic workshop speakers created a great energy as they shared valuable information for all ages and stages of life.
Attendee Crystal Skelton Goodiel, Wyoming, said she received multiple takeaways for both herself and her team from AmyK Hutchens' session, "The Power of Profitable Conversations." In the session, AmyK shared her thoughts on the true definition of a team and how what many of us perceive as a team is, in reality, a group of people working independently with no common goal.
Crystal, who is leading a new team in her professional position, said, "I now have the tools she offered me to move forward with a great team dynamic."
She added that she also benefited from Cheryl Jensen's, Southern Methodist, session "The Inverse Relationship between Success and Likeability for Women," which uncovered the gender bias often found in the workplace.
Attending LEADDD came at the perfect time in Crystal's career as she recently transitioned into a new role, and she successfully approached her employer about sponsoring her to attend the conference. After showing her supervisor the value LEADDD would provide for her and the caliber of information she could bring back to the leadership team, they agreed. "I knew it was an opportunity for me to grow individually and from a professional standpoint with a new team that I had just brought on board," said Crystal.
Collegiate member Shannon Fonseca, Cal State/Northridge, shared, "As a collegiate member, I feel like LEADDD is an amazing extension of the material I have learned at CLC. The speakers and panels at LEADDD really emphasized how invested Tri Delta is in cultivating the next brave, bold and kind group of professional women. I appreciate our commitment to our members, both collegiate and alumnae, and look forward to more events like LEADDD in the future!"
Networking for a Cause
To conclude the conference, LEADDD celebrated the work of the Tri Delta Sleighbell Committee by hosting a "Networking for a Cause" reception, which raised $4,000 for childhood cancer research at Children's Hospital Los Angeles (CHLA). The event honored Tri Delta Southern California alumnae and their longstanding partnership with CHLA, which dates back to 1947. The reception also allowed attendees to finish their day off by networking and building connections with women from across the country. No doubt, attendees left LEADDD feeling energized and inspired.
Savyna Roufeh, Arizona, said, "LEADDD was everything I wanted! I was thrilled to be surrounded by Tri Delta sisters from across the country and I love seeing powerful women who are brilliant, strong, philanthropic and are exactly what Tri Delta represents."
"LEADDD has made me motivated to find my passion again and to share with others what I learned at this amazing conference," said Irma Negrete, Cal State/Northridge.
Although LEADDD SoCal has ended, there is more to come! Tri Delta plans to continue hosting this innovative and empowering leadership conference in different cities across the country, to connect with as many women as possible. Be on the lookout for more information about the next LEADDD coming soon!