Spring Break 2020: One week quickly extended into a months-long shutdown of schools and universities across the country. Recalls Cameron Sadler, president of Chi Chapter at the University of Mississippi, "I was heartbroken when school was moved online. This is home. This is my community. This is quite literally an unprecedented time; it especially was in March."
While shutting down operations for a facility that houses 109 members and employs a large staff may seem daunting, it was only a small part of what the Chi Chapter team would face in the coming months. As summer set in, with their sights set on a safe return in the fall, chapter leaders, alumnae volunteers and House Director Martha Collins, Mississippi, boldly got to work."
I decided that I had to make use of my time in productive ways. Besides the concrete things to prepare for reopening, I needed to think about what Tri Delta means to me. As an alumna and a house director, I began to think of what kind of experience we were giving these young women as much as planning my cleaning and disinfecting protocol," remembers Martha.
In addition to the practical aspects of reopening such a large facility, preparations had to be made for continuing chapter operations in a pandemic. Alumna Advisor Katie Naron, Mississippi, focused on finding support and training for her chapter leaders in a time of crisis. "We planned for virtual chapter meetings and face-to-face-recruitment, which eventually turned into virtual recruitment. The collegiate chapter president, house director, house corporation president, house manager and I were lockstep in protocol, procedures and day-to-day operations."
Through the Chi Chapter team's careful, thoughtful planning, paired with support from the local House Corporation and Tri Delta Housing, the home at 96 Sorority Loop was ready to reopen in early August. Resident members settled in for the fall semester, and Chi Chapter set to recruiting new members into our sisterhood.
Mandated Quarantine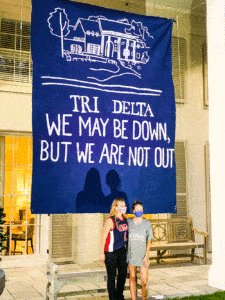 Days later, those months of preparation would be put to the test, as four resident members were found to be positive for COVID-19. Even though this made up a very small percentage of the household, the University of Mississippi and the Mississippi State Department of Health ordered a complete shutdown, mandating that residents evacuate within 24 hours and suspending all meal service.
Martha remembers hearing the news. "All I could think was this is against everything we have learned this summer. Why would we want them to pile up in apartments around town with the chance of spreading to the community or going home and spreading in another community? We had followed our protocol, the state recommendations, the federal guidelines and the university plan for reporting. Why were we being punished for doing what we had been taught to do?"
Once again, Chi Chapter leadership acted quickly, teaming up with Tri Delta Housing to appeal to university officials, who agreed to allow residents to shelter in place for a 2-week period.
"Chapter president [Cameron] made a statement that I will never forget. She said, 'We would be the first to quarantine at Ole Miss and we would set the bar high for the rest to follow. Chi Chapter would do it with grace and dignity. We will continue to respect the guidelines set forth by our university, our community and Tri Delta.' That was enough motivation for me."

Martha Collins
Following the example set by Cameron and the rest of the chapter's collegiate leaders, resident members faced their quarantine calmly, with an attitude of hope and encouragement. One member in particular, Avery Sadler, dubbed the "Cruise Director," immediately began planning events for her quarantined sisters including fitness classes, crafts, a formal dinner, a résumé workshop and a talent show.
Kindness in Tough Times
"Our chapter exuded kindness, sisterhood and patience during the quarantine period," shared Katie. Members who had already recovered from the virus quickly stepped in and picked up textbooks, ran errands and made late-night runs for chocolate and snacks. Local alumnae also jumped in to run errands and provide treats. Fellow Ole Miss Greek organizations sent snacks, flowers and cards of encouragement. Parents sent snow cones and soft drinks, and the Parents' Club provided Chick-fil-A for a Saturday lunch.
One of the biggest challenges was continuing to provide meals during the quarantine – for both resident and non-resident members. House Director Martha spent hours planning, prepping and cooking to ensure our sisters were well-fed. Chi Chapter dining assistants were enlisted to deliver home-cooked boxed meals to a local apartment complex where many members live.
The 2-week quarantine of Chi Chapter serves as an example of bold, brave leadership in a time of crisis. For Tri Deltas at Ole Miss, it became a time to slow down and enjoy the simpler aspects of sisterhood. As Cameron shared, "I am thankful for the time I spent in quarantine. So much of our normal college experience is action-packed and busy. Spending time in our chapter house with my friends was a 'back to the basics' type of experience. It gave me a lot of time to reflect and think about why I am so grateful for the time I have spent in this sisterhood."