In late January, Tri Delta received a special gift donated to the Ginger Hicks Smith Museum and Archives: a Tri Delta ring which first belonged to Dorothy Helen Weigel Saunders, Missouri, initiated in 1937, and was passed down to her daughter Patricia (Pat) Ann Saunders Mosier, Missouri, initiated in 1962.
After Pat passed away in December, her husband, Steve Mosier, contacted Tri Delta Executive Office to inquire about donating the ring: an onyx and 14 karat gold ring with a gold coat of arms. Accompanying the jewelry, Steve also included several photos showing two generations of Tri Deltas, a cigarette holder owned by Dorothy and a touching letter sharing his and Pat's love story.
A Mother-Daughter Sisterhood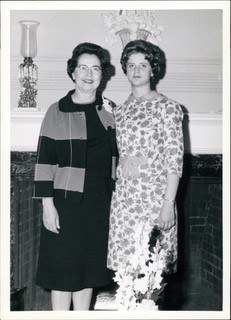 Although Dorothy passed away before Steve and Pat were married, Steve remembers her as "a dignified lady with a great sense of humor and one who enjoyed a good high ball at the right time." Dorothy made lifelong friends in Tri Delta at the University of Missouri, where she also met her husband Kent Saunders. Similarly, her daughter Pat would also join Tri Delta at the University of Missouri, where she would also meet Steve.
Another mother-daughter connection: some of Dorothy's Tri Delta sisters had daughters who would also become Tri Deltas and lifelong friends of Pat. A photo included in the archives donation shows Dorothy and Pat together at the Tri Delta house, around the time of Pat's initiation.
Delta First Date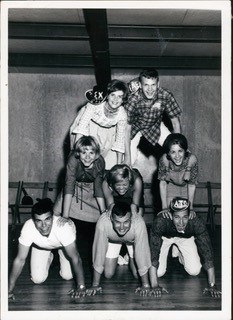 Steve was a member of Sigma Alpha Epsilon at the University of Missouri and first met Pat at fraternity-sorority social events. Their first date was a Tri Delta barn dance—complete with country gingham and straw hats—followed by a stop at the Minute Inn for a chili cheese omelet. The night they were pinned was the same night the SAE house caught on fire. "Some say it had the most special effects of any pinning in Mizzou history," Steve remembers.
The two dated seriously for two years. After graduation, Pat began teaching while Steve trained as a pilot. The two were married in Enid, Oklahoma, and as Steve writes, "We were off on a 27-year ride that took us to Florida, Germany, California, Kansas, Virginia (three times), North Carolina and New Mexico."
27-Year Adventure
While Steve's career in the military took them all over, Pat also pursued different career opportunities, no matter where they were. She earned a master's degree in public policy, taught special education in Germany, was a drug counselor in California, taught grade school in the D.C. suburbs and was a college guidance counselor in New Mexico.
Her love of history led her to working 10 years as a museum associate for the Jamestown-Yorktown Foundation, including the celebration of the 400th Anniversary of the Founding of Jamestown, which drew Queen Elizabeth II and then-President George W. Bush. This was all in addition to holding offices in military spouses organizations and raising her daughter, Megan.
"She was a commander's wife and a colonel's wife—both having assumed duties and responsibilities that came with no training and no bonus pay," Steve shares. "She was well respected and made positive lasting impressions on young men and women."
Steve says of his wife, "Many have commented on Pat's energy, quick wit and enthusiasm…Memories surround and they bring me laughs smiles, and tears of the right kind."
Thanks to Steve and his donation of this special archives treasure, Pat's—and Dorothy's—memory will live on and their story will be shared with future generations of Tri Deltas to come.
The archives at Executive Office welcomes treasured Tri Delta mementos including jewelry, photographs and other memorabilia. Please contact bapplebaum@trideltaeo.org if you have a special item you would like to donate.