The Ginger Hicks Smith Museum and Archives—named after longtime Tri Delta volunteer leader and donor Ginger Hicks Smith, Emory—is located in Tri Delta's Executive Office in Dallas, Texas. The museum tells the story of Tri Delta's founding and development, and houses some of our most precious historical items.
"I hope that Tri Delta's exceptionally interesting history informs and inspires all of us," she said. "I hope that preserving it and interpreting it and displaying it…will excite and energize us all to be part of a present and a future that are distinctive, that are dynamic, that are worthy of the best that is in us."

Ginger Hicks Smith, Emory
In the Museum
Visitors to Executive Office are greeted in the entry foyer by a large interactive fixture that features seven short videos, allowing a quick introduction to Tri Delta, our history and values. Historical items are on display in a lighted case below.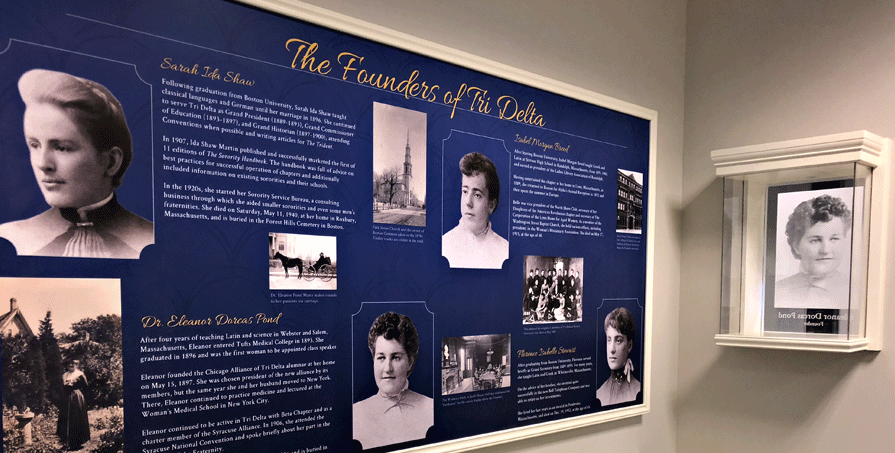 The heart of the museum is flanked by glass etchings of Founders Sarah Ida Shaw and Eleanor Dorcas Pond. All four Founders are featured in a biographical exhibit that includes items such as Sarah's jewelry and photos of Eleanor. A short timeline gives visitors background on our founding and early history. The history of our earliest chapters is highlighted in an exhibit which also features an interactive chapter map. Alpha charter member Blanche Seaver Johnson's 1897 silk wedding dress occupies a handcrafted display case. Lighted jewelry cases feature antique Stars and Crescent badges as well as the Fraternity's Heritage Jewelry.
An impressive two-sided kiosk shares the importance of Convention through the years and the history of our award-winning The Trident magazine. Visitors are drawn to another kiosk, with fully interactive stories of our member experiences and a search feature to locate and reconnect with long-lost Tri Delta sisters.
We honor the leadership of our past Fraternity Presidents in a wall of individual portraits which faces a biographical display of our current president. Those interested in finding out more information about these extraordinary women can use the Fraternity President interactive display to explore detailed biographies and photos of each president.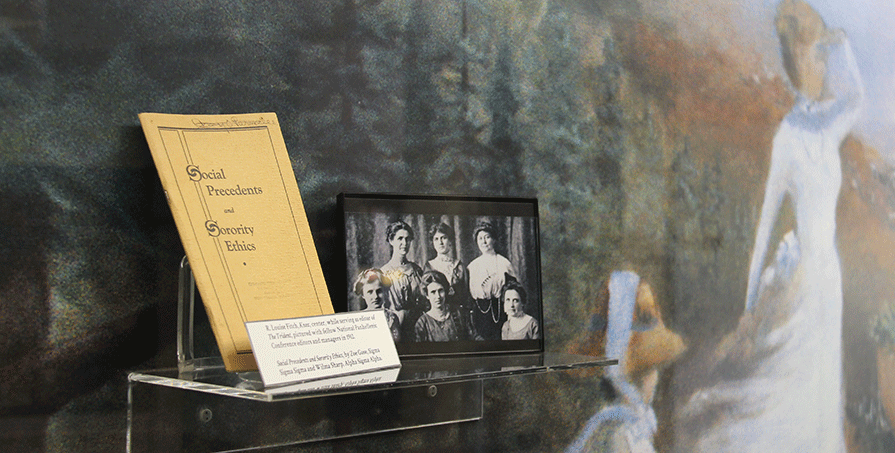 Against the far wall is the Founders' Day mural originally painted by Parks Lowe for Tri Delta's previous office in Arlington, Texas. This beloved artwork was carefully recreated at our Dallas office, and it serves as the background for a large display case currently featuring historical items belonging to early Fraternity leaders.
There are still unique naming opportunities available in the museum. For more information contact foundation@trideltaeo.org.