Pictured Above: Executive Board Director Lenora Oeters, Cincinnati, and 2023 Sarah Ida Shaw Award Winner Addison Anderson, Knox
Named after our beloved Founder, the Sarah Ida Shaw Award is Tri Delta's most prestigious collegiate award. Our winners exemplify devotion to the ideals of Tri Delta while significantly contributing to their chapter through selfless leadership, an emphasis on sisterhood and the promotion of chapter unity. The caliber of award nominees this year was truly astounding!
On Sunday, April 14—during our Collegiate Leadership Conference (CLC)—Tri Delta celebrated our 2023 Sarah Ida Shaw Award Winner Addison Anderson, Knox, along with three runners up: first runner up Reese Poe, Virginia; second runner up Autumn Anderson, Florida State; and third runner up Kaylee Holt, Oklahoma State.
The Sarah Ida Shaw Award Committee expressed, "It was a moving experience to read about all of the wonderful things our best and brightest members, as selected by their chapters, are doing to be brave, bold and kind and live out the values of truth, self-sacrifice and friendship on their campuses, in their campus communities and wherever their collegiate experience has taken them."
Get to know these incredible women:
Winner: Addison Anderson, Knox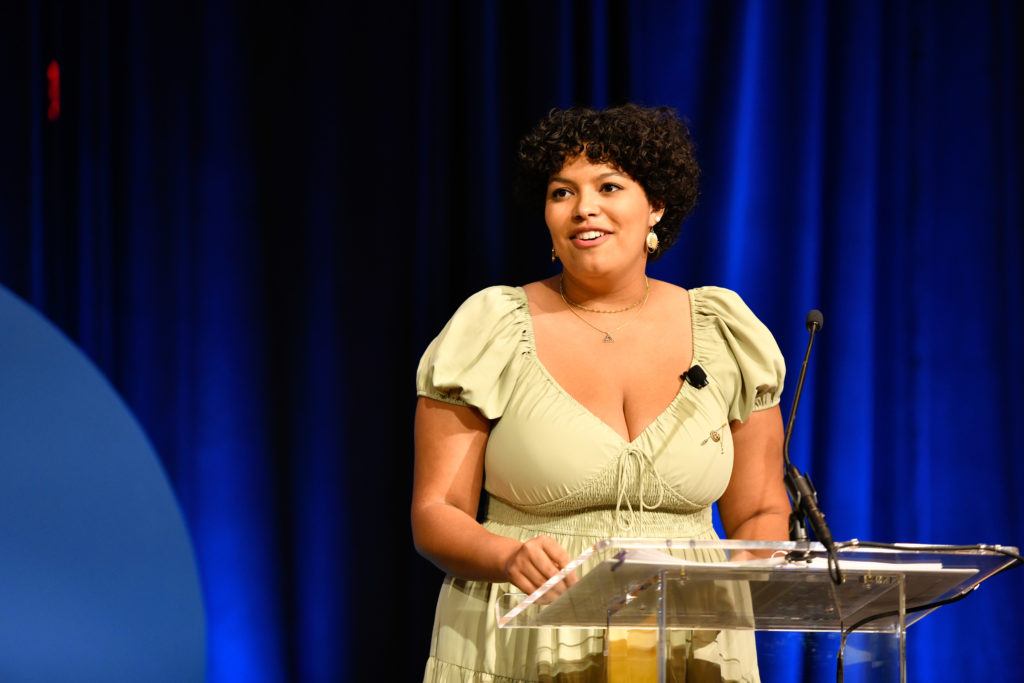 A well-rounded student leader with a strong commitment to building relationships and fostering community, Addison is deeply involved in her chapter, Greek life and diversity, equity and inclusion (DEI) with a focus on honoring marginalized voices. She is committed to creating positive change on campus. Addison values the reciprocal nature of friendship and believes in its power to connect people and spread love.
On campus, Addison served as the president of the Order of Omega, a Greek honors society, and noticed that the chapter was slowly dying out. She took bold steps to revive the organization, including advocating for Sigma Theta Nu, a non-chartered Black sorority on their campus, to join the Order of Omega. Her efforts resulted in a 200% increase in chapter membership and the organization became more active in accomplishing its goals of highlighting leadership, service, character and scholarship. Addison's actions also helped to change the perception of Order of Omega from just a resume booster to an organization of merit and honor, and she grew connections across Panhellenic and Interfraternity Council.
Addison also serves as an Intercultural Life Peer Educator, leading dialogues with students about DEI efforts on campus and highlighting marginalized voices. As a junior, she was inducted into Phi Beta Kappa and named the Pearl Harris Award winner, the junior woman who has made the greatest contribution as a campus citizen to the life of the Knox College.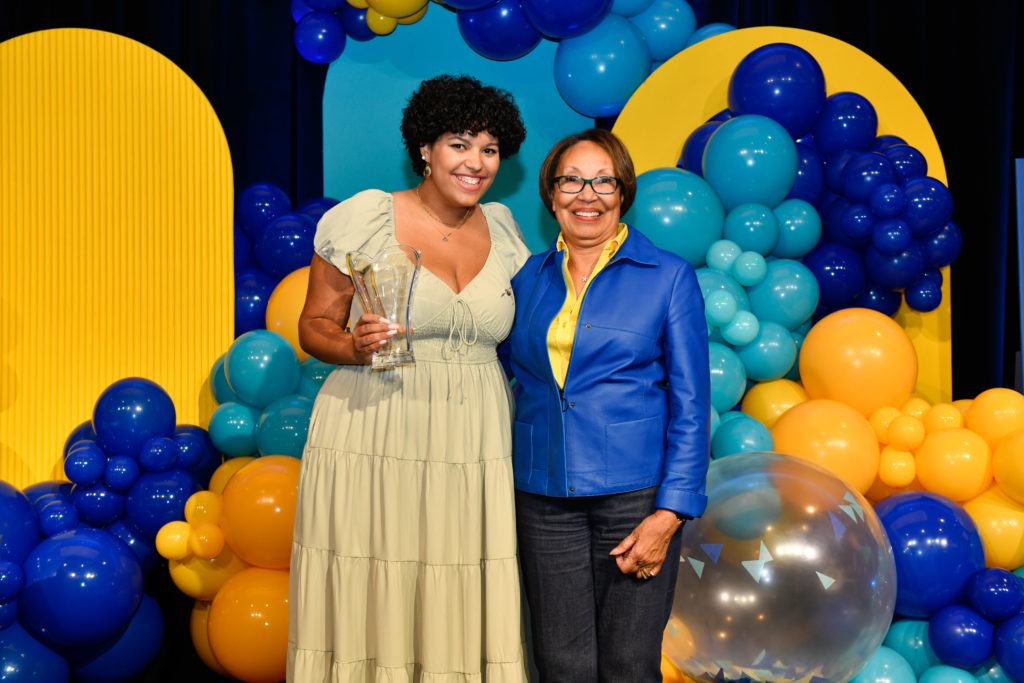 A member of Epsilon Chapter's advisory team shared, "Since being the collegiate chapter president (CCP), Addison has encouraged officers to plan more sisterhood events and bonding activities, and she has been present and influential at them all. Her positivity is contagious, spreading through the chapter and helping Epsilon get out of its rut. I can't imagine how this fall would have gone if Addison was not the amazing CCP that she is!"
During her acceptance speech, Addison encouraged the collegiate officers in the audience. "There is a reason that friendship is one of our values, and it's because you can only get so far alone. I am here because of all the love and encouragement of so many around me, and I will continue to offer them the same support in return. I am inspired every day by those around me to work harder, to live boldly and to be the truest version of myself. I hope that you all also have the opportunity to cultivate strong friendships going forward and know that, for what's it worth, I've got your back too."
First Runner Up: Reese Poe, Virginia
Dedicated to making a positive impact on her community, Reese is a member of the student-run Executive Board of her major, chairs the career development position and created an alumni mentorship program specific to her major—youth and social innovation. Her hope is to ensure that no student in her major is left behind due to a lack of resources or connections in their dream career field.
Reese created the SafeRouteUVA application to improve student safety and hopes to eventually help create a safer, more well-informed community, as everyone deserves the right to feel safe walking home at night. She has served as a literacy tutor for the Latin American Migrant Association and the Salvation Army.
Reese says she will always hold Tri Delta's values of truth, self-sacrifice and friendship close to her heart, as they have, in her words, "truly made me the person I am today."
Second Runner Up: Autumn Anderson, Florida State
Autumn's passion, advocating for marginalized groups and promoting accessibility in Greek life has made her a leader on campus and in her community. She had the extraordinary opportunity to present a resolution to the Florida State University Senate that acknowledges the positive impact of Maura's Voice, a research foundation created in memory of Alpha Eta sister Maura Binkley who was the victim of a hate-fueled murder in 2018. She also had the chance to represent her chapter and community on a cultural immersion trip to Washington, D.C.
"I believe in speaking out for marginalized groups even in smaller spaces to spread awareness and education. My work on campus and in the community is driven by my belief in putting the needs of others before my own."
One of her chapter advisors noted, "As one of the only current members of color of Alpha Eta, Autumn is committed to DEI and making sure this chapter is all-inclusive. She has encouraged the chapter to attend Pan-Hellenic and Multicultural Greek Council events on campus and has worked diligently to broaden the experiences of our members."
Third Runner Up: Kaylee Holt, Oklahoma State
Kaylee was a member of a freshman living-learning program, the President's Leadership Council and a Career Liaison for the College of Agriculture. As the 37th person in her family to attend OSU, she was especially drawn to serving the Alumni Association as a Homecoming Executive. She has volunteered on the big committee, steering board and executive board during her four years at school, working to provide a welcoming and safe environment for alumni to come back and visit campus.
Kaylee is guided by her values of honesty, selflessness and friendliness, which she believes are essential to being a good friend and leader. "I hope that I am always a good example of Tri Delta's values and a person that people look up to."
High Honors: Congratulations to our High Honors for making it to the interview round!
Hadleigh Markum, Simpson
Izzi Jordan, Butler
Sidney Hyatt, Arkansas
Congratulations to these outstanding Tri Delta's and to all our Sarah Ida Shaw Award nominees!