Tri Delta's annual collegiate chapter awards were presented throughout the weekend of our Collegiate Leadership Conference 2023. Demonstrating excellence in academic performance, philanthropic work and everything in between, the winners of these awards represent the very best of Tri Delta and serve as an inspiration to all those who strive for excellence within their own collegiate chapters. The Collegiate Awards Committee noted, "We are truly impressed by all of these members' achievements. They are making strides towards inclusivity, boldness and kindness. We are lucky to be part of this ever-growing sisterhood." Congratulations to all our winners!
Margaret Paddock Haller Award
One of Tri Delta's highest collegiate awards, the Margaret Paddock Haller Award was established in 1994 in honor of a past Fraternity President to recognize chapters who have shown outstanding achievement throughout the past calendar year. Recipients of this award have demonstrated overall excellence in all aspects of chapter operations.
Winner: Phi Mu Chapter – Southeast Missouri State University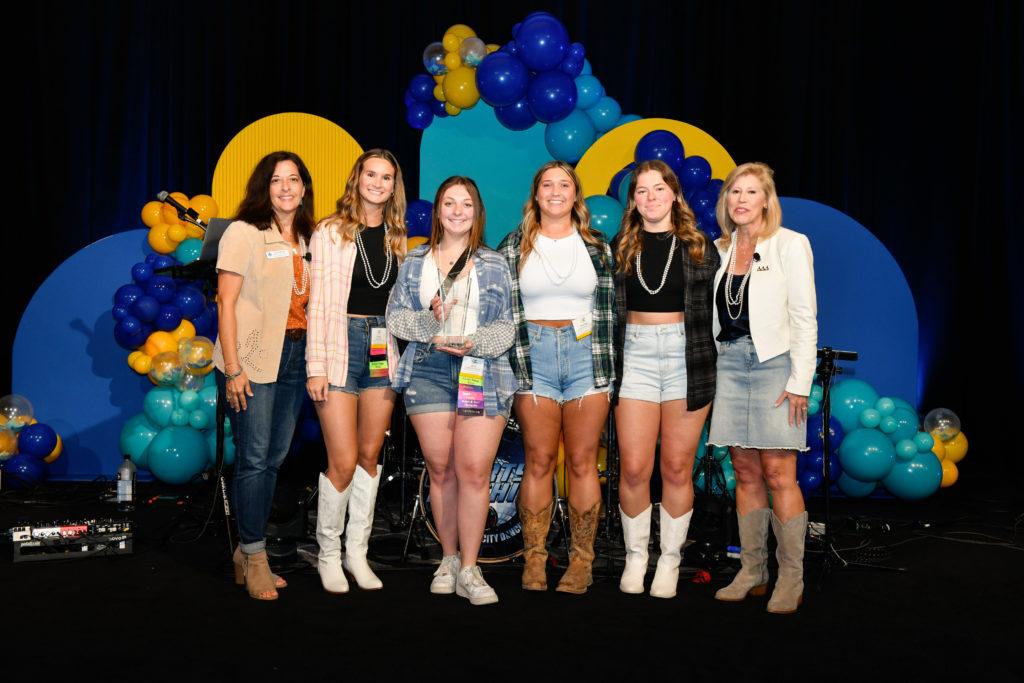 Phi Mu Chapter truly embodies the principles of leadership, service and academic excellence—most especially demonstrated by winning the "Campus Chapter of the Year" award for five consecutive years. They are committed to Greek unity on their campus and individual self-care in their chapter. Phi Mu Chapter also values academic achievement and recognizes members who achieve a 4.0 GPA with a special pearl dangle. Their commitment to philanthropy has raised an impressive $20,000 for Sincerely Yours.
Members are encouraged to live out Tri Delta values, Purpose and Ritual in their everyday lives and have noticed a transformation in the way they treat one another. Appreciation for each other and collaboration have become the norm in the chapter, and they value what Tri Delta has to offer them in their lives, helping their chapter become more positive and driven over this past year.
Diane Petersen Excellence in Diversity, Equity, Inclusion, Access and Belonging Award
This year, we announced a new collegiate award—the Diane Petersen Excellence in DEIAB Award. This award recognizes a collegiate chapter's commitment to DEIAB and honors a collegiate chapter that embodies the same brave, bold and kind spirit demonstrated by the women of Delta Upsilon Chapter in the 1960s. It also celebrates Diane, Tri Delta's first Black member, and recognizes the impact of her membership and service in Tri Delta, as well as her generous support of Tri Delta's Foundation.
The inaugural Diane Petersen Excellence in DEIAB Award was given to two of our outstanding collegiate chapters!
Winner: Alpha Epsilon Chapter – Brenau University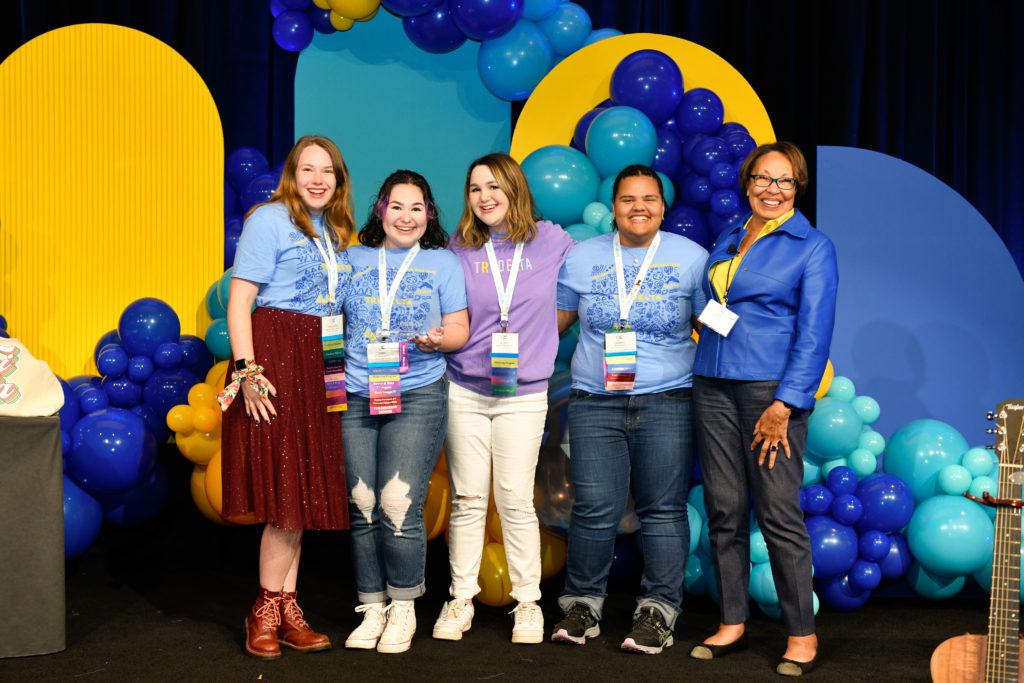 Alpha Epsilon Chapter is truly committed to embedding DEIAB into their member experience. Through workshops, themed events and other interactive activities, they provide spaces for their members to share their stories and experiences around their identities. The chapter celebrates the diversity of their members and supports members with various traditions and beliefs, and they utilize social media to highlight different identities within their chapter and celebrate their members during heritage months. They held recruitment workshops on various DEIAB topics, including implicit bias, affinity bias, intersectionality and being a disability ally. And in true Panhellenic spirit, they even invite other campus organizations to participate in chapter events such as BodyImage3D week!
Winner: Alpha Mu Chapter – College of William and Mary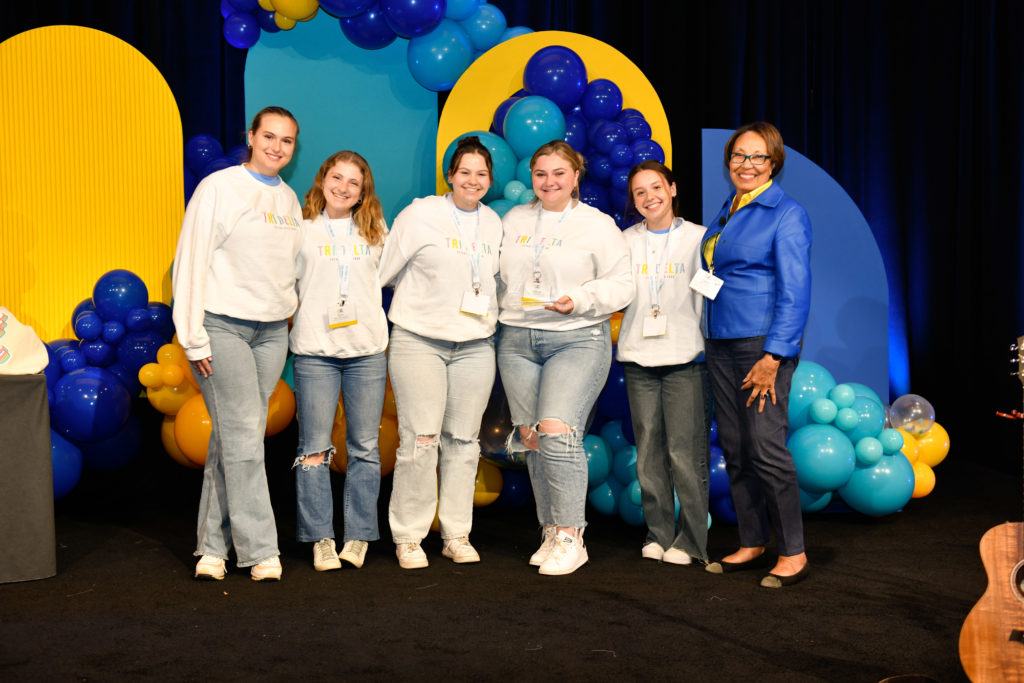 Alpha Mu Chapter is truly committed to creating a diverse, equitable, inclusive, accessible and belonging community. They meet every Monday to discuss issues happening in the chapter and community, and they make a strong effort to provide education to members on DEIAB topics during recruitment preparation workshops. Body Positivity Week created space for conversations around body positivity and intersectionality, and chapter members are encouraged to attend events hosted by other student organizations or groups in the greater Williamsburg area. Their biggest accomplishment of the last year was facilitating a microaggression workshop during an open chapter meeting, giving agency to members and creating a space to learn, discuss, reflect and ask questions. Upcoming priorities for the chapter include expanding their commitment to financial equity, including setting up an alumnae-funded scholarship to help alleviate financial burdens for chapter members.
Excellence in Panhellenic and Community Relations
Winners of this award have committed to sharing the Tri Delta experience through effective public relations, marketing and media efforts both on and offline, reflecting a positive image of the chapter and Tri Delta brands while upholding the values of and positively contributing to the Panhellenic experience on campus.
Winner: Phi Mu – Southeast Missouri State University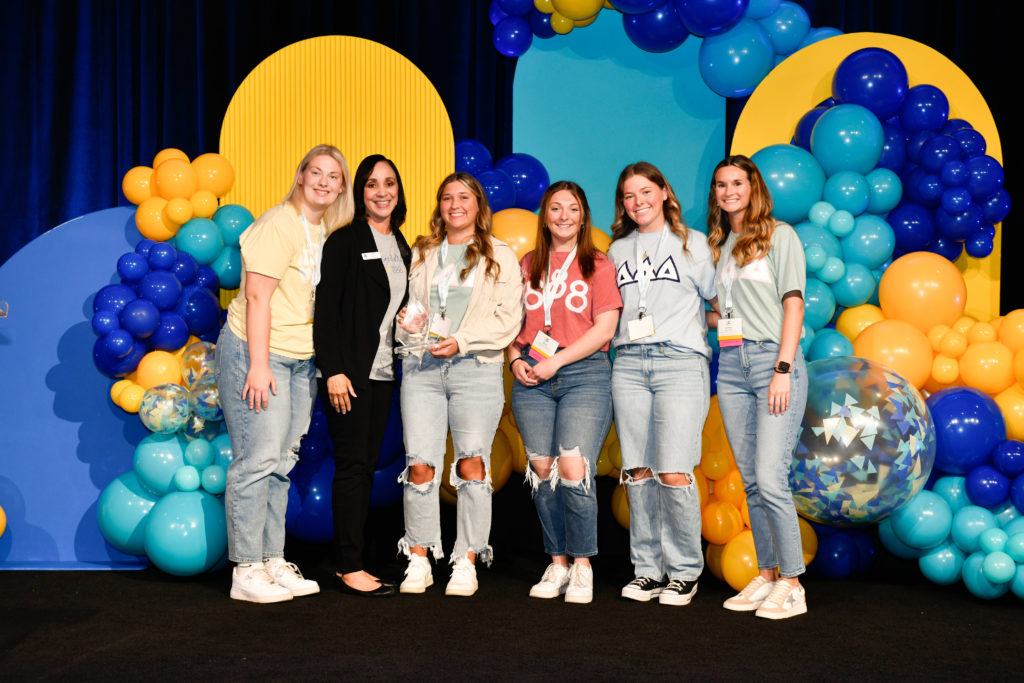 This chapter is a force to be reckoned with, dedicated to making a positive impact on their campus. Their recent collaboration with Alpha Delta Pi on a "TRI PI Tie Dye" event is just one example of their creativity and willingness to work with others to make a difference.
Runner up: Delta Lambda Chapter – Butler University
Excellence in Alumnae Connection
This award recognizes collegiate chapters that have demonstrated improved communication and transparency of chapter operations with local alumnae, the advisory team and regional volunteers to ensure an inclusive lifetime membership experience for the chapter and alumnae.
Winner: Phi Alpha Chapter – University of Toledo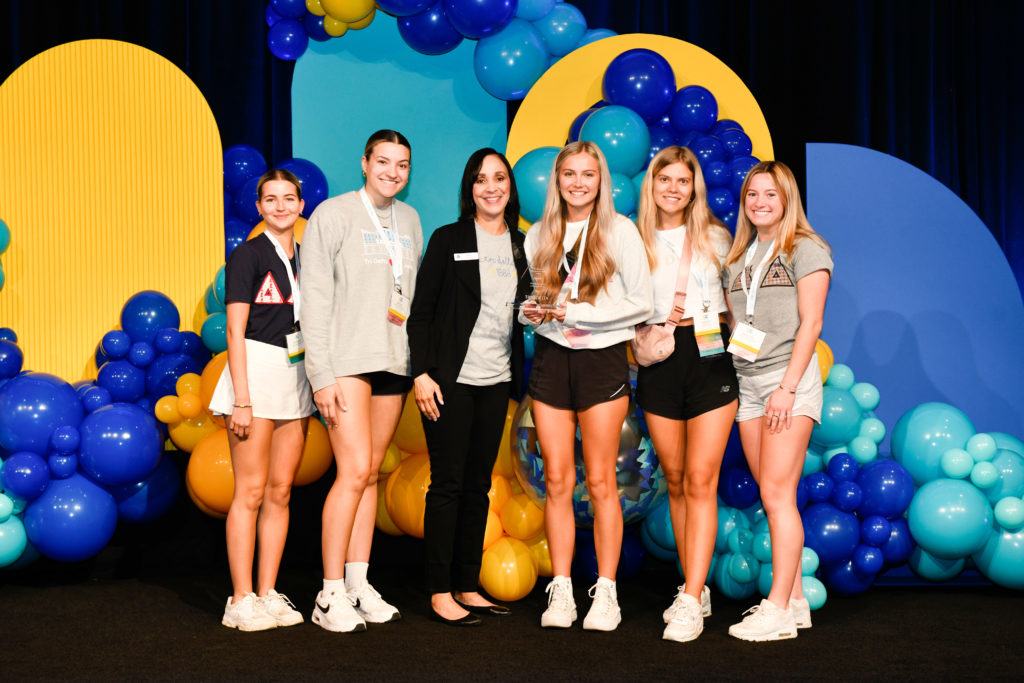 Through consistent communication and collaboration, Phi Alpha Chapter has built a strong support system with their advisors and chapter alumnae that empowers their members to succeed. By fostering these relationships, the chapter is able to create a sense of community and support that extends beyond the college years.
Runner up: Phi Theta Chapter – Auburn University
Excellence in Member Experience
Winners of this award embody Tri Delta's Ritual, Purpose and values in chapter life and go beyond traditional Tri Delta programming to educate members on health, wellness and harm reduction. This award also recognizes chapters who promote opportunities for continued personal growth of members and chapter improvement to elevate the membership experience.
Winner: Delta Omega Chapter – Louisiana State University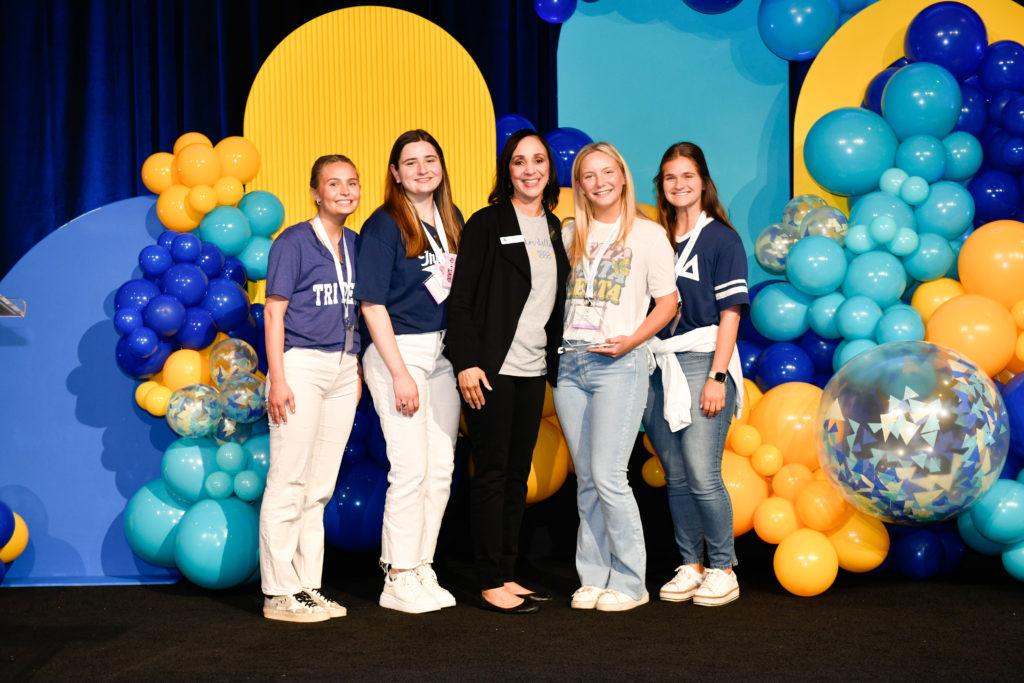 Delta Omega Chapter strives to keep their members healthy and happy by taking proactive measures to reduce risk with events and regularly advocating for mental and physical health. By normalizing and supporting mental health struggles, Delta Omega is not afraid to tackle the tough stuff. They even created a sisterhood committee as an outlet for members to share their struggles in small groups without fear of judgment.
Runner up: Epsilon Chapter – Knox College
Excellence in Recruitment and Retention
This award recognizes chapters who have demonstrated improvements in recruitment and retention throughout the past calendar year. Recipients have emphasized the importance of a positive recruitment experience and have used innovative methods to ensure member retention from recruitment through graduation.
Winner: Gamma Rho Chapter – Pepperdine University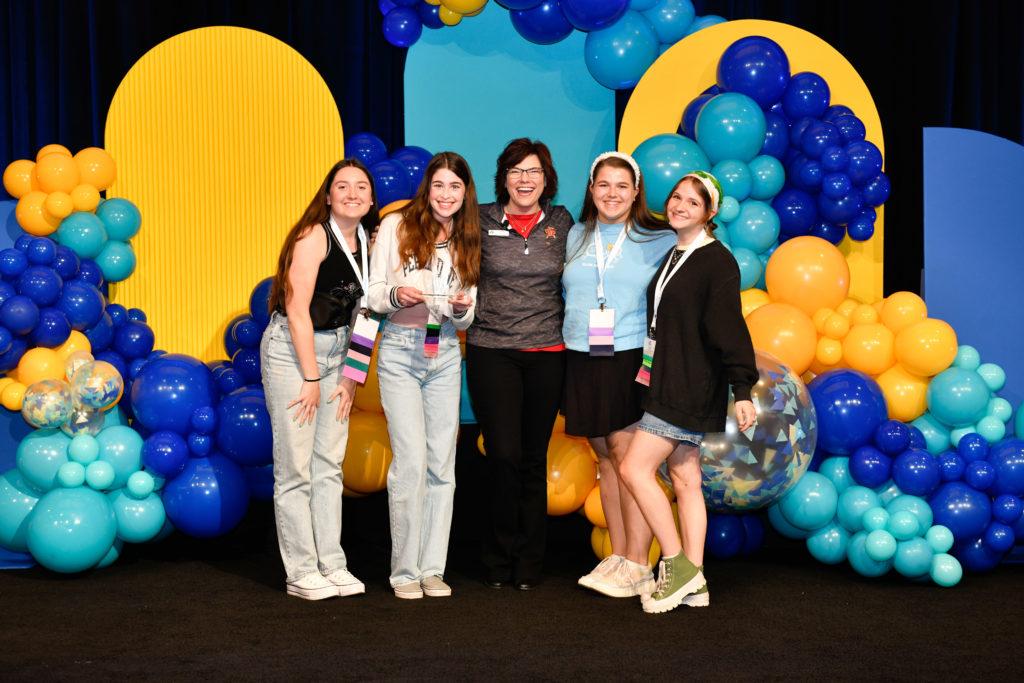 During recruitment, Gamma Rho Chapter created a welcoming space by inviting a DEIAB committee member to make a presentation, sharing Tri Delta programming opportunities with potential new member and creating a natural conversation environment during preference round. To ensure the well-being of their members, the chapter created a member tracker spreadsheet to assist with retention efforts and identify resignation trends. Chapter officers developed member support plans for those struggling, resulting in no resignations during the fall term.
Runner up: Phi Alpha Chapter – University of Toledo
Excellence in Academic Programming
This award recognizes chapters who encourage and recognize excellence in scholarship for both initiated and new members by upholding chapter policies and bylaws, providing academic resources and support and celebrating individual and chapter academic accomplishments.
Winner: Gamma Eta Chapter – University of Richmond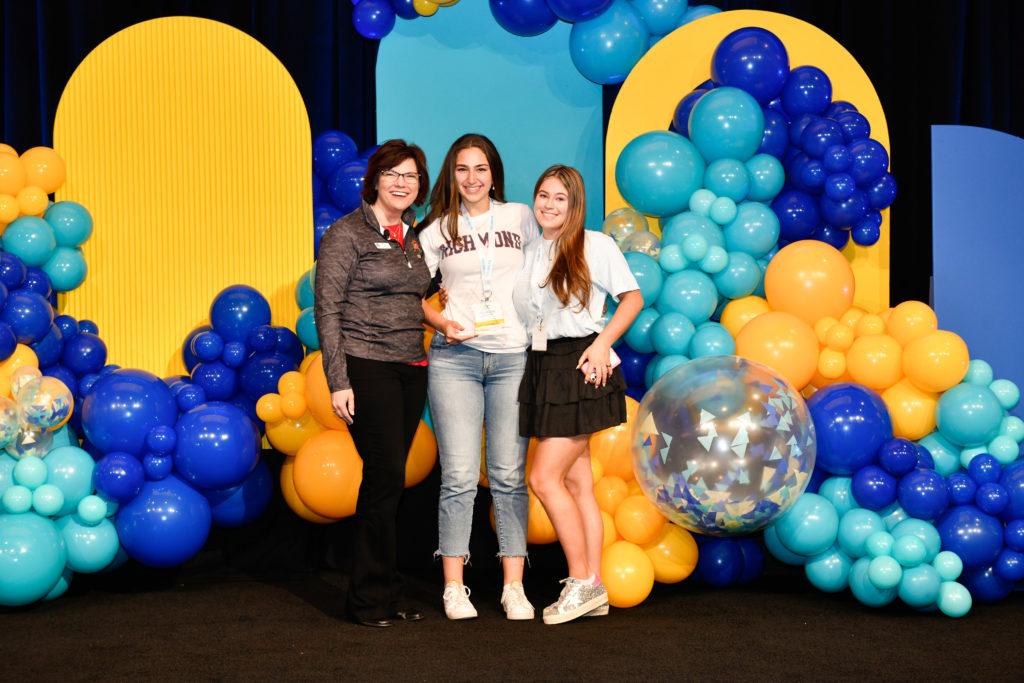 Members of Gamma Eta Chapter created a book club to discuss their latest reads, share recommendations and bond over their love of literature. They also celebrate academic successes, conduct academic wellness checks and offer resources to members looking for help with classwork. With a cumulative GPA of 3.60, they're outpacing the all-women's GPA for the University of Richmond.
Runner up: Alpha Theta Chapter – University of Pittsburgh
Excellence in Philanthropy
This award recognizes chapters for innovative and ongoing member education that emphasizes the value of philanthropic giving. This award considers a chapter's philanthropic efforts in support of Tri Delta's Foundation, the fight against childhood cancer, St. Jude Children's Research Hospital and other charitable organizations and member involvement with other campus and community philanthropic efforts.
Winner: Gamma Alpha Chapter – Texas A&M University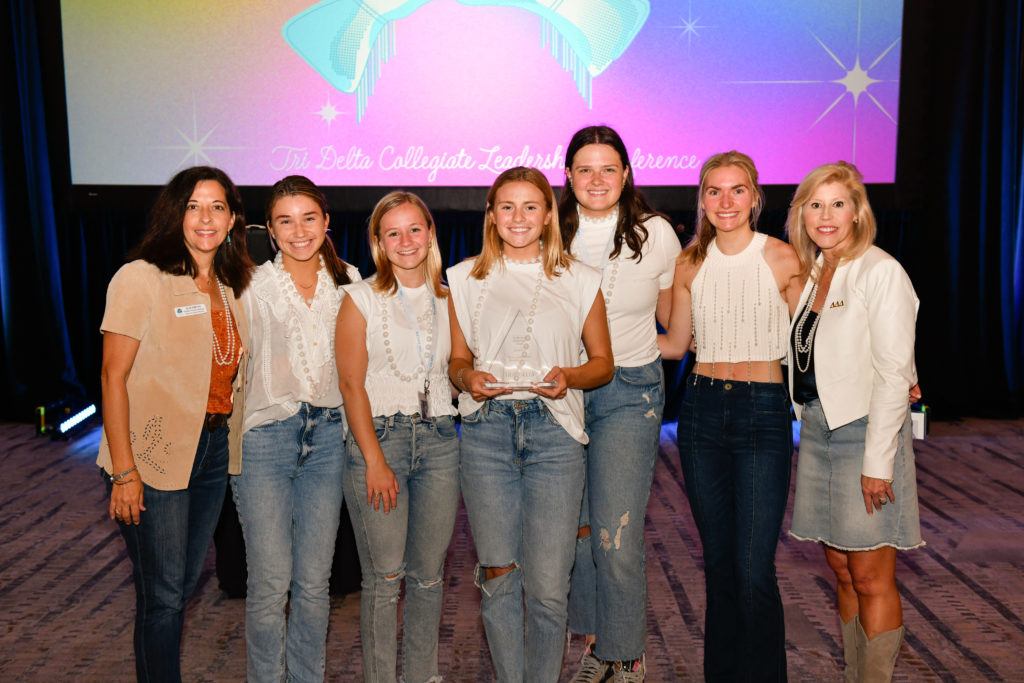 Not only is Gamma Alpha Chapter dedicated to St. Jude, but they've also pledged to help their local Aggieland Humane Society. In fact, you'll often see them out early on Wednesday mornings walking dogs! They made an agreement to not say "no" to opportunities to help out other organizations. From highway cleanups to Greek bowl, and even the fireman's challenge, Delta Omega is all about giving back and they make sure their sisters have weekly opportunities to serve and support their community.
Runner up: Alpha Epsilon Chapter – Brenau University
Excellence in Community Service
This award recognizes chapters who have actively pursued and offered community service opportunities for members as a way to add value to the overall membership experience and illustrate Tri Delta's dedication to unselfish leadership and service to others.
Winner: Epsilon Alpha Chapter – Florida Gulf Coast University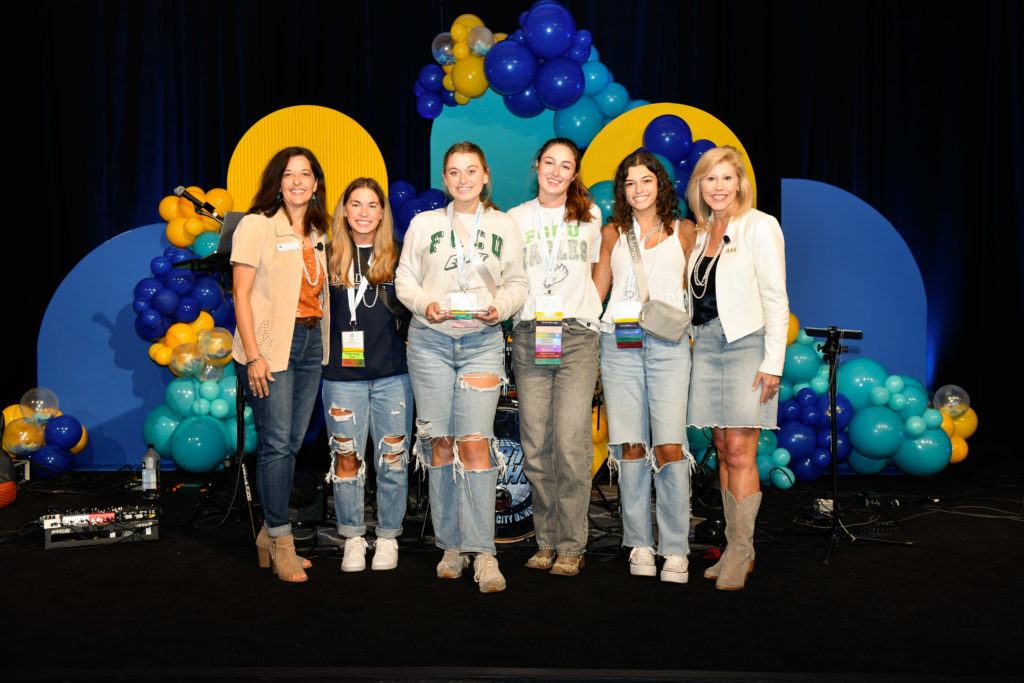 The home of Epsilon Alpha was devastated when Hurricane Ian hit Southwest Florida. They immediately shifted their focus and efforts to help restore the community in any way possible. Members volunteered at a local food pantry and teamed up with Zeta Tau Alpha and Sigma Chi to help residents at a retirement community organize their belongings. They also held a t-shirt drive and were able to donate $500 back to Rebuild Southwest Florida.
Runner up: Nu Chapter – Ohio State University
Congratulations again to our winners! The future of Tri Delta is bright. Well deserved, indeed!