With the fall semester behind us, Tri Delta's collegiate chapters are busy gearing up for spring 2021. Here's a glimpse at what some of our chapters have been up to:
Illinois State University – Beta Omicron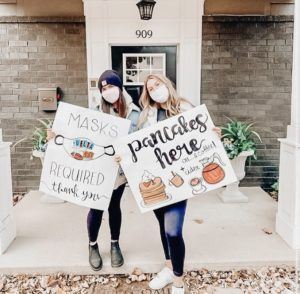 On Oct. 17, Tri Delta's Beta Omicron Chapter turned their DHOP into a drive-through with a football tailgate-themed event! Held in the parking lot outside the chapter house, the event included raffles, balloons, a St. Jude-themed photo booth and—of course—freshly made pancakes! The chapter appointed a COVID-19 safety team to ensure social distancing and required masks while providing gloves, hand sanitizer and hand-washing stations. The Drive-Through DHOP raised $6,000 for St. Jude Children's Research Hospital.
Kansas State University – Theta Iota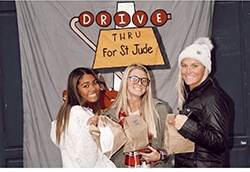 With virtually everything moving online, Alison Murphy, vp/philanthropy, found a new way to raise money for St. Jude this fall by adding a Delta Delivery Service to the chapter's annual pancake fundraiser. Her creativity allowed the chapter to maintain safety procedures while raising funds for a great cause!
University of Kansas – Theta Omega
In the spring of 2020, Theta Omega hosted several events virtually to stay connected, including HIIT workouts, yoga, trivia nights, and even movie nights. Once members returned to school in the fall, Theta Omega hosted a successful virtual recruitment, welcoming more than 60 amazing young women. Chapter leaders have been creative in finding ways for everyone to get to know the new members while staying safe. The chapter hosted various movie nights on the front lawn while socially distancing and following CDC guidelines, hosted come-and-go ice cream nights, and even had virtual sisterhood events, including a virtual cookie decorating event, bracelet-making event and trivia nights!  
University of Oregon – Theta Delta
Theta Delta was the first UO Panhellenic chapter to establish a Diversity and Inclusion (D+I) Chair position. At the core of this role is the goal to expand representation in Greek life and to educate members on the intricacies of social, political and economic injustices. So far, Theta Delta's D+I chair, Sheila Trnjanin, has given chapter presentations on topics such as Black History Month, microaggressions, implicit bias and racist language. These discussions are pushing our sisters to redefine and reevaluate their perspectives of the world and those within it. By actively learning and engaging in sometimes difficult conversations about diversity and inclusion, Theta Delta members are empowering themselves and others in allyship and anti-racist work.
Pepperdine University – Gamma Rho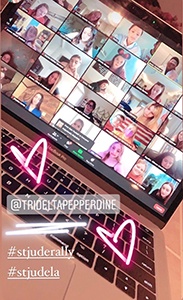 On Oct. 31, Gamma Rho Chapter got together over Zoom for a "No More Cancer Rally," benefitting St. Jude Children's Research Hospital. Everyone dressed up in Halloween costumes, and for an hour and a half, the philanthropy chair guided the chapter through different challenges. These challenges included taking 5 minutes to text as many people about the philanthropy event as they could, posting on social media with #stjudela and #stjuderally, sending emails, calling friends and family to challenge them to donate, and increasing their personal fundraising goal. As a chapter, Gamma Rho raised $5,347. It was a great time for chapter members to come together in support of each other, their community and St. Jude, while having some Halloween fun!
University of Vermont – Eta
Eta Chapter started "The Book Club for BLM" to make space for the chapter to learn more about the Black Lives Matter (BLM) movement. Over the course of the semester, members met every other week to discuss racial inequality and how to become better allies. These discussions included podcasts, articles, documentaries and music to enrich the chapter's learning. Eta Chapter is looking forward to continuing the book club throughout the coming semester to ensure they are cultivating allyship within our sisterhood.
Does your chapter have news to share? Submit your information, so we can highlight you in the next collegiate chapter news!