It was a bittersweet farewell to a house that held many memories for the members of Tri Delta's Zeta Chapter. On Saturday, Aug. 7, Zeta alumnae gathered to say goodbye to the historic Clifton Avenue house and welcome a new chapter in Zeta's history. The Tri Delta house at the University of Cincinnati has been located on Clifton Avenue since 1938; it bore witness to generations of sisters walking through its doors and was part of the legacy of the more than 2,650 initiates of Zeta Chapter.
In January 2022, members of Zeta Chapter will move into their brand-new 15,500-square foot home at 2605 University Court, just two blocks from the old house's location. The new home dramatically increases the size and space for the chapter, almost doubling its housing capacity from 18 to 33 residents and offering room for more sisters during meetings, meals and other activities.
"Our chapter is looking forward to not only having enough space to host our chapter meetings, but also to gain a home that will grow with our chapter for years to come," said Caitlin Hammermeister, Zeta's collegiate chapter president. 
From Clifton Avenue …
The new home and new location came about when a new mixed-use development began construction surrounding Clifton Avenue, including directly next door to the Tri Delta house. Because of this new development, the long-term viability and privacy of the house no longer met the needs of Zeta's members.
Local alumnae leadership partnered with Tri Delta Housing to lead acquisition, design and construction of the new house. Tri Delta Housing secured a new plot of land, centrally located on University Court, to construct a brand-new state-of-the-art facility that members would be able to call home for decades to come. It was a key step in ensuring Zeta's premier living experience. 
"What started out as a modest multipurpose room expansion in 2017, transitioned into building a brand-new facility in 2021, only made possible through the fantastic partnership with Tri Delta Housing," shared Michelle Gill-LaPresto, alumnae chapter president of the Cincinnati Area Alumnae Chapter. "It's a big move for our chapter because we have been in our current chapter house since 1938." 
… To University Court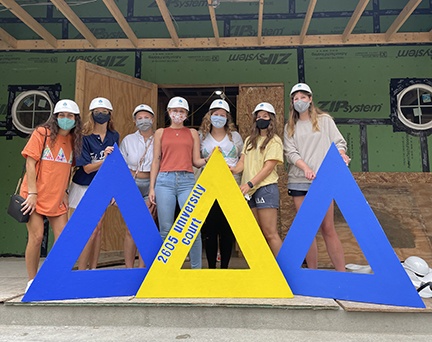 In addition to increasing the overall size of the house—with an expanded chapter room and dining room—the new home on University Court will provide ample individual and group study space, including a new library, study rooms on the second and third floors, and office space for chapter officers.
Kathy Wright Schear, former Zeta House Corporation President, says, "As the academic environments on university campuses have become increasingly competitive and dependent on technology, Tri Delta Housing has designed chapter houses which support the academic needs of students. The chapter house design prioritizes well-designed learning, study and meeting spaces which enable residents to pursue their academic endeavors both as individuals and as groups. Today's Tri Delta chapter house is not only a home to bond as sisters, but a learning community which encourages members to excel, collaborate and become leaders."
Securing Zeta's Future
The new home is also centered around strengthening the sisterhood experience for the collegiate members. Additional common areas on the first floor, a special craft room and outdoor seating on the front porch where sisters can gather will provide space for sisters to spend time together—especially as the chapter continues to grow.
"This new house will undoubtedly strengthen our sisterhood," says Caitlin. "With how large our chapter has grown, the new space will allow us to all comfortably gather for any event we may hold. Not to mention we can now house more members than we could before. This space will provide us with so many opportunities to create the best experiences for each and every one of our members."
"Tri Delta alumnae are thrilled to support our Zeta sisters as they become the next generation of successful women and leaders," says Kathy.
The house on University Court has been made a reality thanks to the support of dedicated Cincinnati alumnae who are generously contributing their time, talent and treasure to turn this house into a home for their collegiate sisters. These women are paying it forward, ensuring future generations of Zeta members continue to receive, and benefit from, the same Tri Delta experience that has influenced and enhanced their lives. There is still time for you to be part of the chapter's future with a financial donation to the Zeta/Cincinnati Housing Campaign.
"When I pledged Tri Delta, I knew it was more than just a college experience," says Kim Moscarino, Cincinnati. "I want every future Tri Delta to have the sisterhood and special bonds that I enjoyed in college and still have to this day. I believe it is our promise, commitment, and duty to Tri Delta to provide a special place to create the very best memories. Every donation helps us make this a reality. While we will miss our home at 2609, this new home will provide the chapter with every modern upgrade and safety feature available. I take pride and comfort in knowing that as alumnae, we've done our part to secure the future of Zeta. What an amazing history we've had …and a fantastic road ahead!"