After months of anticipation and delays due to the pandemic, Tri Delta was finally able to celebrate the rededication and reopening of our Delta Lambda Chapter House at Butler University! Alumnae, volunteers and friends came together on Saturday, March 19 for the rededication ceremony, ribbon cutting and special tours given by our collegiate sisters. It was a celebration of not just the house, but of the history and future of Delta Lambda Chapter.  
"Our homes are more than just the physical structure of a chapter house," said Tri Delta Housing Board Chair Kim David Campbell, Oklahoma, in her remarks during the celebration. "Our homes play a significant role in the development of our sisters and are a proud symbol of our shared values and goals."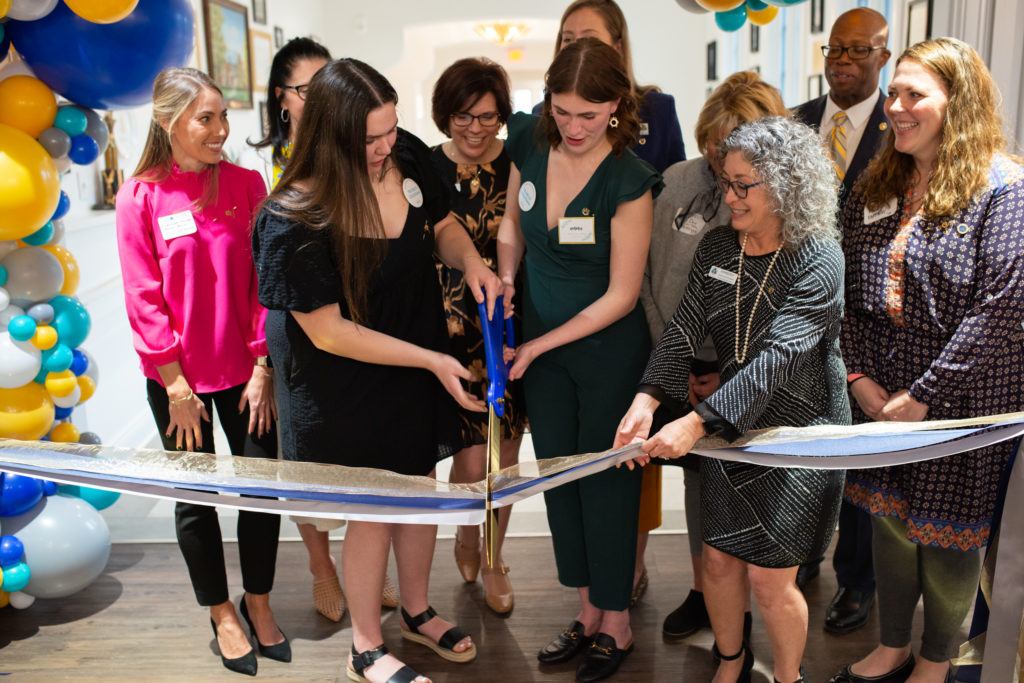 Read more about the redesigned Delta Lambda house in the following story, originally published in the Fall 2021 print issue of The Trident, and take a virtual tour of the house here!
When the members of Delta Lambda Chapter moved into the newly renovated house at Butler University in August, one of the first things they were drawn to was the archival gallery.
"We always had a lot of photos randomly scattered around the house, but no one paid much attention to them," said Collegiate Chapter President Emma Thom. "Now they are front and center."
From a beautiful painting of the exterior of the house and historic photos to fascinating stories and chapter memorabilia, the carefully curated archives pay tribute to the rich history of Delta Lambda Chapter, the over 90-year-old house, and the generations of women who helped build our sisterhood.
Connecting the Past and Present
Delta Lambda members have called 809 West Hampton Drive home since 1930, and the historical nature of the Tudor-style home isn't lost on the women who have lived there.
Teresa Morton Nyhart, initiated in 1980, said, "When you walk up to that beautiful house, you see the stairwell going up and down, and you see the lovely living room. Even though parts of it have been remodeled, those historical elements are there and remain. It's hard not to walk through those elements and think of the history, the longstanding nature of the house and the chapter and where it's been. This new house and everything Tri Delta Housing has done to give it new life going forward is tremendously exciting."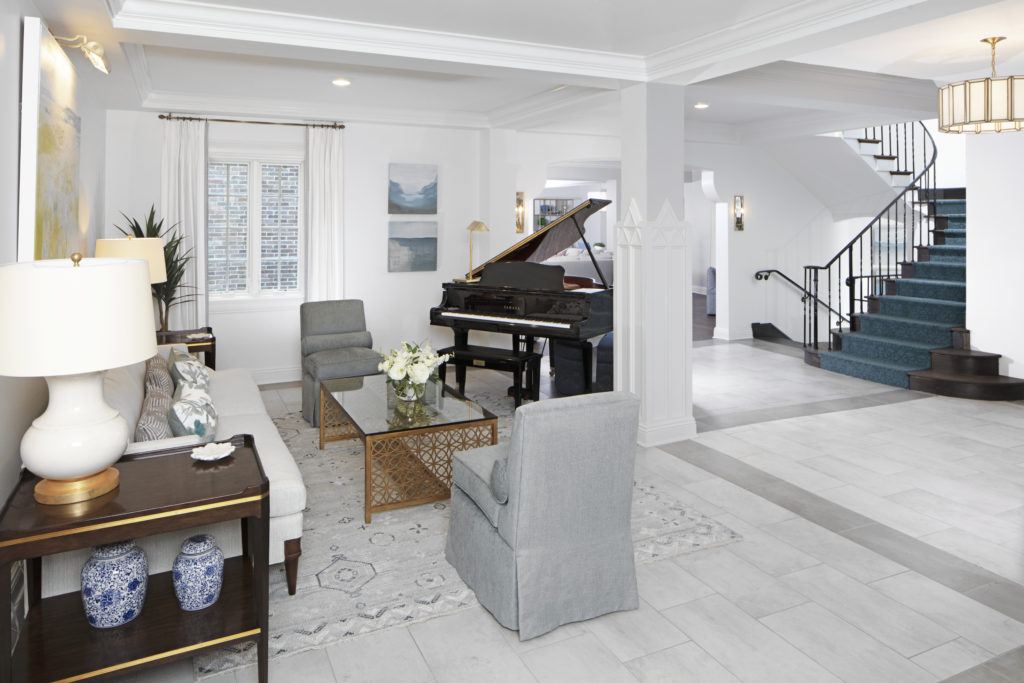 Since its founding, Delta Lambda Chapter has had an important place in Tri Delta history. Although the chapter was closed in 1995 due to declining membership numbers, it was reinstalled 10 years later in 2005. And throughout its nearly 100-year existence as a chapter, Delta Lambda has given our Fraternity so much.
It was Delta Lambda that gave Tri Delta the only Greek-letter mothers' sorority, Tri Psi. A group of mothers of Butler Tri Deltas gathered to form the organization—with the help of Sarah Ida Shaw—shortly after the founding of Delta Lambda in 1914. Today, Tri Psi is an international organization with chapters across North America comprised of mothers who come together to support their Tri Delta daughters.
The chapter has also given us a Fraternity President, Mary K. Wise Jensen, Butler, who led our sisterhood from 1948 to 1952. It was Mary K who was also Tri Delta's very first Diamond Circle recipient, celebrating 75 years of Tri Delta membership in 1996.
Deidre Morton Pettinga, initiated in 1983, remembers being in awe of the fact that her chapter had someone who had served as Fraternity president. "I can remember going to Convention in between my sophomore and junior year. Someone there saw I was from Delta Lambda and said, 'That's such an important chapter.' It made me feel proud to think that I was living in the same house these women had lived in."
Deidre and Teresa are biological sisters who were in the chapter together. In partnership with Tri Delta Housing, they along with many other Butler alumnae—including Kristy Guthrie Karpinski, a member of Butler's rechartering class in 2005—have rallied around the Delta Lambda Chapter to provide support for the housing project.
From naming individual bedrooms to providing the gift of music with a new grand piano, alumnae have left special touches throughout the new home with their generous gifts.
Melanie Perry Hamer was initiated in 2005, and she shared, "When I joined Tri Delta, I wanted to help establish a sorority on campus that felt and functioned differently than the other organizations I encountered. I wanted to be a part of something new, something founded on the principles of strengthening women and embracing individuality. I found that in the women of Tri Delta. I found lifelong friends in the women I met, and I found a home in that stately Tudor at 809 W. Hampton. When I was nominated to be CCP of the Alpha and Beta classes, I wasn't aware that I would be making history as Butler University's first Black National Panhellenic Conference chapter president, but the importance of that has never been lost on me. My hope is that my donation will help continue chapter diversity through creating a welcoming and supportive chapter house for all women to call home."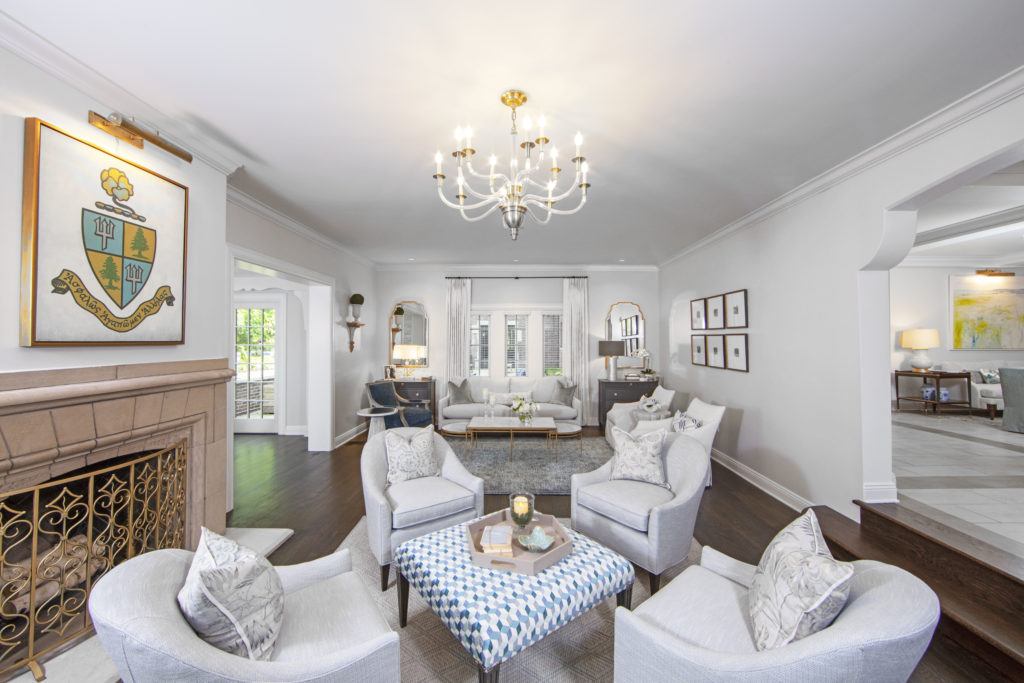 Supporting the house has also been a great way for alumnae to reconnect with the chapter and each other! The Butler Tri Delta Housing Updates Facebook group has been active throughout the process, with photos and videos—along with memories and stories—shared throughout the renovation. "It's been fun to reconnect with a lot of people we hadn't talked to in a while," shared Teresa. "It's given us the opportunity to email, text and just catch up."
Building the Future
Move-in day was full of excitement for the 73 women who now call 809 West Hampton Drive home. The renovated house now provides 18,000 square feet of living, meeting and relaxing space to accommodate the more than 200 members.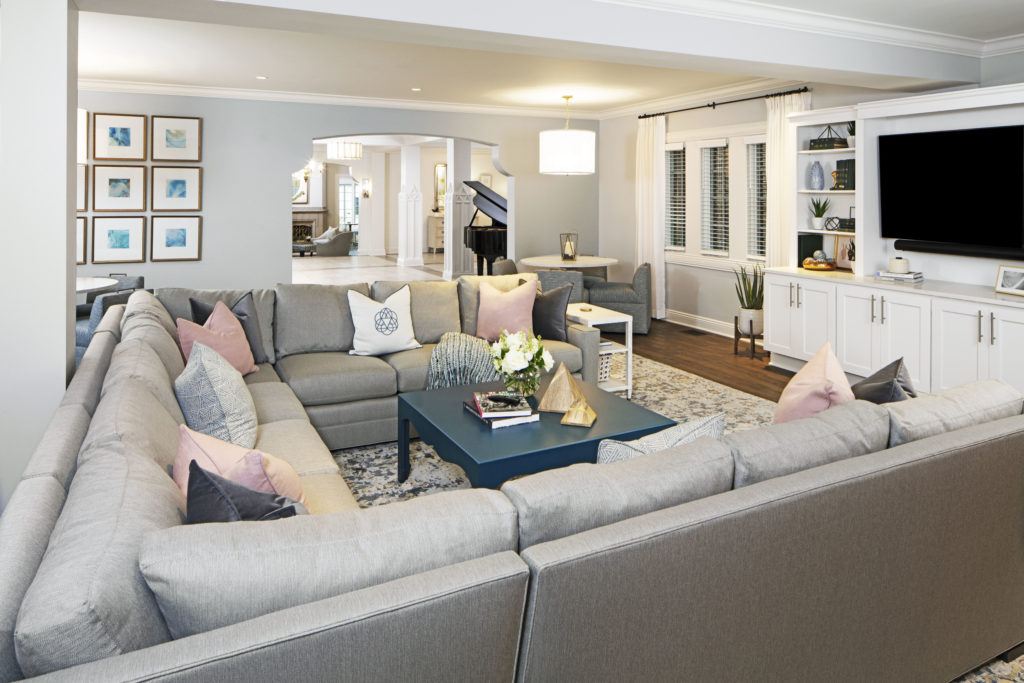 The week after move-in residents and nonresidents alike were already enjoying the new house. "It's very homey already," shared Emma shortly after move-in. "Members are already watching movies in the TV room, and having karaoke and game competitions in the game room."
The basement game room has become a favorite spot, with its pool and air hockey tables and customized Tri Delta arcade game. The game room was also a draw for Delta Desserts, the chapter's first philanthropy event hosted in the new house, with attendees having the option of donating extra money for the opportunity to play a game.
Another favorite space in the house is the new dining room. "It's been nice that everyone can eat at the same time. Every table is full, and after meals people are staying and chatting or doing homework," said Emma.
The dining room opens up to a large terrace, a space where the chapter is excited to hold even more events like September's Delta Desserts in the future. Equipped with a sound system, comfy furniture and festive lighting, it's also sure to be the perfect space to relax with sisters and enjoy warm sunny days or cool fall nights.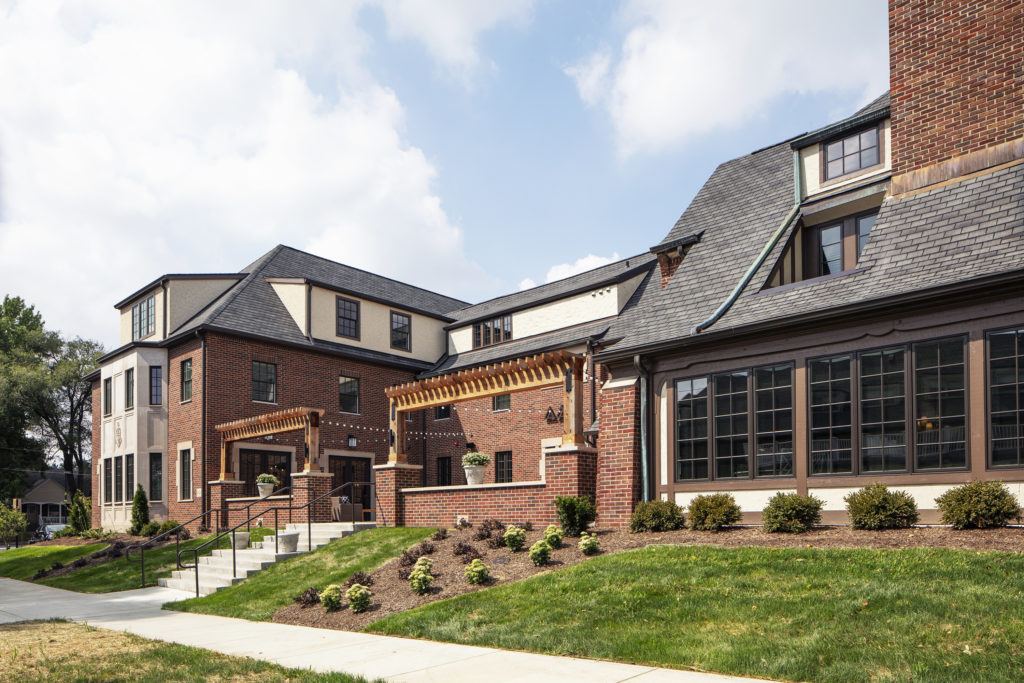 Teresa and Deidre were also both drawn to the terrace when they saw the plans for the property—so much so, they decided to support the project with a combined gift to help make it a reality. Deidre said, "We both gravitated toward it, because we saw it as a welcoming place where the women could gather outside or be connected to the dining and living room areas of the house."
One of the best parts of the renovation process, says Emma, has been the opportunity for the chapter to connect with the alumnae and hear their stories of living in the house. Even though the house itself is the same one built in 1930, each class has its own unique stories and different experiences of living at 809 West Hampton Drive. And this latest renovation ensures the Delta Lambda house will continue to be a part of the Tri Delta story at Butler for decades to come. It's a gift of Delta Love that decades of alumnae are proud to give to the chapter.
While following the project updates on Facebook, Deidre had a realization, as she continued to see sister after sister sign their social media comments and posts with DL—Delta Love.
Deidre realized that DL not only stands for Delta Love, it's also an abbreviation used for Delta Lambda. "It occurred to me that, 'Wow! We're in a Delta Love chapter.' How special is that?"