Each month, Tri Delta publishes In Memoriam, highlighting the lives of some of our Distinguished Deltas and longtime volunteers and sharing a full list of sisters who have recently passed away. Below is the In Memoriam for December 2021.
Joan Didion, California/Berkeley
Distinguished Delta, novelist and journalist Joan Didion passed away on Dec. 23, 2021, at the age of 87. Joan launched her writing career in the 1960s after winning an essay contest sponsored by Vogue magazine, eventually becoming an associate features editor for the magazine. Her writing during the 1960s through the late 1970s engaged audiences in the realities of the counterculture of the 1960s and the Hollywood lifestyle, and her political writing often concentrated on the subtext of political and social rhetoric.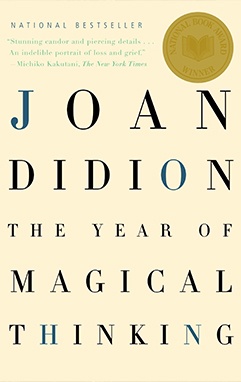 In addition to articles she wrote for magazines like Life, Esquire and the Saturday Evening Post, she also published several novels, including "Run, River," "A Book of Common Prayer" and "Democracy." She and her late husband, novelist John Gregory Dunne, collaborated on several screenplays, including the successful 1976 remake of "A Star is Born."
In 2005, Joan won the National Book Award for Nonfiction and was a finalist for both the National Book Critics Circle Award and the Pulitzer Prize for her memoir "The Year of Magical Thinking," which chronicles the year following her husband's death during which time she was also caring for her ill daughter. She later adapted the book into a play, which premiered on Broadway in 2007 starring Vanessa Redgrave. In 2017, she was profiled in the Netflix documentary "The Center Will Not Hold," directed by her nephew Griffin Dunne. 
Lea Lea Brown, Tennessee
We were also sad to learn of the passing of alumna Lea Lea Brown on Dec. 8, 2021. Lea Lea joined Tri Delta at the University of Tennessee and was the youngest women's club champion at Cherokee Country Club in Knoxville. Following her time at UT, Lea Lea played golf professionally for seven years on the LPGA Tour.
When she retired from professional golf, she opened The Golf House, the first retail golf store in the East outside of private club golf shops. After selling the store, she entered the baking industry, founding Women in Baking, an organization that recognized and supported women moving up in the industry. Her later career days were spent first managing Judy Argo, a widely popular cabaret singer and recording artist, and then as a broker in mortgage banking. Lea Lea excelled in the mortgage industry, developing many lasting friendships through her dedication to her repeat clients over the years.
In Memoriam
This In Memoriam list includes sisters who were reported as deceased to Executive Office December 1–31, 2021. If you know of a sister who has passed away, please report her information to Executive Office by emailing memberrecords@trideltaeo.org.
ALABAMA
Miller, Leslie Johnson '65 d. 1/2021
Rogers, Anne Yeamans '58 d. 1/2020
ARKANSAS
Erwin, Patricia Foy '47 d. 11/2013
BAKER
Meuli, Alice Parker '56 d. 2/2019
BELOIT
Evans, Marjorie Schueppert '47 d. 6/2018
BRENAU
Fisher, Nancy Kiser '47 d. 3/2014
CA-IRVINE
Shields, Beth Kovacs '80 d. 9/2021
CINCINNATI
Ellis, Patricia Reese '47 d. 7/2018
COLORADO
Burnham, Betty Short '46 d. 11/2021
COLORADO STATE
Govier, Frances Farmer '47 d. 6/2015
Green, Mary Kelly '47 d. 1/2018
DENISON
King, Joan Gloeckler '45 d. 8/2021
DUKE
Crevasse, Carol Austin '48 d. 11/2021
Friend, Barbara Maynard '47 d. 4/2017
EMORY
Tinsley, Barbara Vaughn '70 d. 5/2020
FLORIDA
Wagner, Ruth Shingler '54 d. 1/2020
IDAHO
Hill, Waverly Joan Williams '55 d. 10/2021
KANSAS STATE
Scrogin, Dee Oberg '56 d. 12/2021
KENTUCKY
Sutherland, Margaret Flynn '45 d. 12/2021
LOUISIANA STATE
Fish, Frances McInnis '47 d. 5/2020
MISSOURI
Hollingsworth, Jeanne Elkins '43 d. 12/2021
Johnson, Joy Hodkins '47 d. 12/2020
Koerner, Carolyn Neef '48 d. 9/2021
NEBRASKA
Galloway, Jeanice Swanson '47 d. 3/2019
NORTH CAROLINA
Finch, Janet Crinkley '47 d. 4/2020
NORTH DAKOTA
Ewart, Esther Fichtner '47 d. 5/2021
Griffin, Barbara Lilja '47 d. 7/2019
OHIO WESLEYAN
Johnson, Meg Sims '52 d. 8/2021
Kline, Virginia Fritts '57 d. 12/2021
OREGON
Bogh, LaRae Koon '55 d. 9/2020
Engelgau, Dolores Hintzen '47 d. 11/2018
Vickers, Deanna Zane '60 d. 10/2021
OREGON STATE
Noteboom, Janet Day '52 d. 9/2020
SIMPSON
Battles, Myrna Farver '58 d. 11/2021
Cronbaugh, Virginia Melsha '56 d. 12/2021
SOUTHERN CALIFORNIA
Galletly, Mary Schofield '47 d. 9/2018
Reynolds, Barbara Hancock '55 d. 6/2021
STETSON
Edwards, Betty Nobles '47 d. 7/2019
TENNESSEE
Anderson, Delois Hicks '47 d. 11/2021
Brown, Lea Lea '59 d. 12/2021
TEXAS
Fiedler, Betty Jean Beasley '47 d. 2/2017
TORONTO
Holt, Carolyn Bleasdell '61 d. 3/2018
TULSA
Eidson, Elizabeth Gilmore '47 d. 11/2019
VANDERBILT
Martin, Louise Armistead '48 d. 11/2021
WASHINGTON
Mendel, Geneanne Marshall '52 d. 9/2021
WYOMING
Gay, Mary Melchar '47 d. 4/2019