As the pandemic took hold, Carol Martello Lidiak, Pittsburgh, and her husband began to "put things in order." They sold their home and moved into a continuing care community. As they thought more about their estate plans, they decided to name contingent beneficiaries for investments—including Tri Delta's Foundation.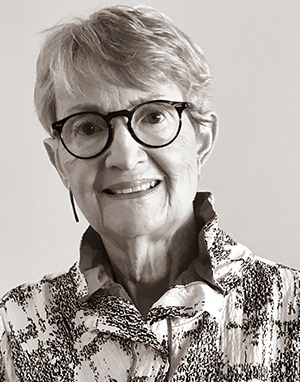 Carol joined Tri Delta in 1965 at the University of Pittsburgh. She had grown up in a small Western Pennsylvania town. The family didn't have much, but Carol says, "We had what we needed, and life was pretty simple." The first in her family to attend college, she thought she would attend a small school. But when the University of Pittsburgh offered her a full-tuition scholarship, she couldn't turn it down.
After receiving her Bachelor of Science degree in medical technology and a master's degree in information science, Carol worked for the University of Pittsburgh Medical Center lab system for more than 30 years.
As an alumna, she has remained involved in Tri Delta through the Pittsburgh South Suburban Alumnae Chapter and as a volunteer. Now retired, she and her husband have found time for golf, travel and volunteering for the horticulture department at Phipps Conservatory.
"Tri Delta is still a part of me," she says. "Our little alumnae lunch bunch was sidelined by COVID, but we hope to resume shortly. The alumnae experience is a beautiful thing proving that Tri Delta is forever!"
As someone who has experienced the lifetime sisterhood Tri Delta offers, Carol is also committed to ensuring that experience is available for future generations of sisters. Here's what she shared about the importance of giving back through Tri Delta's Foundation and the Heritage Society.
Why do you support Tri Delta's Foundation?
The Foundation is a part of our legacy. It's all about sisters helping sisters through one's entire life span.
Why is planned giving important to you?
Naming contingent beneficiaries for our investments will provide seamless transfers of monies while avoiding probate. As I had mentioned, I was fortunate to receive funding for my tuition. Now I am in a position to pay this forward and assist others.
In what ways has Tri Delta impacted your life?
Tri Delta gave me more than my "book education." I became a part of the university community, took on leadership roles within the chapter, and learned to balance my life so that it included fun and sisterhood. I have lifetime friends from my chapter. Volunteering for the Fraternity was a wonderful experience that broadened my insight into what our organization can accomplish.
How do you hope to have an impact on your sisters through giving to Tri Delta's Foundation?
I named the Foundation as a beneficiary, earmarking the donation for the Crescent Fund. As we baby boomers are aging, I felt that someone might benefit from my donation. I also thought of those who have been impacted by more and more frequent environmental disasters and need assistance.
Create Your Own Free Will
Did you know Tri Delta offers members a free estate-planning tool through FreeWill? In 2021 Tri Delta created a partnership with FreeWill to achieve two goals: provide a tool so our members could define their own personal and financial future and help our members create a legacy that supports future generations of Tri Deltas. 
FreeWill allows you to write a will online completely for free in only 20 minutes. While creating your legally binding will, you also have the option to join Tri Delta's Heritage Society: a group of thoughtful members who have included Tri Delta in their plans. These gifts to Tri Delta's Foundation will make a difference beyond your lifetime to provide transformational programs, scholarships and emergency financial support to empower our sisters—helping keep Tri Delta strong into the future.