One of Tri Delta's guiding principles is that our collegiate chapters are self-governing and carry both the responsibility and honor of making individual membership decisions through formal recruitment and continuous open bidding processes.
In the last decade, as a result of the tremendous growth Tri Delta and our sister organizations have experienced, it has become more difficult to ensure that legacies always have a place in a Tri Delta chapter. Across college campuses, the number of legacies has increased at a much faster rate than the number of available bids. In fact, in recent years, there have been chapters where there were not enough bids to welcome all the Tri Delta legacies going through recruitment.
Over the years, Tri Delta has made several changes to its legacy policy to address this problem. The definition of a legacy was narrowed to include only daughters, step-daughters, sisters or step-sisters of initiated members as an effort to reduce numbers.
In 2012, Tri Delta did away with a national legacy policy and empowered collegiate chapters to determine individual chapter-level legacy policies This resulted in a great deal of inconsistency and confusion as chapters enacted policies that included everything from automatic bids, to automatic invites back to certain "rounds" of recruitment days to preferential treatment on bid lists. And there were some who eliminated their legacy policies altogether. In fact, in a recent survey of our collegiate chapters less than 50% have a chapter-level legacy policy.
Opening the Doors of Membership
Most important, eliminating collegiate chapter legacy policies removes a barrier to membership for those without a Tri Delta or Greek connection, opening up membership and providing opportunity and access to more women. Unfortunately, chapter-level legacy policies and practices led to unintended consequences and inequities by limiting access to membership for a wide range of women, including women of color and first-generation college students.
Executive Board Director Jenni Stork Oaks, Baylor, a legacy herself, explains, "If we're giving preferential treatment to legacies and those numbers are so big, we won't be able to offer this amazing opportunity to women who might be first-generation college students or who might not have grown up in a home with people who were a part of the Greek system."
Many of Tri Delta's collegiate and alumnae members have been clear about their desire to see the legacy policy eliminated and have spoken up in favor of removing this additional barrier to entry for potential new members. By removing this barrier, Tri Delta is opening the door to more women of diverse backgrounds—something that will enrich our sisterhood now and in the years to come.
Executive Board Decision to Change Policy
In April 2021, Tri Delta's Executive Board unanimously voted to eliminate collegiate chapter legacy policies effective July 31, 2021. The Executive Board acknowledges that this decision represents much more than a policy change, but an organizational culture shift where we will continue to recognize and celebrate legacy relationships while addressing the confusion, disappoint and inequities related to recruitment.
Fraternity President Megan Shaw James, Millsaps, shares, "This unanimous decision of Tri Delta's Executive Board is aimed at eliminating the challenges and confusion previously caused by legacy policies, as well as increasing access and creating space for brave, bold, kind women of varied and diverse backgrounds to experience Tri Delta. The Board's decision advances Tri Delta's Purpose, aligns with our Founders' vision for a 'society that would be kind alike to all,' and supports our organizational commitment to diversity, equity and inclusion."
Empowering Our Daughters
Foundation Board Chair Stacey Dickenson Cox, Southern Methodist, believes one of the benefits of removing the legacy policy is that it will empower our Tri Delta legacies to explore all their options during recruitment and find the best match for them.
"This is not only going to empower our Tri Delta chapters to make their own decisions, but it will also empower our legacies to make their own decisions," Stacey says.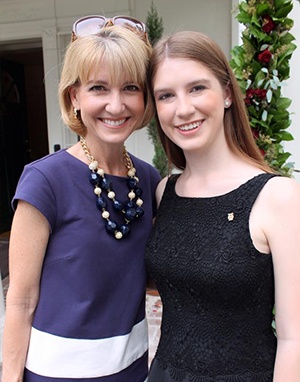 Stacey has personally experienced two different legacy outcomes. Her younger daughter, Claire, is currently a member of the Tri Delta chapter at the University of Florida. But her older daughter, Caroline, followed her own path while going through recruitment at the University of Southern California. Caroline found her home in Alpha Chi Omega.
In reflecting on Caroline's recruitment experience, Stacey shared, "I'm proud that she was strong enough to make the right choice for her. She went through recruitment with a very values-driven approach. She wanted to match where she felt she best belonged, and that was at Alpha Chi Omega."
Stacey believes that not having a legacy policy in place will help take the pressure off legacies and allow them to really explore what's the best fit for them—not simply go with their mother's or sister's organization.
"I think this may lead to our legacies and our chapters really trying to connect with each other and find the right fit. … Everyone gets a fair shot and everyone gets a broad perspective to look at all the choices and to be with the women they connect with and who they feel share their values."
Celebrating Legacies
The decision to eliminate collegiate chapter legacy policies allows Tri Delta to expand its definition of legacies to include many additional family relationships. Going forward, a legacy will be defined as a Tri Delta member who is a daughter or step-daughter, sister or step-sister, granddaughter or step-granddaughter, or niece of a Tri Delta member.
While no longer taken into consideration during recruitment, the inclusion of additional family connections will allow more members to share the joy of sisterhood when a family member becomes a Tri Delta, and throughout their lifetime membership experience.
Ultimately, our Executive Board believes this change is in the best interest of Tri Delta as they "endeavor to keep her strong," providing a more positive experience for everyone involved: Tri Delta family members, collegiate chapters and—of course—the potential new members we hope to welcome into our sisterhood.
Hear More From Our Leaders
In this video, three Tri Delta leaders share their personal experiences and perspectives on the topic of legacies. Jenni Oaks and Stacey Cox join CEO Karen Hughes White, Georgia, for an honest discussion about mothers, daughters and Tri Delta. In addition, in an interview with VP, MarComms Mindy Tucker, Southern Methodist, Tri Delta's collegiate chapter president at the University of Texas-Austin Ainslee Harrison shares the brave and bold decision Theta Zeta members made recently to address campus challenges around diversity, equity and inclusion. We hope you'll set aside some time to watch this 40-minute video.