Since 1930, the Tri Delta chapter house at 809 West Hampton Drive, on the campus of Butler University, has been an important part of the Delta Lambda experience. It's been a home away from home, fostering learning and growth for generations of sisters.
Last year, Tri Delta Housing launched an extensive renovation of the chapter house, which will be fully completed in summer 2021. This renovation will transform the house into a premier living and learning space for the chapter's more than 200 members.
A History of Expansion
This isn't the first time the Delta Lambda chapter house has undergone significant renovations. The home was first expanded in 1960 and then again in 1992. As Tri Delta Housing began exploring the possibility of renovating the home, three factors drove the decision: the size of the chapter, the overall member experience and housing on campus.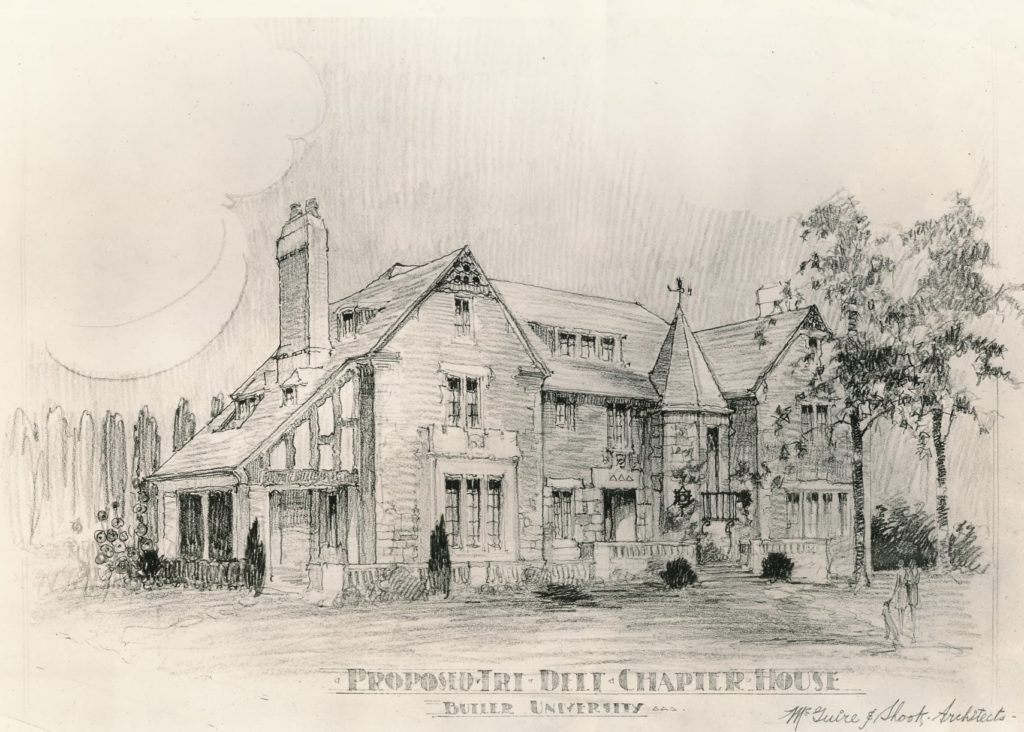 While Delta Lambda is one of the largest chapters on the Butler campus, it had the smallest facility. The house previously only slept 42 residents (around 20% of the chapter), compared to other groups who can house up to 40% of their chapter members.
Space was increasingly becoming an issue for residents and non-residents alike. The chapter reached the point where it could no longer hold chapter meetings in the house—instead it had to meet in a classroom on campus. And, with a dining room that could only seat 50-60 members at a time, there wasn't enough space for members to have meals together.
Finally, with Butler University constructing and opening two new state-of-the-art residence halls, it was evident the Tri Delta house needed an overhaul to remain competitive and continue its strong presence as a premier residence on campus.
Safe, Comfortable and Competitive
The chapter house was officially decommissioned in spring 2020, right as the COVID-19 pandemic hit. But even with the challenges of the last year, construction moved forward on schedule.
Once completed, the new Delta Lambda home will feature a new multipurpose room for both meeting and dining. It will seat 180 members for meals and accommodate even more for chapter meetings. A large outdoor courtyard and additional community living areas will provide more space for sisters to gather.
"It will be so fun to have our entire chapter able to sit and have dinner together in the dining room, which we weren't able to do before, and have sisterhood events out on the new patio!" says Emma Thom, Butler, collegiate chapter president.
The house will nearly double in size, expanding from 10,000 square feet to 18,000 square feet. Live-in capacity will increase to 73, making it comparable to other sorority houses on campus.
The goal of the renovation is to provide a safe, comfortable and competitive living environment for Delta Lambda's members, and—most important—to create a space that will allow sisterhood to flourish. The renovations will officially wrap up this summer in time for an August reopening and a rededication and ribbon cutting ceremony on Sept. 18.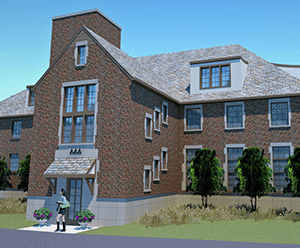 "The Delta Lambda women have had no problem leading and learning with Purpose, but I am thrilled that the chapter will finally have space to LIVE with Purpose!" says Stephanie Truchan, Valparaiso, alumna advisor. "Tri Delta members have always had to work a little bit harder than other Butler Greek members to create a sense of sisterhood and keep members engaged because the chapter simply did not have adequate, dedicated space to live and gather together. I believe the new house will naturally help foster stronger connections between members."
Emma says her sisters are looking forward to having a house that will enable their chapter to grow further, both in numbers and in sisterhood. "The larger common spaces will be great for sisterhood activities like chapter birthday and our new member retreats, and we will now be able to accommodate alumnae events as well! This will be a great way to reconnect with sisters from past member classes," she says. "Having a larger number of live-in sisters will also be beneficial for future member classes, as living-in is a great way to get to know women in our chapter."
Want to get the latest updates on the project? Join the Butler Tri Delta Housing Updates Facebook group!
Want to be part of strengthening sisterhood at Delta Lambda Chapter? Make a donation to the housing campaign.