All three have led the way through male-dominated fields. They have inspired others throughout their careers—and inspire all of us as we learn more about them. These sisters have set the standard in their diverse fields of the arts, government and business, and Tri Delta is proud to share their stories and trailblazing accomplishments.
Three incredible sisters have been named our 2021 Women of Achievement: Kara Barnett, Duke, Carol Hallett, Oregon, and Gayle Jennings-O'Byrne, Pennsylvania. We honored this impressive trio during our International Women's Day Celebration as they continue to focus on how their work, lives and legacies empower generations to come.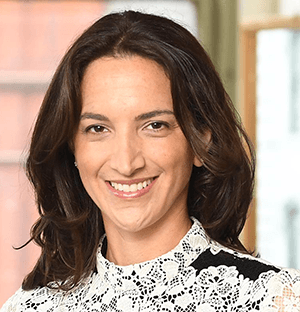 Kara Barnett, Duke
Arts Leader – Innovator – Producer
Kara Medoff Barnett was appointed Executive Director of American Ballet Theatre, America's National Ballet Company, in February 2016 following nearly nine years as a senior executive at Lincoln Center for the Performing Arts. At ABT, Barnett has advanced innovation and inclusion, supporting a robust slate of new productions and increasing diversity in the training pipeline. Since 2016, the Company has performed in Paris, Muscat, Washington D.C., Los Angeles, Chicago, Detroit, Singapore and Hong Kong, bringing extraordinary art to audiences worldwide.
During her tenure at Lincoln Center, Kara served as Director of Strategy and Business Development and Senior Director of the Capital Campaign for the transformative redevelopment of Lincoln Center's iconic 16-acre campus. In 2012, she became the founding Managing Director of Lincoln Center International (LCI), established to extend Lincoln Center's brand, facilitate artistic exchange, and advise government leaders, philanthropists, and developers on the planning and management of cultural infrastructure projects around the globe. Under Kara's leadership, LCI launched the Lincoln Center Global Exchange, an annual conference for international leaders and change agents to advance the role of art and culture in addressing critical challenges facing our collective future.
Kara has produced plays on and off Broadway, and she received a Tony® Award for the 2003 Broadway revival of "Long Day's Journey Into Night." She is a member of the Advisory Committee of the American Theatre Wing, a member of the Harvard Business School Alumni Board and a 2015 Henry Crown Fellow of the Aspen Institute. In 2014, she was named as a member of "40 Under 40" in Crain's New York Business.
Kara attended Duke University on a Trinity Scholarship, graduating summa cum laude, and received her M.B.A. from Harvard Business School. "One thing I loved about my Tri Delta experience was the camaraderie across ages and stages," says Kara. "It's easy to find friendship in the university setting in your class, but to get to know women who are 1, 2 or 3 years ahead of you on that journey who are willing to share perspective, knowledge, wisdom, advice … that I found so helpful. That idea of mentorship is one that continues to be very much a part of my career and my life."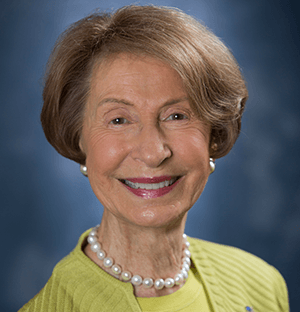 Carol Hallett, Oregon
Aviation Industry Leader – Trusted Advisor – Elected Official
Carol serves as counselor to the U.S. Chamber of Commerce. She served for eight years as president and CEO of the Air Transport Association of America (now Airlines for America or "A4A"), which represents the chief executive officers of U.S. and foreign flag airline and cargo carriers.
Following 9/11, Carol helped craft and pass legislation to save the domestic aviation industry from bankruptcy and took the lead in the redesign of airline security policies and practices. She was twice named to "The Business Travel Industry's 25 Most Influential Executives." Her areas of expertise include international trade and commercial aviation issues.
She also has years of government experience. President George H.W. Bush appointed her commissioner of the United States Customs Service which oversaw the processing of more than 1.3 million passengers daily and $1 trillion worth of merchandise annually. Carol was U.S. Ambassador to the Commonwealth of the Bahamas under President Ronald Reagan.
In addition, she was an assemblywoman representing San Luis Obispo, Monterey and Santa Barbara counties and served as minority leader of the California State Assembly. From 2001 to 2006, Carol served on the CIA director's National Security Advisory Panel. She currently serves on the Transnational Threats Task Force at the Center for Strategic and International Studies and is on the board of directors of Atlas Air Worldwide Holdings Inc., and the All Nippon Airways U.S. Advisory Committee.
She formerly served as a member of the Advisory Committee on Commercial Operations of Customs and Border Protection (COAC). From 2003 to 2018, Carol served on the board of directors of Rolls-Royce North America. She is a pilot with more than 5,000 flight hours and she and her husband also operate a 350-acre cattle and horse farm.
"Because I've been so fortunate to have done so many different things, it's a responsibility to help, encourage and support young women to do something special," says Carol. "No matter what you do in life, do it knowing that it can make a difference."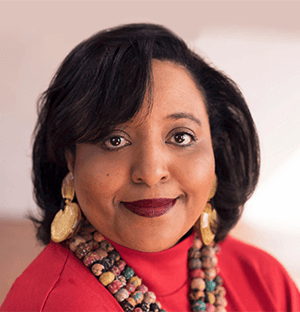 Gayle Jennings-O'Byrne, Pennsylvania
Changemaker – Investor – Champion
Gayle Jennings-O'Byrne is an African American venture capitalist who co-founded the WOCstar Fund, an early-stage investment fund that invests in tech companies led by women of color entrepreneurs ("WOCstars") and diverse, inclusive teams. Gayle (pronounced: Gay-lä) takes a unique builder capital approach to helping entrepreneurs scale and grow to success, while working with investors and allies to participate in the innovation, wealth and success being built. She hosts VCs off the Record, a podcast for both entrepreneurs and investors that provides real talk by real investors.
With more than 30 years of Wall Street, technology, philanthropy, training and professional speaking experience, she is unique in her global experience and knowledge and one among few African American women to start a venture capital firm. Gayle is a highly sought-out content expert in matters of innovation, tech trends, finance, investing and entrepreneurship. She also works with groups to demystify how to invest wisely and with impact.
She is a graduate of the Wharton School of Business at Penn and received her M.B.A. at the University of Michigan. She was also an attendee of the National University of Singapore and City of London Polytechnic. She has traveled, studied or worked in more than 75 countries.
Gayle was recently appointed president of The Nantucket Project Academy, serves as Board member of Women.NYC and BE NYC (Black Entrepreneurs), both based out of the New York City Department of Small Business Services, and is a Nazarian Social Innovator-in-Residence at Wharton School Impact Initiative and a Tribeca Disruptor Fellow.
Reflecting on her Tri Delta experience, Gayle shares, "Dr. Maya Angelou said, 'People will forget what you said; people will forget what you did; but people will never forget how you made them feel.' For me that is really the essence of what Tri Delta means to me because I was this young girl in California coming to the East Coast to this big campus in Philadelphia, and Tri Delta made me feel like I had a community and family. And that feeling stays with me."
The Woman of Achievement Award is Tri Delta's highest honor. It recognizes women who have displayed outstanding achievement in their volunteer, philanthropic, civic or professional pursuits. Their unique accomplishments and unselfish leadership honor the values of our sisterhood and illustrate what it means to be a brave, bold and kind Tri Delta.
Get to know each of our outstanding 2021 Women of Achievement better in episodes coming soon to the Let's Talk Tri Delta podcast.
Do you know an outstanding Tri Delta? Members and friends are encouraged to nominate Tri Deltas to be recognized as Distinguished Deltas and Women of Achievement.