Together, as Tri Deltas, we have renewed our commitment to kindness which has been a part of who we are and how we show up in the world since our founding in 1888. Today, our members are focusing on this virtue and working to Live Kind and Lead Kind throughout their collegiate membership. Many of our members chose to use their spring breaks to volunteer in other communities and give back to those in need.
For Jamie Simon, Vermont, wanting to do more with her spring break and having the opportunity to make a large difference in a small community is something she knew she was meant to do.
As a sophomore at the University of Vermont, Jamie applied to take part in the university's Alternative Spring Break Program. She initially did not know in which state she would be placed to volunteer or what kind of service she would be assigned to, but given her elementary education and special education major, she hoped to work with children.
A few weeks later, she was selected with seven other women, to work at SISU, an integrated early learning preschool in Gainesville, Georgia. On March 12-16, Jamie and her new friends began volunteering in the classrooms, helping to organize the library, and even shadowing occupational and physical therapists in the school setting.
"I learned a lot about teaching in an integrated classroom, and was so excited to be a part of this progressive learning environment," said Jamie. "SISU focuses on integrating its classrooms so each consists of neurotypical children alongside peers with special needs. The ratio of every classroom was 4:1 so every student was receiving a highly individualized education with ages ranging from six weeks to six years old."
Jamie's alternative spring break provided her with an opportunity to spread kindness and enhanced her passion for elementary and special education.
"As a member of Tri Delta, I understand the importance of spreading kindness and being able to live, learn and lead a life that allows me to be brave, bold and kind," said Jamie. "I think the lessons I learned at SISU emphasize these Tri Delta values and I will carry them with me throughout my life and apply them to my own classroom when I become a teacher."
For Kelsey Morihara, Creighton, the passion to Live Kind and Lead Kind started in high school but continued in college as she has experienced three alternative breaks.
A junior majoring in exercise science and pre-health professions with a minor in theology, Kelsey took advantage of the alternative fall and spring breaks provided by Creighton's Schlegel Center for Service and Justice.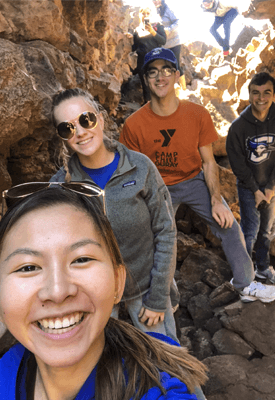 During her fall break as a sophomore, Kelsey went on her first Service and Justice trip to Denver, Colorado, to learn about homelessness, education, immigration and sustainability. She coordinated her second trip to Milwaukee, Wisconsin, where she learned more about homelessness and spent time eating and conversing with guests at different sites.
"After going on these two trips, I felt pushed out of my comfort zone to experience a new community and a new social injustice that I had never experienced before," said Kelsey. "With many topics being focused on immigration reform and plans, I decided to take a third trip to give me a first-hand perspective on what the immigration process is like, and how I can advocate for those who do not have a say in these regulations."
On March 10-17, Kelsey spread kindness through the community of Anthony, New Mexico, where she had the opportunity to spend the night at El Calvario Methodist Church. This church is in Las Cruses, New Mexico, and serves as a refugee center every Tuesday and Wednesday.
Kelsey and other members on the trip welcomed people into the church, served and ate dinner with them, spent time getting to know them and assisted them with their next travel preparations.
Later in the week, the group stayed at the Women's Intercultural Center where they danced Zumba with the women, and helped U.S. residents practice for their immigration test. They also went to a district court where they observed court cases, many involving immigrants, and met a magistrate district judge who welcomed them, answered questions and encouraged them to continue to advocate for positive change.
"I have realized through my Service and Justice trips that everyone has a story that is equally important and should be heard," said Kelsey. "I have used this thought to be more intentional with the conversations that I have with my sisters in Tri Delta, celebrating their accomplishments and listening to those who need their voice to be heard."
As Kelsey continues to grow throughout her lifetime membership in Tri Delta, she has already found a connection between her desire to spread kindness and her steadfast love for our sisterhood. "I understand how my passion for Service and Justice fits into my love for Tri Delta – bravery, boldness and kindness aren't just adjectives that describe my sisterhood, they're how I want to live, learn and lead, with Purpose, in everything that I do."