On July 3-5, Tri Deltas from across North America gathered at the Gaylord Texan in Dallas/Fort Worth, Texas, to celebrate Tri Delta's 58th Biennial Convention!
Our Kind of Kind
Convention officially opened with Ritual as we welcomed six women into our sisterhood through honor initiation: Marie Theresa Arnone, Louisiana State; Johnna Lynn Meadows, Iowa; Emily Patricia-Nelson Musser, Millikin; Lisa Louise Nagy, Texas/Arlington; Doris Marie Parker, Texas A&M; and Margaret A. Schmitt, Wisconsin.
At the Opening Session, sponsored by MJ Insurance, Fraternity President Kimberlee Di Fede Sullivan, Pepperdine, shared Tri Delta's successes over the past biennium and reiterated Tri Delta's commitment to kindness.
Building upon that commitment, the Opening Session debuted Tri Delta's "Our Kind of Kind" video, created by Women Rising, founded by Tri Delta alumna Sara Hirsch Bordo, Texas Christian.
"For kindness to prevail it will take all of us. Brave, bold and kind women who have learned how to live and lead with Purpose," said Kimberlee.  "Kindness has been woven into the fabric of Tri Delta since our founding.  It is part of who we are and now, more than ever, it's how we are being asked to show up in the world."
The Opening Session concluded with a call to action from Kimberlee: "If YOU had the chance to write a letter to Sarah Ida Shaw, what would you say? What would you tell her about Tri Delta Today? What would you ask her?"
Kimberlee urged Tri Deltas to share their letter to Sarah on social media using the hashtag #LettertoSarah.
"Tell her about our kind of kind. And then go tell others. Why? Because kindness only works when it's shared. Widely. And generously. Without expectation. Share the film. Share your story. Share our sisterhood. We came to join. The world is asking us to lead. Let's show them our kind of kind."
The theme of kindness was woven throughout the rest of the day into the evening, as Tri Delta celebrated its brave, bold and kind members at the Cerulean Celebration Awards Gala, sponsored by Herff Jones.
The evening included recognizing our prestigious Women of Achievement recipients and along with three of Tri Delta's valued partners with the Vision Award: McCallum Reese Consulting, Frost Bank and Pennington & Company.
At the Awards Gala, the Tri Delta Foundation also announced its goal to raise $1 million by 2019 for the Trilogy Fund to continue making life-changing gifts to Tri Deltas. Since 2016, more than 140 kind and generous sisters have stepped up to support our members through Trilogy.
At the conclusion of Convention, we had raised more than $800,000 towards our $1 million goal. Attendees had a chance to hear from Trilogy grant recipient Martha Parker, Toronto, who thanked her sisters for their kindness.
Passionate About Serving Others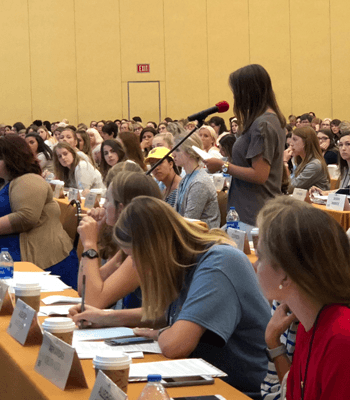 The Fourth of July began with the Business Meeting, where chapter delegates voted on 31 Bylaws amendments and elected Tri Delta's leadership for the 2018-20 biennium.
Amendments included the creation of the Fraternity Membership Status Committee, an update to the requirement for references in recruitment and a new pansy charm which was unveiled as a gift which can be purchased for members for Circle Degree.
After the business meeting, members attended the Alumnae Celebration Luncheon, where they learned more about the local Dallas and Fort Worth Alumnae Chapters' Cookies & Castles fundraiser, a gingerbread-decorating event held every year around the holidays to raise money for Cook Children's Medical Center in Fort Worth, Texas Scottish Rite Hospital for Children in Dallas, as well as the Tri Delta Foundation.
Attendees got hands-on experience in hosting their own event by decorating their own gingerbread cottages, while Executive Board Director Nicole Hughes, Washington State, shared more about Tri Delta's passion for serving others and how our local alumnae chapters demonstrate kindness through philanthropy.
"We're so proud of the work of our alumnae at the local level and regional level," said Nicole. "Thank you for modeling bravery, boldness and kindness for our collegiate members. Because of you, Tri Delta continues to lead the way in philanthropy – often setting the standard for fraternities and sororities. From the nearly $3 million in grants and scholarships awarded by the Tri Delta Foundation over the last biennium to $30.3 million raised for our current 10-year commitment to St. Jude, and the amazing work of our alumnae being celebrated here today, Tri Delta's philanthropic story is powerful."
After the Alumnae Celebration, attendees and their families had a chance to explore Dallas/Fort Worth. Tours included the Sixth Floor Museum at Dealey Plaza, the George W. Bush Presidential Library and Museum and AT&T Stadium, home of the Dallas Cowboys. But one of the most popular destinations was the brand new Ginger Hicks Smith Museum & Archives at Executive Office.
Tri Deltas celebrated the Fourth of July with a family picnic, followed by a fireworks extravaganza to close out a day filled with fun, family and friendship.
Leading With Kindness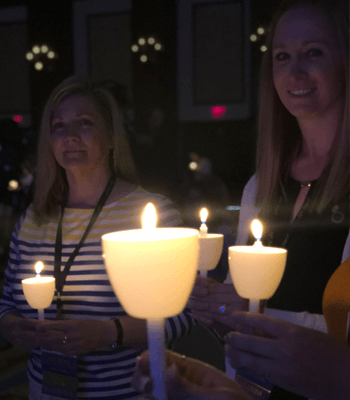 Convention wrapped up Thursday morning with Pansy Brunch, hosted by the Tri Delta Foundation. Following our closing keynote, 50 sisters celebrated 25 years of membership with the Silver Circle ceremony, while four sisters celebrated 50 years with the Golden Circle ceremony.
Convention 2018 concluded with the official installation of the 2018-2020 Executive Board, roll call and candle lighting, and a very special announcement about Convention 2020. Fraternity President Kimberlee Sullivan's daughter, Allison, joined her mom on stage to announce that Tri Delta is going to Disney World! Convention 2020 will be held in Orlando, Florida July 10-12, 2020.
Closing Convention, Kimberlee said, "I hope our time together has renewed and strengthened the perpetual bonds of friendship we all hold dear and that you — my brave, bold and kind sisters — are inspired to live, learn and lead – with Purpose – in all that you do."
Be sure join us in Orlando, Florida for Convention 2020!