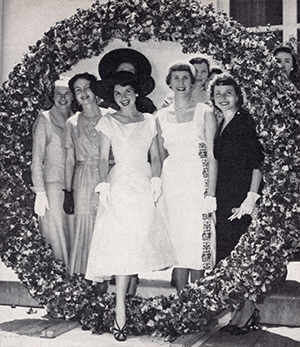 Did you know that Tri Delta's Pansy Celebration dates back to 1908 with alumnae chapters hosting a pansy luncheon? Later, in 1927, the first official Pansy Breakfast was hosted by Theta Xi Chapter at the University of Southern California to welcome graduating seniors into alumnae membership. The tradition quickly spread and was even the topic of a LIFE Magazine photo essay in 1945.
Today, Tri Delta continues to celebrate our graduating seniors with Pansy Celebration and Circle Degree, the third and final degree of Initiation, as they transition into the next stage of their lifetime membership. Here's are a few ways Tri Delta members can mark this special occasion.
Attend Tri Delta's International Pansy Celebration
Tri Delta will be hosting a virtual International Pansy Celebration on Saturday, April 24, at 11 a.m. CDT. During this event, we'll hear from an inspiring panel featuring members of Tri Delta's 33 Under 33, then celebrate Circle Degree with graduating seniors and alumnae from around the globe. Graduating seniors and all alumnae are invited to attend. RSVP today!
Celebrate With an Alumnae Chapter
Last year, Pansy Celebration went all virtual. This year, some chapters may be able to safely host in-person events, in accordance with state and local guidelines. Alumnae chapters who are not able to host in-person celebrations may still host their own virtual event. Whether you're an alumna or a graduating senior, reach out to a local alumnae chapter or find an event on CONNECTDDD.
Host an Event 
If you're an alumnae chapter who is planning to host a virtual or in-person Pansy Celebration, the following resources are available on the Resource Library:
And, be sure to let others know about your event by posting it on CONNECTDDD.
Pay It ForwarDDD
Even if you can't attend a Pansy Celebration this year, we invite all Tri Delta alumnae to sponsor our new graduates' first year of alumnae dues by making a $33 contribution. Help them see that the friendship and sisterhood they experienced as a collegian is really just the beginning! Membership in Tri Delta is for a lifetime, and your sisters are with you always … by your side, supporting you and cheering you on. Pay It ForwarDDD today!
Questions about Pansy Celebration can be sent to events@trideltaeo.org.