A highlight at this year's annual St. Jude/Tri Delta Celebration, hosted by St. Jude Children's Research Hospital July 21-23 in Memphis, Tennessee, was recognizing the chapters and individuals who exceeded expectations in philanthropy and fostered continued growth of the St. Jude mission. Congrats to all our deserving winners!
Director of Philanthropy of the Year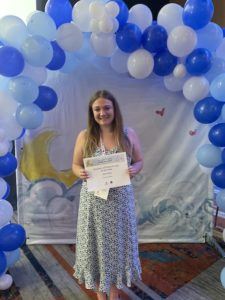 Bailey Bowles, Theta Omega Chapter at University of Kansas
This award recognizes the director of philanthropy who went above and beyond the call of duty and served as an exceptional leader. Her nominator shared, "For the spring 2023 semester, Bailey stepped up to lead all philanthropy efforts for the Theta Omega Chapter while the director of philanthropy was studying abroad. Bailey has deep love for St. Jude because she has a close childhood friend and family member who were affected by cancer and St. Jude was there for them and their families. Although her time acting as interim director of philanthropy was brief, she has already begun to create positive change by including St. Jude Mission Moments in all chapter meetings, leading the education of St. Jude within the chapter and establishing new ideas and ways to increase fundraising dollars. Because of her hard work and love for St. Jude, Bailey helped lead the KU chapter to an 8.9% increase in revenue from the previous fiscal year. Bailey has since been selected as the director of philanthropy for the 2023-2024 academic year and looks forward to continuing to build off the momentum that was created in spring 2023."
Heart for St. Jude Award
Theta Zeta Chapter at University of Texas at Dallas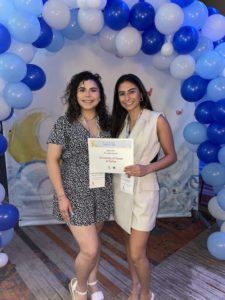 This award recognizes the Tri Delta chapter that demonstrated chapter-wide support of St. Jude. This is measured by the engagement of all its members, volunteer efforts, etc. 
Theta Zeta Chapter displayed true heart for St. Jude this year, hosting their own record-breaking fundraising events and supporting their local St. Jude Walk/Run and Gala. They started the year by recruiting a team of 144 volunteers and participants for the St. Jude Walk/Run Dallas Fort Worth!! Their philanthropy director, Maya Elias, went door to door in early September to recruit neighboring fraternities and sororities to join their team. Then in November, their chapter provided more than 20 volunteers at the Dallas office's Evening Under the Stars St. Jude Gala.
The Dallas St. Jude staff had this to say about the chapter, "Thank you to Theta Zeta Chapter for providing the most passionate mission-driven Tri-Deltas I have ever had the privilege of working with for an event. Each member represented UTD to the greatest capacity of sisterhood."
In the spring, their chapter hosted their most successful DHOP event to date, raising an astounding $10,000! They immediately followed this event with their annual Sincerely Yours event, increasing their chapter's annual fundraising total for St. Jude by 42% year over year.
Most Spirited Chapter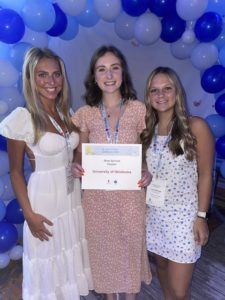 Theta Gamma Chapter at University of Oklahoma
This award recognizes the chapter that has the highest spirited chapter in their support of St. Jude. This is measured by their spirited initiatives that highlighted the mission of St. Jude.
Theta Gamma Chapter does not just claim St. Jude as their philanthropy, but it is something that they truly invest their heart and soul into. Last year the chapter even had a couple of members who took it upon themselves to create their own philanthropy events! For example, one member sold Val-O-Grams with evert penny raised going to St. Jude. She did this without the request of anyone else and without any personal gain, but simply because she cares so much about the cause! This spirit is evident among Theta Gamma's members who enthusiastically volunteer for and promote the chapter's philanthropic events throughout the year.
Most Improved Chapter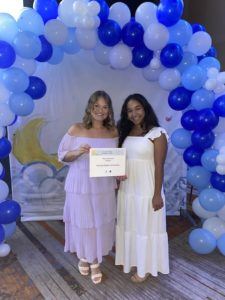 Alpha Eta Chapter at Florida State University
This award recognizes the chapter that demonstrated the most overall improvement in their support of St. Jude.
Alpha Eta Chapter raised $85,592 last fiscal year, a 29% increase year over year. This is a testament to Sydney Carrow's leadership as director of philanthropy and the hard work of the chapter. They set a goal of raising $70,000 this year and, to do this, Sydney worked on increasing members' passion by showing St. Jude videos regularly, giving hospital updates and educating members on how the dollars raised impact the mission. The chapter hosted DHOP, Sincerely Yours, Delta Dodgeball and a new event, Sweets for St. Jude. For these events, the chapter sold more tickets year over year and worked on improving the event experience for their attendees, including giving guests the chance to win games (raffle) and providing entertainment. Local vendors donated portions of sales in determined time periods, and the chapter launched incentives that encouraged members to sell tickets and participate in philanthropy events.
Outstanding Sincerely Yours Event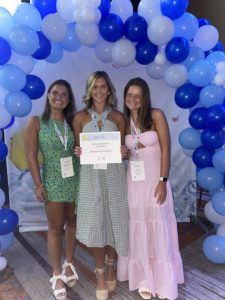 Beta Theta Chapter at Clemson University
This award recognizes the Tri Delta chapter that implemented the most outstanding Sincerely Yours event in terms of organization of the event, participation in the event and dollars raised, as well as additional successful efforts to inspire members.
Beta Theta Chapter tripled their fundraising from last year, increasing from $49,000 last year to more than $160,000 this year. To do it while the chapter was grappling with the heartbreak of losing a sister to cancer makes it even more meaningful.
Outstanding Side Event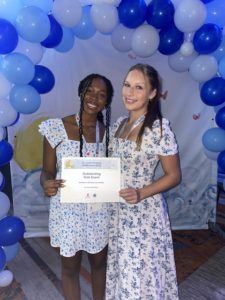 Phi Omicron Chapter at Northern Arizona University
This award recognizes the Tri Delta chapter that implemented the most outstanding side event in terms of organization of the event, participation in the event and dollars raised.
Phi Omicron Chapter raised an astounding $19,000 through their fall side event: St. Jude Soldier Week! This event is a 3-day spirit week including a cake war, talent show and capture the flag. What made this year's event unique and successful was their director of philanthropy's creative fundraising add-ons and incentives throughout the competition. Not only did her new strategies add a competitive edge, but they enhanced the event's fundraising tremendously! For example, during cake wars, while teams were decorating their cakes, they had the option to pay extra to force their competition to tie one arm behind their back or blindfold themselves while trying to finish decorating their cake. St. Jude Soldier Week has become a favorite event of not only Phi Omicron Chapter, but also of the entire NAU community!
Alumna of the Year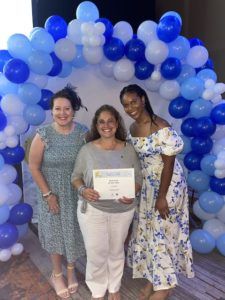 Lisa Diskin, Toledo, Fredericksburg Area, Virginia Alumnae Chapter
The 2023 Alumna of the year is no stranger to St. Jude. She has been a tireless volunteer for Tri Delta and St. Jude since our partnership started in 1999. Her alumnae chapter, under her leadership, has raised significant funds for our St. Jude partnership. Lisa's unwavering commitment and boundless enthusiasm make her a true leader. She has a unique ability to connect with people from all walks of life, leaving a positive impact on everyone she encounters.
Top 10 Fundraising Chapters Based on Chapter Size 
Blue Category includes chapters with 75 members or fewer: 
Gamma Chi Chapter, University of Denver
Beta Epsilon Chapter, University of Texas at Arlington
Gamma Delta Chapter, Spring Hill College
Beta Phi Chapter, Centre College
Gamma Phi Chapter, Texas A&M University at Corpus Christi
Phi Xi Chapter, Wichita State University
Alpha Delta Chapter, Stetson University
Theta Eta Chapter, University of Wyoming
Silver Category includes chapters with 76 to 130 members:
Beta Alpha Chapter, University of South Florida
Alpha Omicron Chapter, Duke University
Beta Omicron Chapter, Illinois State University
Delta Gamma Chapter, Vanderbilt University
Gamma Xi Chapter, Furman University
Omega Delta Chapter, Iowa State University
Phi Epsilon Chapter, University of Southern Mississippi
Epsilon Tau Chapter, Quinnipiac University
Phi Alpha Chapter, University of Toledo
Gold Category includes chapters with 131 to 190 members:
Theta Xi Chapter, University of Southern California 
Gamma Sigma Chapter, Colgate University 
Theta Iota Chapter, Kansas State University 
Gamma Beta Chapter, Villanova University 
Alpha Sigma Chapter, University of North Carolina 
Delta Lambda Chapter, Butler University 
Gamma Psi Chapter, Wofford College 
Kappa Chapter, University of Nebraska  
Phi Upsilon Chapter, Oklahoma State University 
Delta Psi Chapter, Rhodes College 
Green Category includes chapters with more than 190 members:
Delta Omega Chapter, Louisiana State University 
Chi Chapter, University of Mississippi 
Beta Mu Chapter, Mississippi State University 
Beta Tau Chapter, Baylor University
Beta Theta Chapter, Clemson University
Delta Sigma Chapter, University of Tennessee 
Theta Zeta Chapter, University of Texas 
Beta Nu Chapter, Virginia Tech University 
Theta Gamma Chapter, University of Oklahoma 
Delta Iota Chapter, University of Arkansas

Million Dollar Achievement Awards 
We've begun a new tradition of chapter recognition. The following chapters have raised $1 million or more since the beginning of their time fundraising for St. Jude.
Beta Theta Chapter, Clemson University
Delta Omega Chapter, Louisiana State University 
Beta Mu Chapter, Mississippi State University  
Gamma Alpha Chapter, Texas A&M University 
Phi Lambda Chapter, Texas Christian University
Phi Eta Chapter, Texas Tech University
Delta Mu Chapter, University of Alabama 
Delta Iota Chapter, University of Arkansas 
Delta Rho Chapter, University of Kentucky  
Alpha Chi Chapter, University of Miami/Florida
Chi Chapter, University of Mississippi 
Delta Xi Chapter, University of Missouri 
Theta Gamma Chapter, University of Oklahoma 
Alpha Lambda Chapter, University of South Carolina
Delta Sigma Chapter, University of Tennessee
Theta Zeta Chapter, University of Texas
Delta Gamma Chapter, Vanderbilt University 
Beta Nu Chapter, Virginia Tech University