This year's annual St. Jude + Tri Delta celebration, hosted by St. Jude Children's Research Hospital July 21-23 in Memphis, Tennessee, was a testament to the magnitude of our partnership. It was a meaningful time to come together with collegians, alumnae, St. Jude families and their staff to look celebrate the accomplishments we made over the last year while looking toward bigger goals in the future. In attendance were the directors of philanthropy from all our collegiate chapters across North America and our top six fundraising alumnae chapters: San Diego, California; Washington D.C. Metro; Naples, Florida; Boston, Massachusetts; North Dallas Area, Texas; and Fredericksburg Area, Virginia.
The weekend was filled with opportunities to learn, connect and, most of all, celebrate another successful year of fundraising by Tri Deltas who continue to further the mission of St. Jude.
Learning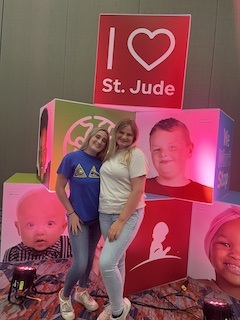 This year, training was added to the mix to empower our collegiate leaders, helping them excel in their philanthropic efforts, learn from one another and foster stronger connections with the St. Jude mission. Sessions included a patient family panel, a music therapist and tracks for social media, Sincerely Yours 101, values integration, Tri Delta branding with St. Jude and exceptional event execution. 
Celebrating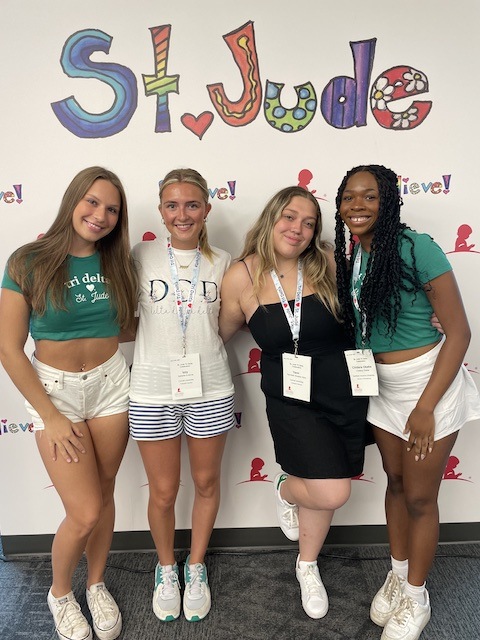 The weekend was also about building lasting memories. Attendees enjoyed two parties that allowed them to unwind and enjoy each other's company. The first night was inspired by the new AbbVie Family Commons, a treatment-free floor designed to provide families with space to relax, recover and connect in one central location. There were photo opportunities, bingo and friendship bracelet making. To keep the fun going, people traded their bracelets with each other throughout the weekend.
The second night occurred at the Domino's Event Center, featuring a barbecue dinner, local businesses, life-size games like Jenga and a silent disco. With headphones on, Tri Deltas and St. Jude staff danced the night away creating a dance party like no other! 
Exploring
In addition to the festivities, our sisters had the privilege of taking a campus tour! They explored St. Jude's research pavilion, perused the Danny Thomas ALSAC Building containing memorabilia of the late entertainer and founder of St. Jude, took photos outside Tri Delta Place and got a tour of the Inspiration 4 Advanced Research Center, funded by the Inspiration 4 Space Mission.
Announcing 
In her remarks to celebration attendees, Fraternity President Megan Shaw James, Millsaps, reminded us "Philanthropy is not just a buzzword. It's the heart and soul of our organization, propelled by the value of self-sacrifice we all hold dear. That's why we are so proud of our impactful partnership with St. Jude."
She also shared a meaningful announcement with our sisters in attendance—the first to hear the news! Since our partnership began in 1999, Tri Delta has raised more than $93 million for St. Jude. Last year alone, we raised $6.4 million of that total! Our next goal is to raise an additional $7 million by the end of 2024, reaching the $100 million total milestone to commemorate 25 years of our partnership.
Through events like Sincerely Yours, D-Hop and the St. Jude Walk/Run, Tri Delta leads the way in fundraising, sitting among the top 10 corporate partners of St. Jude and the top fundraising non-profit partner. Tri Delta's dedication to supporting St. Jude and its mission to change the way the world treats and defeats childhood cancer is truly remarkable, and each dollar raised is a testament to the hard work and passion of our members.
Recognizing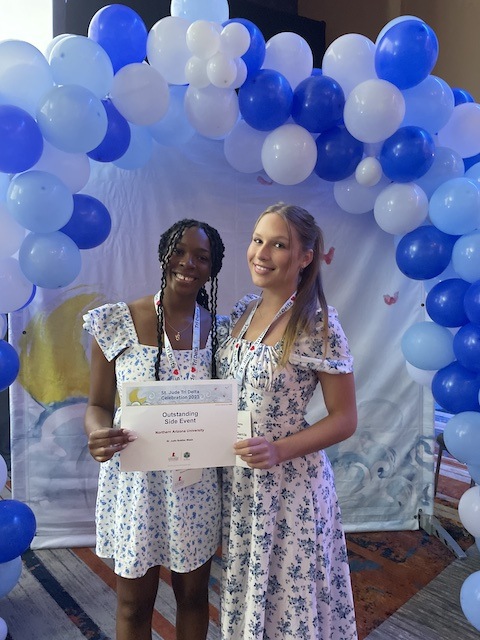 Also in attendance, Executive Board Director Leah Clelland Jochim, Ottawa, expressed heartfelt gratitude for everyone's countless hours, sleepless nights and energy poured into our sisterhood's support for St. Jude. She then introduced Sr. Vice President of Field Development & Experiential Programs for ALSAC Chris Boysen, who kicked off the 2023 Tri Delta Celebration Awards Ceremony. Read about our deserving winners HERE. 
As we move forward, we are more motivated than ever to continue our impactful partnership with St. Jude. Together, we are making a difference and shaping a better future for the patients and families served by this incredible organization. With our shared commitment, we have no doubt that we will achieve our next milestone and beyond. Thank you to all our members for being the driving force behind this incredible journey!