Looking for a book to cozy up with on the couch or discuss at your next book club gathering? Allow us to recommend some fantastic reads that are sure to captivate and inspire. Explore the world of Tri Delta authors with our ReaDDDs book reviews. Discover the latest works from our own talented Tri Delta writers.
101 Ways to Say Thank You
By Kelly Browne, Cal State/Northridge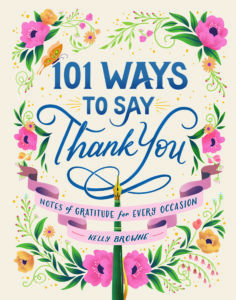 Express your gratitude in writing for any occasion with this updated guide to saying thank you! Writing a thank you note isn't just about good manners. Whether written in ink on formal stationery or delivered digitally, a well-crafted thank you note makes the recipient feel appreciated—a sensation that makes you both feel good! This practice can improve your personal, social and business relationships leading to success and well-being in all aspects of your life.
In "101 Ways to Say Thank You," Kelly Browne shows you how to express gratitude eloquently and sincerely in every situation in an easy-to-follow, engaging and down-to-earth way. Never be at a loss for words again!
Kelly is the go-to gratitude expert on thank-you note etiquette for adults and kids. She lives in Los Angeles, maintains a popular website and blog, and uses social media to promote the "magic of gratitude." Her advice has appeared in Parade, The Wall Street Journal, eHow, Tinyprints, and Jezebel—among many others—along with TV and podcast appearances.
Blessings Along the Way
By Vickie Pappas, Florida State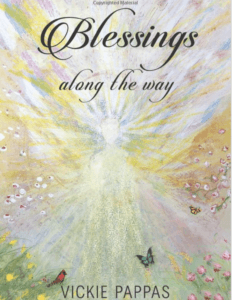 With a grateful heart, Vickie Pappas has given us a book based on her experiences and the people she encounters daily that resonate love, joy, hope and fellowship. She reveals the divine threads that weave us together, creating this beautiful tapestry of life. Always guided by her Christian faith and Scripture, she inspires us to see the beauty in every person and circumstance as we travel on our daily paths. Join the journey and enjoy the ride as Vickie encourages us to choose to see our own blessings along the way.
Vickie's parents laid a strong foundation of faith for Vickie and her brother Billy. Despite the hardships she's endured, Vickie has continued to share her faith and encourage those around her. She has made it her goal in life to shine the light and love of Jesus through acts of kindness, serving, and spreading joy wherever she goes. For more than 10 years, Vickie has blessed her family and friends with her thoughts of the week. With each one, sent individually, she says a prayer for the recipient. What began as a personal ministry has evolved into a collection of her favorite blessings along the way.
Fundraising for All
By Linda Wise McNay, Transylvania
Leading a nonprofit is challenging and rewarding work. Nonprofit board members, CEOs, Executive Directors and fundraising leaders—and those who aspire to those roles—are expected to engage donors to raise money effectively. Yet, most have received little or no training or support in advancement.
In "Fundraising for All," Linda Wise McNay and fellow veteran fundraising consultants and co-authors Ailena Gibby Parramore and David M. Paule demystify fundraising. This innovative book guides readers on the importance of a strategic plan as the foundation of how smart nonprofits cultivate donors for the future. The real beauty of "Fundraising for All" is that it seeks to help nonprofits of any type or size with simple, no-nonsense explanations and easy-to-follow instructions that anyone can understand.
Linda is the founder, owner and principal consultant with Our Fundraising Search in Atlanta. She has completed more than 15 years of consulting and has served more than 175 clients. Linda's nonprofit background includes work with higher and secondary education, the arts, human services and faith-based organizations.
Linda and her architect husband, Gary, have two adult sons. In her spare time, she likes traveling to new places with family and friends, reading, writing, walking and playing board games.
The Habits of Unity, 12 Months to a Stronger America … one citizen at a time
By Elaine Parke, Northwestern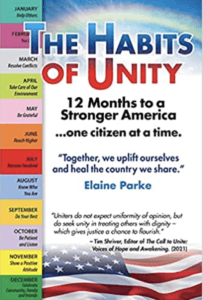 "The Habits of Unity" is not a book about habits; it's a habit-forming book! It is a one-minute-a-day action guide to a better life and more empowered citizenship. Each of the 12 months of the year is branded with one habit-forming value such as resolving conflicts, helping others or being more positive.
As a former corporate executive whose job was, in part, to help people get along better, Elaine Parke came up with this one-minute-at-a-time, one-value-a-month game plan. She's been teaching it in schools and communities for 30 years—and seeing results.
Elaine was born in Coshocton, Ohio in 1942, just after Pearl Harbor. Her life spans the post-WWII era of industrialization and the transformative technological advances of mass communication and the internet. She currently resides in West Virginia and serves on the West Virginia Public Broadcasting Friends Board of Directors.
Peace in the Storms of Life
By Julie Rayburn, Florida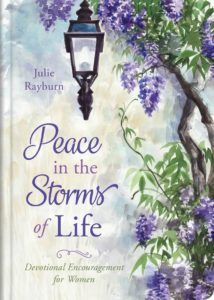 "Peace in the Storms of Life" is full of heartfelt devotional readings—125 to be exact—that will challenge you to dive deep into God's Word to find the strength and peace you need amid the storms of life.
This devotional encouragement for women was birthed from Julie's own life experiences and is perfect for personal use or as a gift for a friend going through hard times.
Julie has served as Teaching Director and Area Director for Community Bible Study (CBS). Currently, she and her husband, Scott, are serving as CBS Ambassadors to Nepal and on the CBS Board of Trustees. Julie is also a retired surgical orthopedic nurse. She enjoys tennis, golf and gardening. Scott and Julie have two grown children and four grandchildren and reside in the Atlanta area.
Pilgrim Interrupted
By Susan Cushman, Mississippi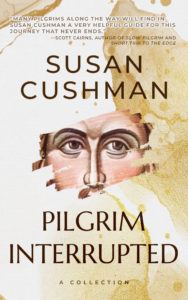 The title essay in this collection, "Pilgrim Interrupted," is set on the island of Patmos, Greece, during one of Susan Cushman's pilgrimages with her husband, Father Basil Cushman, an Orthodox priest. Pilgrimages. Orthodoxy. Icons. Monasteries. It's all in here. But so are stories about mental health, caregiving, death, family and writing, including a section on "place," a key element in Southern literature. And how is Susan's pilgrimage "interrupted"? By life itself. 
"Pilgrim Interrupted" is a collection of essays, poems, and excerpts from Susan's novels and short stories. Susan began to chronicle her life's journey in the early 2000s, including coming of age during the turbulent 1960s in Jackson, Mississippi, marrying young and adopting three children, and leaving the Presbyterian Church of her childhood for the Eastern Orthodox Christian faith in 1987. "Pilgrim Interrupted" is her eighth book.
Susan has lived in Memphis, Tennessee, since 1988. She started her blog, "Pen and Palette," in 2007 and curated 60 of those blog posts for her first published book.
Susan and her husband of 52 years, Bill, who is a physician (aka Dr. William Cushman) and an Orthodox priest (aka Fr. Basil Cushman), have three adult children and four granddaughters.
Prohibited
By Donnée Patrese (Harris), Butler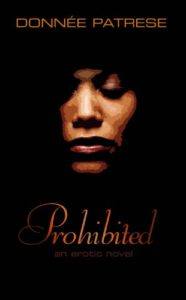 "Prohibited" is a novel about infidelity, betrayal and self-exploration. After an abusive relationship, Maxine couldn't see herself falling in love with another man. But then she meets Michael and everything changes. However, is their love true … or just a sham?
Donnée Patrese Harris writes books from spicy romance to romantic suspense and even some murder mystery. "Prohibited" is part of a trilogy.
Born and raised in Gary, Indiana, in 2012, Donnée moved to Bakersfield, California, where she and her husband raise their daughters. She is currently the Vice President of Writers of Kern, a branch of the California Writers Club.