Tri Delta celebrated big Saturday night at Volunteer Leadership Conference 2023, where we came together to honor our exceptional volunteers with the prestigious Volunteer Service Awards. Today we are delighted to announce the well-deserved winners who have truly gone above and beyond in their willing service to our sisterhood.
COORDINATOR AND SPECIALIST AWARDS 
Linda Hunt Purkapile, Iowa State, Region Seven Panhellenic Coordinator
Linda led discussions and meetings with Creighton University officers and volunteers, fostering conversations on Panhellenic recruitment and Continuous Open Bidding. Her contributions also extended to Simpson College, where she played a crucial role in reviewing Panhellenic bylaws and suggesting impactful changes for the wider Panhellenic community. Linda's collaboration with Southeast Missouri resulted in a significant cost-saving measure by holding the preference round of recruitment on campus. Despite retiring as NPC area advisor, she continued her involvement with the Panhellenic at the University of Hawaii until a new area advisor could be appointed, and her efforts led to the best recruitment they had experienced in years.
Carolyn Portner, Iowa State, Financial Specialist for Omega Delta Chapter at Iowa State, Delta Chapter at Simpson College and Delta Eta Chapter at Coe College
Currently in graduate school, Carolyn is a busy, working woman who still finds time to support her chapters. This winner's nominator said "[she] shows up to every finance committee meeting with a smile and eagerness to help me out with my officer duties. She does a great job of listening to my ideas and thoughts, but also inserting her own wisdom that will benefit the chapter."
COLLEGIATE CHAPTER ADVISOR AWARDS
Judith Baldwin, Coe, Alumna Advisor for Delta Eta Chapter at Coe College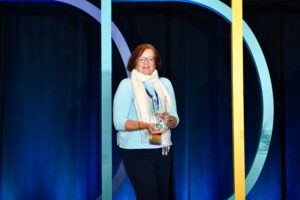 Judy has been an incredible asset to the chapter, going above and beyond to support its members. She regularly provides engaging 3- to 5-minute presentations on various "life/adulting" topics, ranging from interview tips and resume construction to teamwork strategies and personal financial management. Additionally, Judy collaborated with the chapter to design a comprehensive 19-question survey, which allowed them to address crucial issues and leading to an empowering "year of sisterhood." Even before officially becoming a Tri Delta in 2019, Judy actively participated in numerous chapter events. She selflessly volunteered for Delta Eta's mock recruitment practice, contributing to the improvement of collegiates' conversation skills and rotation management. She enthusiastically attended Bid Day, wholeheartedly supporting current and new members during the bid reveal. Not only that, but Judy also joined Delta Eta fundraisers and even brought friends along to boost the success of these events. Judy's unwavering dedication and support have made a lasting impact on the chapter and its members.
Vicki Maltempo Gamble, West Virginia, Alumna Advisor for Alpha Beta Chapter at Cornell University
Vicki played a pivotal role in restoring financial stability during a challenging period for the chapter. She dedicated her time and expertise to help the chapter navigate through the difficulties and get their finances back on track. Vicki's unwavering support extended to the Alpha Beta's collegiate chapter president (CCP) as she faced tough decisions. Her guidance and leadership proved instrumental in guiding the CCP to win the prestigious Sarah Ida Shaw Award.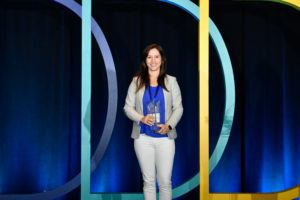 Brittany Richardson Durfey, Alumna Advisor for Chi Chapter at the University of Mississippi
Brittany is not content with superficial connections. One member shared, "She tells us what we need to hear, even if it is not easy. She ensures that we are developing into the women she knows we can be by providing honest guidance and sharing her own experiences and downfalls. This approachability and humanity make her a pillar of strength and wisdom within our chapter."
ALUMNAE CHAPTER OFFICER AWARDS 
Judy Gordon Franceschi, Mississippi, Philanthropy Chair for Mount Diablo Alumnae Chapter
Judy goes the extra mile to get a task completed. During the COVID pandemic, her chapter held a virtual chili cook-off where she picked up chili from the cooks and delivered samples to everyone attending the Zoom meeting. Her program chair wrote in her nomination, "I love how she always brought our members together with new, fun events. Her spirit is always known when she's in the room!"
Carolyn Nelson Picton, Central Florida, Membership Chair of the Charlotte Alumnae Chapter
Carolyn was appointed as a "Zip Code Ambassador" to connect with alumnae members in the area. After having great success first taking on Davidson, North Carolina, she then reached out to alumnae in three additional towns. She consistently invites all these Tri Deltas to a Delta Dinner every other month.
Carolyn set a lofty goal of increasing her chapter's membership by 25%. Her nominator wrote, "I am pleased to report that she has increased our chapter's dues-paying members a whopping 40%!" We know this chapter officer is a big reason for this growth because 20 of their 56 members live in the zip codes she manages—and the chapter is continuing to grow! 
HOUSE CORPORATION OFFICER AWARD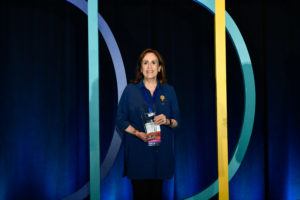 Betty Olivera, Northwestern, Upsilon Chapter House Corporation President
Through her exceptional skills and efforts, Betty has successfully developed and nurtured valuable relationships between the Fraternity and the university. This connection was crucial as their century-old home is owned by the university while being managed and maintained by the local house corporation. Her team's financial savvy has allowed them to construct a budget that manages the financial needs of the house while paying back the debt to the university in a prompt manner. This helps to ensure the future of our collegiate chapter at Northwestern University.
BRAVE, BOLD & KIND AWARD  
Lisa Frenzel Remsikova, Texas, Honor Initiate Chair
Lisa is passionate about offering women the opportunity to join Tri Delta. She takes time to develop relationships with the candidates seeking membership and she spends extra time ensuring they connect with an alumnae sponsor. She even takes the time to check in post-Initiation about their membership experience.
Her ability to confront challenges inside and outside of Tri Delta is one of her most cherished strengths. Diagnosed with a chronic autoimmune disorder in 2021, through good days and more difficult ones, she continues to stay on top of her responsibilities.
Her nominator wrote, "She lives by our Purpose, establishing a perpetual bond of friendship with everyone she comes in contact with and she striving to assist its potential members in every possible way. I can think of no other Tri Delta that I have worked with in my years of service to Tri Delta who has contributed so much through selfless, devoted leadership."
DELTA DREAM TEAM AWARD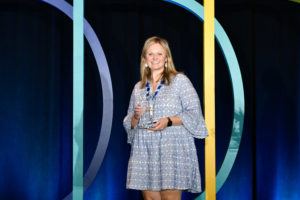 North Dallas Area Alumnae Chapter Officers
This alumnae chapter officer team keeps the members' best interest in mind when making decisions. They plan fun, educational, meaningful and under-budget activities to enhance the member experience for all. Impressively, they research, plan, coordinate and execute 5 to 10 unique activities for their members each month. While each officer may have a specific role or duty, it takes the effort of the entire team to execute successful events and activities.
Through their philanthropic and service opportunities during the last year alone, the chapter was able to donate $3,900 to St. Jude, $5,500 to Tri Delta's Foundation and $62,000 to a local hospital for children, along with 288 pounds of canned food and goods to a local food pantry! This totals $71,700 of funds raised and donated to various nonprofits.
Congratulations to all our winners!
HONOR ROLL
At VLC 2023, we also recognized alumnae chapters who are hitting the mark in five important areas. Alumnae Chapter Honor Rolls recognize chapters for meeting Tri Delta expectations for operating a successful alumnae chapter and providing an elevated member experience to their members. Click to find out which outstanding alumnae chapters achieved these honors:
Alumnae chapters receiving 2022- 2023 honor roll status
Community Service Honor Roll
Finance Honor Roll
Membership Honor Roll
Operations Honor Roll
Philanthropy Honor Roll
Finally, we celebrated exceptional alumnae chapters with the Alumnae Chapter Three Star Award. These chapters have achieved honor roll status in three or more categories by June 1, 2023. Congratulations to the following nine chapters who rose to the challenge and delivered excellence!