Tri Delta Mildred Bland Miller, Maryland, continues to leave a deep, impactful mark on our sisterhood, even after her passing. Credited with encouraging—and even challenging—all of us to "better our best," Milly has left a legacy that pushes us to focus on our growth and development, both as an organization and as individuals.
Milly's example is now being demonstrated in an impactful new way: through the Milly Miller Fellowship. Funded through a generous estate gift, this fellowship was designed both to honor and recognize outstanding leadership by a staff member of Tri Delta and also to celebrate the legacy of our sister Milly. Tri Delta is excited to announce its first Milly Miller Fellowship has been awarded to Dr. Mari Ann Callais, Tri Delta's senior director of strategic initiatives.
What Is the Milly Miller Fellowship?
This two-year term fellowship covers the cost of the salary for the percentage of time and travel that the Fellow spends providing leadership and educational programming on behalf of Tri Delta. The Fellow has an established record of outstanding achievement and leadership, a strong professional reputation, and a demonstrated commitment to helping others "better their best." Leading by example, the Fellow lives the values of Tri Delta and uses those values to guide their work. It is awarded to a staff member whose work is particularly critical to the mission of the organization at the point in time when it is awarded.
Who Is Dr. Mari Ann Callais?
Dr. Mari Ann Callais holds a doctorate in educational leadership and research from Louisiana State University and has worked in higher education for more than 30 years. She previously served as an assistant professor and student affairs program coordinator at Mississippi State University and director of student organizations/fraternity/sorority life at Southeastern Louisiana University. She has served in numerous volunteer positions including as Past National President for her sorority, Theta Phi Alpha.
In her role with Tri Delta, Mari Ann provides educational and leadership programming—delivered through caring yet direct presentations, often with a guitar in hand—that not only touches the lives of Tri Delta members but of fraternity and sorority members nationwide.
She offers chapters specialized attention, a supportive voice and an outside perspective as she helps them understand the value of Tri Delta's Ritual, values and lifetime experience.
Her impact was especially important this year as our chapters continued to manage the challenges of COVID-19. As the Milly Miller Fellow, Mari Ann has led Tri Delta's work to help reframe the collegiate chapter experience—by embracing the core principles of community, belonging, accountability and empathy—as members returned to campuses in person this fall.
"The Milly Miller Fellowship has given us the opportunity to take a deeper dive as we look at the member experience and to find ways to provide an even better opportunity for our women," says Mari Ann. "For me, it has opened the door to have more conversations with our members and to ask the hard questions."
Bettering Your Best
Mari Ann embodies Milly Miller's idea of "bettering your best" by challenging sorority members to do just that.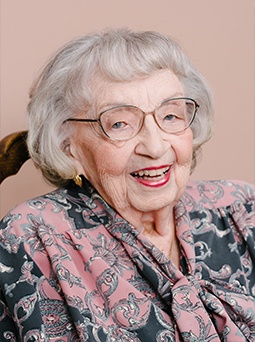 "Milly Miller talked about bettering our best, but I don't think she was talking about organizations—Milly was talking about people," explains Mari Ann. "Since the beginning of my work with fraternities and sororities, my focus has been on the people and relationships." She continues. "The pandemic has challenged us all to better our best. To do that you have to believe you can be resilient and to have hope—those are the topics I talk about when I meet and work with college students."
Mari Ann shares that she is honored to be helping keep Milly's memory alive through her work as the Milly Miller Fellow. "Milly made a major impact on Tri Delta through her estate gift. She was initiated into Tri Delta in 1938 and lived to be 101. And after all those years, to see that she still felt a deep love and commitment to Tri Delta is inspiring. It's something we should all consider: how do we want to make an impact with our legacy?"