Mental health has quickly become one of the most critical challenges facing college students, with 25% of all students coming to college with a diagnosed mental illness. Collegiate chapters and volunteers report that depression, anxiety, anger control issues, lack of sleep and substance abuse are greatly impacting collegiate women and Tri Delta members. As a premier women's organization, Tri Delta is introducing its mental health initiative, Behind Happy Faces, to tackle these issues head on.
"There's no denying there's a lot of pressure on today's students, and our members: the college admissions process is extremely competitive, and the cost of higher education and increasing levels of student debt are at record highs," said Fraternity President Kimberlee Di Fede Sullivan, Pepperdine. "Add to that societal pressure and social media, and perhaps we can understand why this generation of college students – and Tri Delta members – are struggling with higher levels of stress, anxiety and depression than those that have come before them.
"This newest educational initiative, Behind Happy Faces, was successfully piloted in 21 collegiate chapters in Spring 2019 with a generous grant from Tri Delta's Foundation. Based on the success of the pilot, and with a second grant from the Foundation's Trilogy fund, Behind Happy Faces will be offered to all 141 collegiate chapters in Fall 2019.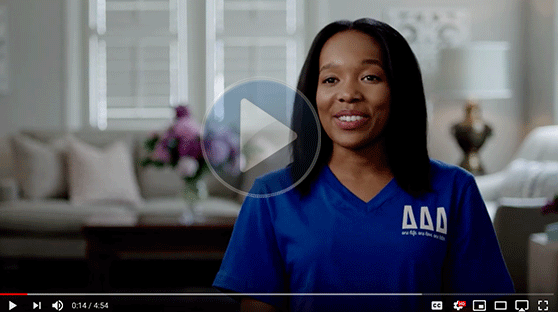 Designed to change the conversation around mental health and mental illness, the program uses educational videos and engaging peer-led discussions to:
Introduce a new perspective that emphasizes the need to take care of our mental health, much like our physical health
Reframe the conversation around mental illness
Teach members how to approach a friend or sister who is struggling with her mental health
Provide members with the tools and resources to refer a friend to a mental health professional
Reduce the stigma around seeking help for mental health challenges
Increase problem-solving skills and ability to seek social support
Behind Happy Faces provides collegiate members a space to engage in self-reflection, interactive activities and important discussions on mental health related topics. The modules are designed to be led by current chapter members,and the curriculum was created to be delivered by individuals who may not have general knowledge or a background in mental health.
The lessons cover a range of topics such as coping skills, understanding your mental health, how to talk to a sister, how to identify warning signs of severe mental health breakdowns and self-compassion. Behind Happy Faces emphasizes the importance of seeking help from mental health professionals when needed, and provides members the tools they need to refer a sister for help and care. The program does not teach counseling skills or encourage members to serve as therapists for each other.
Behind Happy Faces will also provide on-demand webinars for alumna advisors who are often times on the front lines of the mental health crisis in our chapters.
One collegiate participant shared, "It helped me realize my mental health is not where it needs to be right now while also showing me what to do to fix it."
Another said, "It was extremely beneficial and made me realize that there are many of my sisters going through things I didn't know they were going through. It made me realize I need to be more cautious with what I say and made me want to be more loving toward all my sisters."
Behind Happy Faces will impact all 18,000 of our collegiate members in all 141 chapters while also helping educate our volunteer advisors. It is a program that may not only be life-changing, but life-saving.
For more information on Behind Happy Faces, email harmreduction@trideltaeo.org.