It was an exciting day in October when we officially dedicated the new 9,500 square-foot chapter home for our sisters at North Dakota State University. While the chapter members were able to move into the home in August, on October 29, 2022, Epsilon Omicron Chapter was finally able to welcome the public and celebrate their beautiful new house at a dedication and ribbon cutting ceremony hosted by Tri Delta Housing. The weekend was made even more special as it coincided with NDSU's Family Weekend and the chapter's Initiation of its newest members.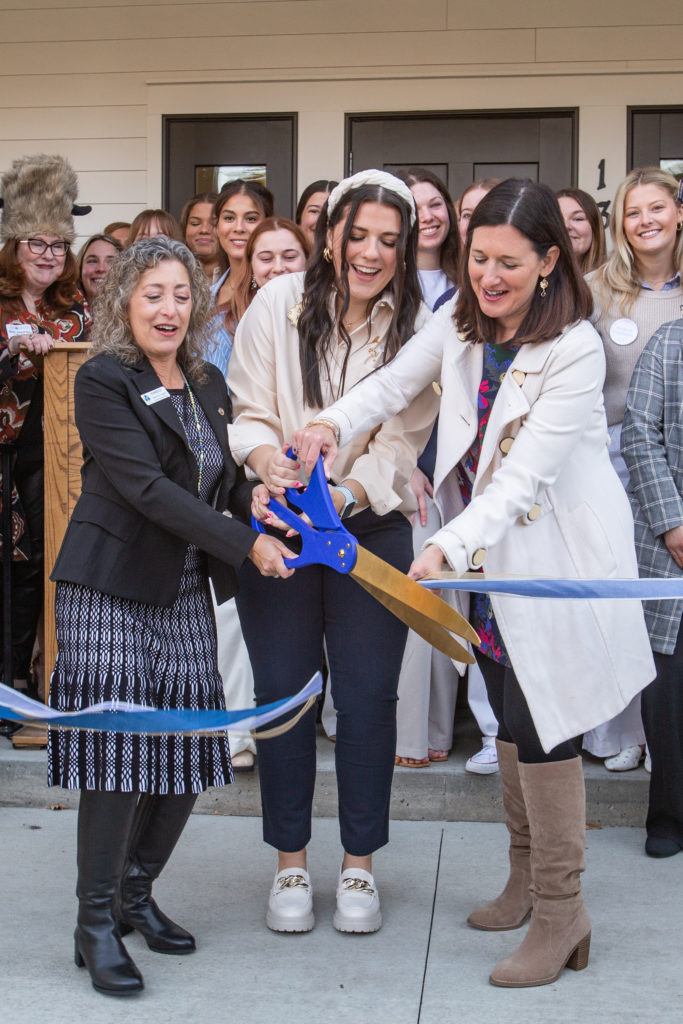 The fun began Friday night with an ice cream social for the collegians hosted by the Tri Delta Housing Board of Directors. It provided collegians the opportunity to get to know these volunteer leaders who helped make their home a reality, while allowing the Housing Board to learn more about some of our youngest members and participate in a private house tour prior to opening to the public.
On Saturday, nearly 200 people were welcomed to the home, including many parents, family members and friends. Residents showed off the new space where they are able to live, study, bond with sisters and host their meetings and events all under one roof.
Guests snacked on brunch bites throughout the event—all prepared by Chef Alex who feeds the collegians daily as their house chef. Fan favorites were the pigs in a blanket!
The ribbon-cutting ceremony was conducted by Fraternity President Megan Shaw James, Millsaps, Housing Board Chair Kimberly David Campbell, Oklahoma, and Kellie Anderson, Epsilon Omicron Chapter president. Members expressed a heartfelt thanks to those who attended the event as well as their excitement over having a permanent space of their own. We know for years to come it will be a place that doesn't just feel like home, but actually IS home! 
About the House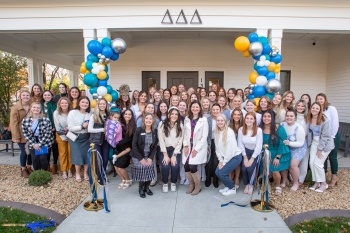 When you enter the home, you'll first notice a Tri Delta crest statement piece of art. The foyer is also graced by an antique table and mirror, generously donated by Theta Sigma Chapter and alumnae from Grand Forks, North Dakota. A pass-through fireplace is the heart of the house and Delta-shaped tile details and navy painted cabinets bring a fun pop of color to the farmhouse style.
The space is complete with a multipurpose room for dining, studying and eating, oversized TV room, and a light and bright, stunning second floor living room that looks down onto the first floor. The house, which has the capacity to house 21 residents, also features residential bathroom space, house director's suite, a conference room that can be converted to a residential space with a fully accessible private bathroom, and onsite parking.
Take a virtual tour of this warm, inviting home.
About Tri Delta Housing
Tri Delta Housing is the arm of Tri Delta charged with overseeing all Tri Delta housing locations. Led by a board with more than 140 years of higher education and residential life experience, and supported by a team of talented staff committed to the strategic vision laid out by the Tri Delta Housing Board, Tri Delta Housing continues to provide premier living, learning and leading experiences for its residents as a leader in student housing. Tri Delta fulfills its mission to add value to the collegiate experience by ensuring safe, comfortable and competitive living, learning and leading environments for Tri Delta members across North America.