Looking for a new read—or the perfect holiday gift for your favorite book lover? Check out the latest books from these Tri Delta authors.
Astra the Lonely Airplane
By Julie Whitney, Miami/Ohio
"Astra the Lonely Airplane" is a rhyming children's picture book turning lemons into lemonade inspired by the unexpected lost her husband's job as a chief corporate pilot. This is the sweetly told story of one little planes' journey to find new purpose and joy. Astra is a sleek, shiny airplane who loves to go flying with her best friend, Captain Dan. But when Astra and Dan suddenly find themselves out of a job, Astra must wait in her lonely hangar for a new owner to come along and give them somewhere to go! As the weeks turn into months and the right buyer still doesn't appear, Astra begins to wonder: Will she ever get to fly again?
Julie Whitney is a public relations professional with 40 years of experience in public relations and marketing. Her company, Phillippi-Whitney Communications, LLC, founded in 2000, represents both large and small clients in a wide variety of industries. She also works as on-camera talent, even appearing as an extra in the movie "Grease," shot on location in the summer of 1977 in Los Angeles. Julie now lives in Cincinnati with her husband Dan, a corporate pilot upon whom the character of Captain Dan is based. With four grown children, they are now empty nesters and love spending time with their black Lab, Brody. They also enjoy traveling, boating, golfing and all types of physical fitness.
Blooming: Finding Gifts in the Shit of Life
By Carrington Smith, Texas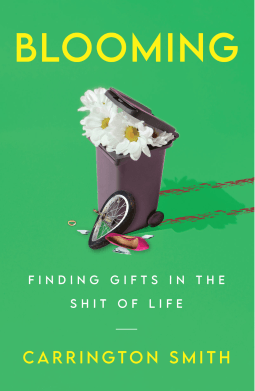 "Blooming: Finding Gifts in the Shit of Life" is Carrington Smith's debut memoir. She combines a winning combination of wit and wisdom to share her journey through the shit with a positive attitude and a shift of mindset into a life bursting with joy, opportunity and purpose. From trauma to triumph, through the depths of sexual assault, family rejection, body dysmorphia, mid-life metamorphosis and more into happiness, forgiveness, empathy, purpose, belonging and joy, Blooming is a poignant, powerful account.
Carrington worked as a trial lawyer for seven years and left the practice of law to pursue her passion for connecting people, businesses and ideas. Today, as the owner of an executive search firm, a keynote speaker and a Forbes Human Resources Council Member, she finds joy in helping companies and executives make authentic, value-based connections that align with their long-term goals. She created Blooming Foundation to help disadvantaged women and especially single moms get a hand up. She resides in Austin, Texas, with her two teenage boys—the greatest source of love and joy in her life.
A History of the Theater Costume Business: Creators of Character
By Triffin and Gregory Morris, with Rachel Pollock, Tennessee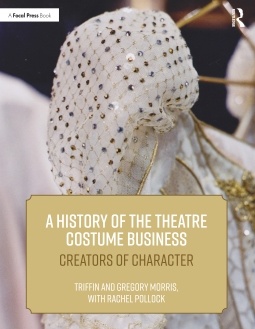 "A History of the Theater Costume Business" brings trailblazing journalism, moving firsthand accounts and a rare peek behind the curtain on Broadway and around the world written by a trio of practicing professionals with vast and varied experience. Lavishly illustrated, the 222-page book features costumes from the sublime to the ridiculous, as well as photographs of the rarely seen people who made them. This is the first-ever comprehensive book on the subject, recounted by award-winning actors, designers, drapers, tailors and craftspeople.
Readers will learn why stage clothes are made today, by whom and how. They will also learn how today's shops and ateliers arose from the shops and makers who founded the business. This never-before-told story shows that there is as much drama behind the scenes as there is in the performance.
Rachel Pollock received an MFA in creative writing from the University of New Orleans in 2013. She is a costume crafts artisan and lecturer at the University of North Carolina at Chapel Hill and was resident lead crafts artisan and dyer for the American Repertory Theatre at Harvard University. She then worked in Los Angeles on film, television and opera. She has served as a crafts artisan, dyer and milliner for such designers as Catherine Zuber, Ann Hould-Ward, Ilona Somogyi, David Zinn, Constance Hoffman and Julie Taymor and on Broadway shows such as "Hamilton," "The Lion King" and "Frozen." She lives in Durham, North Carolina, with her partner, Chris, and a somewhat peculiar black cat named Riley.
The Hope of Glory: A Devotional Guide for Older Adults, Volume Two
By Nancy Parker Brummett, Tennessee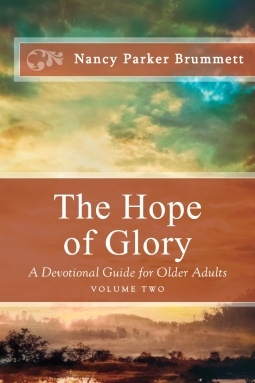 "The Hope of Glory" is a devotional guide for older adults and those leading weekly devotions in retirement homes, assisted living residences, skilled nursing facilities, senior centers and churches.
Nancy Parker Brummett first led a Bible study in an assisted living setting in 1999 and developed "The Hope of Glory" in the years that followed. She also journeyed with her mother and mother-in-law through their adventures in aging, and her academic interest in aging led her to receive the Professional Certificate of Gerontology from the University of Colorado in Colorado Springs. The author of six other books, she now focuses her writing and speaking ministries on her passion for older adults and those who care for them.
Nancy is a freelance writer, author and speaker living in Colorado Springs, Colorado. A wife, mother, stepmother, grandmother and great-grandmother, Nancy writes and speaks from her heart and inspires readers and audiences to respond with theirs. Nancy and her husband Jim were married in 1988 and have four adult children, 12 grandchildren and two great-grandchildren in their blended family. She works at home with her office cat, Annie.
Something Happened to My Dad: A story about immigration and family separation
By Ann Hazzard, Emory, and Vivianne Aponte Rivera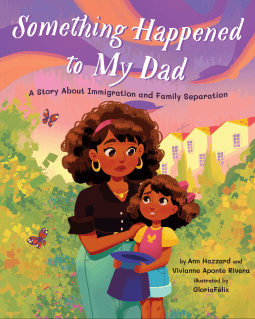 In this realistic and empowering tale, Carmen finds strength in herself and maintains her connection with her Papi, who has been detained because he is undocumented. "Something Happened to My Dad" is the third picture book co-written by clinical psychologist Ann Hazzard. The first book in the series, "Something Happened in Our Town," was featured in the fall 2021 issue of The Trident issue and became a New York Times Best Seller.
The "Something Happened" books address challenging social justice topics of racism, gun violence and immigration. Reading these stories together can facilitate important family conversations that foster children's social-emotional growth.
Ann Hazzard, PhD, ABPP, is a clinical psychologist who has worked with children and families throughout her career, most recently at Emory University School of Medicine. She has been a board member of several community nonprofits, including organizations focused on child abuse prevention, bereavement support for children, promotion of children's literacy and reduction of healthcare disparities. She developed therapeutic stories for many child clients when she was a practicing psychologist and, now retired, is enjoying the freedom to expand her creative efforts.
Thoughts & Prayers
By Lee Anne Post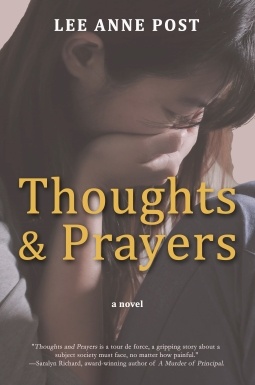 "Thoughts & Prayers" ponders the question, "Can thoughts and prayers really be enough?" Straight-A student Lily Jeong, misunderstood by helicopter parents and ignored by thoughtless classmates, sneaks her manipulative boyfriend into Rockwell High, believing he'll get revenge for her recent public humiliation. But he breaks his promise that no one will get hurt. Minutes later, 14 people are dead.
Plagued by guilt, Lily invents one lie after another to evade arrest. While devastated survivors grieve, investigators make slow progress identifying the accomplice, and class president Keisha Washington—Lily's long-time nemesis who narrowly escaped death—resolves to hunt down the culprit herself. As Lily dodges detection, she bonds with Sofia Hernandez, who lost her best friend in the shooting.
Lee Anne Post is the pen name for co-authors Catherine Baldau, Tara Bell, Ginny Fite and Tri Delta alumna Karen Postellon Robbins, West Virginia. Having met in a writers' critique group, they were spurred by their collective grief and then admiration as they watched Parkland High School students deal with the aftermath of the shooting at their school.
Karen's short stories have been published on WashingtonPost.com and in the "Anthology of Appalachian Writers" and the "Virginia Writers Club Centennial Anthology," among others. A former Washington, D.C., advertising executive, she lives with her husband in northern Virginia.