Dallas was the destination of choice for 65 Tri Delta sisters celebrating Delta Love just before Valentine's Day. Sisters from nearly 30 different chapters poured into Tri Delta's Executive Office for a special Girls' Brunch, hosted by Tri Delta's Foundation. The women enjoyed a champagne brunch, a customized tour of the Ginger Hicks Smith Museum & Archives, and a fun day of sisterhood while reconnecting with lifelong friends – and making new ones.
Groups of sisters from Emory, Arkansas, Oklahoma State University, Texas Tech and Stephen F. Austin all attended together, some traveling from as far away as Atlanta to join the event. There were also many local sisters who met up or came alone to connect with other Tri Deltas. The group included a wonderful mix of ages, with initiation years spanning decades, from 1956 to 2015.
Celebrating Sisterhood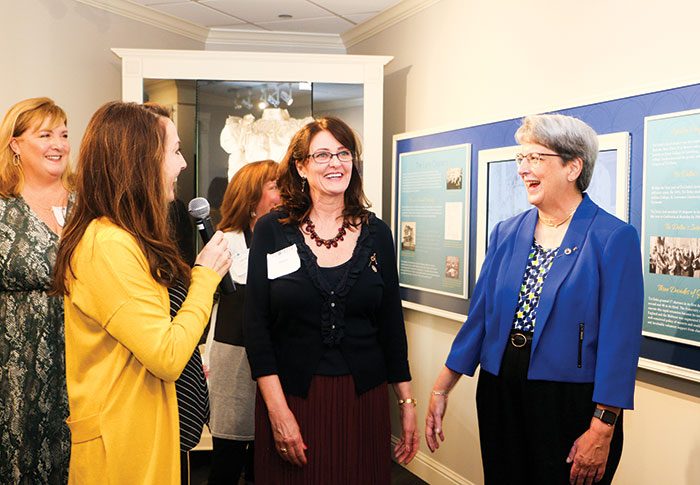 In addition to brunch, attendees were treated to the opportunity to learn more about what's happening with Tri Delta Today, directly from CEO Karen Hughes White, Georgia. And sisters enjoyed both full glasses and full hearts.
After learning about the impact of Tri Delta's Foundation on helping sisters in need, attendees wrote sweet notes of Delta Love to some of our Crescent Fund grant recipients.
A group of seven women from the Denton, Texas Alumnae Chapter joined as part of their February activity. Rebecca Jackson, Stephen F. Austin, who attended with the chapter, also loved running into other Tri Deltas she knows. "I saw two people I haven't seen in many years!" said Rebecca. "I also enjoyed just being able to hear what the Foundation and the Fraternity are doing right now. You can read it in an email, but it's different when you hear it in person and meet the people behind what's going on."
The event was the perfect backdrop for celebrating several women who had met their special Golden 50-year milestone in Tri Delta membership. These sisters – including five who were in the chapter together at Emory – took part in a touching Golden Circle ceremony, a true illustration of lifetime friendship.
Before a special tour of the Ginger Hicks Smith Museum & Archives, led by Archivist Beth Dees Applebaum, Texas Christian, sisters celebrated the naming of the museum's Tri Delta Founding Timeline, in honor of Kelly Clarkson Loy, Oklahoma State, who made a generous donation to Tri Delta's Foundation.
"Joining Tri Delta was one of the best decisions I ever made; going to Oklahoma State University was one of the best decisions I ever made; and I believe the reason why we were put on this earth is to give back," Kelly said during the unveiling of the plaque.
Kelly was joined by a group of her sisters from Oklahoma State University, including her little sister who flew in from Atlanta for the event. The group is coming up on their 40-year anniversary and, although they live in different areas, have stayed in close contact through the years. "This event was a great opportunity to reconnect and to have a reason to all come together and see each other at one time – it's very special," said Kelly.
Inaugural Girls' Brunch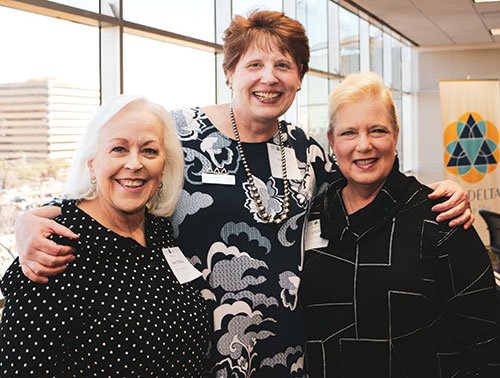 The February event followed the inaugural Girls' Brunch, which took place on Oct. 19, 2019. The first weekend welcomed 14 Tri Deltas from the Dallas/Fort Worth area, representing seven different collegiate chapters. That group also enjoyed a Tri Delta Timeline game and a cookie-decorating activity.
While some women attended with sisters, there were others, like Barbara Phelan, Butler, who came just for the opportunity to meet other Tri Deltas. Barbara has visited every Executive Office building since Tri Delta's headquarters moved to Texas, and this was her first time in the Addison location.
"The archives and exhibits are wonderful, and I was so glad that the mural was kept…It was thoughtful that archives from each chapter represented were available to see. What struck me about the Butler folder was the prominence of the 50th anniversary party of Delta Lambda. It was right in the middle of spring rush, and that was when I was pledged!"
Barbara added, "The best part was connecting with other sisters."