Each month, Tri Delta publishes In Memoriam, highlighting the lives of some of our Distinguished Deltas and longtime volunteers and sharing a full list of sisters who have recently passed away. Below is the In Memoriam for July 2021.
Eaddy Osteen, Clemson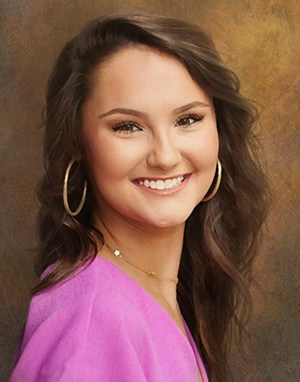 Tri Delta mourns the loss of collegiate member Eaddy Osteen. Eaddy joined Tri Delta's Beta Theta Chapter at Clemson University, where she was a rising sophomore. Eaddy lived her life to the fullest and was involved in many clubs and activities, in addition to Tri Delta.
Her classmates described her as helpful, trustworthy, intentional, teachable, outgoing, relatable, a leader, driver, proactive, resourceful, forthright, insightful, persistent and witty. Eaddy meant so much to so many and had a personality that drew you to her and made you want to be part of her life.
Remembering Our Heritage Society Members
Tri Deltas who remember Tri Delta's Foundation in their wills or estate plans become members of our Heritage Society. We are honored to remember the lives and legacies of the following sisters, whose estates provided donations to Tri Delta's Foundation during 2020-2021. Thanks to their planning and generosity during their lifetimes, future sisters will be supported for generations to come.
Harryette Campbell, Missouri
Milly Bland Miller, Maryland
Emily Bourne Grigsby, Vanderbilt
Marian Harris, Michigan
Jean Smith Snodgrass, Southern Methodist
Sharon Snider Stupp, Millikin
Janet Lillegren Gustafson, Wisconsin
Charlene Mordy Lind, Kansas State
In Memoriam
This In Memoriam list includes sisters who were reported as deceased to Executive Office July 1–31, 2021. If you know of a sister who has passed away, please report her information to Executive Office by emailing memberrecords@trideltaeo.org.
ARKANSAS
Lallinger, Johnetta Ward '43 d. 5/2019
Young, Churchill Buck '40 d. 6/2020
CA-BERKELEY
Harrington, Hertha Gauck '50 d. 5/2021
DEPAUW
Keierleber, Janet Krueck '63 d. 6/2021
ILLINOIS
Pozulp, Penny Conrad '69 d. 6/2021
IOWA
Reister, Jean Brannen '51 d. 7/2021
MISSOURI
Sasko, Anne Garst '52 d. 6/2021
NEVADA
Westover, E Joyce Stephens '58 d. 5/2021
OHIO STATE
Buhr, Vicki Lancia '77 d. 12/2020
OKLAHOMA STATE
Childress, Sandra Carter '67 d. 7/2021
SOUTHERN METHODIST
Risien, Jan '70 d. 6/2021
TEXAS TECH
Jones, Denese Adams '73 d. 7/2021
VERMONT
Olson, Helen McKuskie '54 d. 7/2021
WASHINGTON
Wheeler, Marilyn Menefee '56 d. 6/2021
WISCONSIN
Hendrickson, Roberta Lawson '60 d. 6/2021
Larson, Sandra Schauder '60 d. 7/2021
WYOMING
Macy, Emily Sedlacek '54 d. 11/2015