Looking for a new read? Be sure to check out the latest books from these Tri Delta authors.
A Gift to Animals
By Lucia Van Bebber, Oklahoma State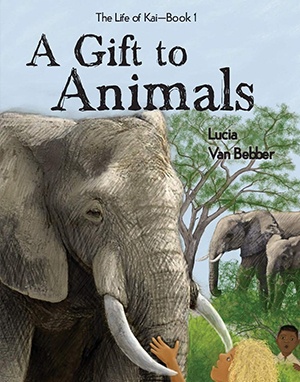 From birth Kai didn't speak. She had no reason to, or so she thought. When her family moved from the U.S. to Kasane, Botswana, she found her voice—talking to animals. With her best friend, Senzo, they explore the majestic Chobe National Park and learn about the extraordinary animals that live there and the dangers they face.
Determined to protect the animals of the Chobe, and each other, Kai and Senzo find danger when they encounter elephant poachers. Who will save them from these ruthless hunters?
Lucia is an international traveler who has lived on six continents. Her passion for travel and wildlife inspired her to write stories for children in the hope of inspiring them to learn more about conservation. Lucia started The LVB Project to promote education about wildlife conservation.
Be Still and Know: 365 Days of Hope & Encouragement for Women
By Julie Murray Rayburn, Florida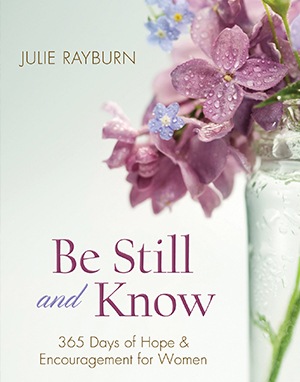 Featuring a powerful devotional reading and scripture for every day of the year, "Be Still and Know" provides inspiration and encouragement for your soul. The book is based on a journal Julie Rayburn's mother kept the last year of her life, which Julie was inspired to share with her Tri Delta sister, Jodi Jones Knauf, Florida, during her treatment for breast cancer.
"Jodi had known my mother and had seen firsthand how she experienced peace while battling cancer and enduring chemo," says Julie. "So, I asked Jodi if she would be encouraged by a daily devotional via email, using my mother's journal entries as inspiration. Jodi was thrilled. My devotional book, 'Be Still and Know: 365 Days of Hope & Encouragement for Women' was birthed from those emails to Jodi."
Sadly, Jodi lost her battle to cancer five years ago. Julie shares, "When we lived in the Tri Delta house, we had 'sleeping dorms' with bunk beds. I slept on the top bunk and Jodi on the bottom. Her last text to me assured me that she would 'save me a top bunk' in heaven. I'm counting on it … Delta Love is forever!"
Group
By Heather E. Robyn, Cal State/Northridge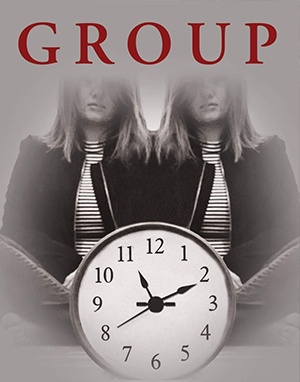 Twins Jade and Pearl enjoyed high school life to the fullest in the suburbs of Oregon. Jade, a star lacrosse player, was set to attend Boston University in the fall and Pearl, the debate team captain, was headed to UCLA. Senior year should have ended with memories from prom, graduation and preparing for college, but Jade's sudden death left the Juarez sisters facing the world without each other for the first time in their lives.
Catapulted into a new and unfamiliar world, Jade is required to attend transitional support group to come to terms with her death and proceed to the next stage. Having been left alone without her sister and best friend, Pearl spirals into an abyss of crushing grief and depression, until one day she was forced to attend a grief support group to help pull her out of the darkness. Can the bond between two sisters survive the throes of death, grief, love and everything in between?
Heather E. Robyn earned her doctorate degree in education and spent several years in social work helping foster youth and homeless veterans. She credits her Tri Delta sisters for providing support and feedback during her journey of creating and publishing a young adult novel. "I have always loved knowing my Tri Delta sisters are there when I need them, and this experience was no different," says Heather. "This story brings to light the struggles of grief, depression and suicide among the adolescent population. My hope is this book will inspire those to see the signs in themselves and others and help in recovery." 
John and Mary Margaret
By Susan Cushman, Mississippi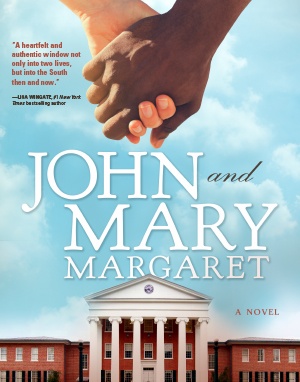 "John and Mary Margaret" is a rare insider's look into the white privilege bubble of a young girl growing up in Jackson, Mississippi, and participating in sorority life on the Ole Miss campus in the late 1960s. But it's also a candid portrayal of a young Black boy from Memphis who follows his dream to study law at the predominantly white university. What happens when their shared love for literature blossoms into an ill-fated romance? Susan Cushman sets their story squarely in the center of decades of historical civil rights events in Mississippi and Memphis, using fictional characters to bring those events to life. 
Susan was born in Jackson and came of age in the 1960s Jim Crow South. She joined Tri Delta at Ole Miss in 1969, where she served as president of her new member class. Her previously published books include "Friends of the Library," "Cherry Bomb," "Tangles and Plaques: A Mother and Daughter Face Alzheimer's" and three anthologies she edited.
Listen
By Amanda Panchery, Florida State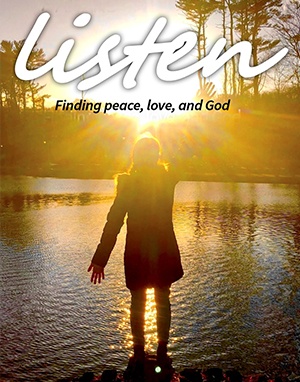 During the pandemic, Amanda wrote "Listen," a spiritual/faith-based book about her 30-day journey of listening to God. For 30 days, Amanda went on a walk, ripping off the white space at the top of a lined sheet of paper and placing it in her pocket to write down everything that came to her awareness during the walk. This book is the collection of her writings from each day. The result is a compilation of the advice she hopes a good friend would give her on a hard day and also the same guidance she would provide to a friend during his or her own difficult time.
Amanda shares that losing her Tri Delta sister Maura Binkley, who was killed in the 2018 Tallahassee yoga studio shooting, led her to become more actively involved in her faith. "I do believe this book is special and has the power to uplift oneself or a friend," Amanda says. "It's a little something that can remind us of the potential we have as human beings, as children of God."
ManifestHer 
By Stef Caldwell, Eastern Illinois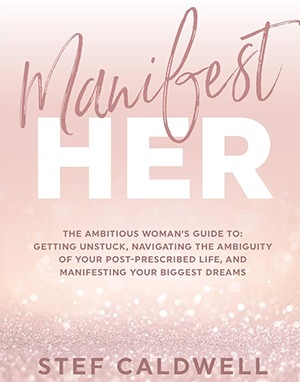 You finished school (at whatever level was right for you) and got your job, and now every day is Groundhog Day. You look forward to the weekend because it's the only chance you get to break up the noise between your routine of sleep, wake, work, repeat. The only way to describe what you feel right now is "stuck." "ManifestHer" is the ultimate 11-step guide to getting unstuck, navigating your 20s and 30s, and living your life with intention in the direction of your wildest dreams.
The stories and tools in this book will help you identify and disrupt the limiting beliefs you hold about yourself, about your relationships with others, and about your life. It will help you revisit those big dreams you once had and recalibrate and bring structure to what those dreams are today. It will challenge you to take action toward achieving those dreams through a practical lens and help you on your journey to build a more productive relationship with yourself, others and the universe.
Stef Caldwell is an author, speaker and side-hustle entrepreneur. She is the founder of Manifest, an organization whose mission is to help ambitious women achieve anything by creating space online and offline for them to connect, exchange ideas, get unstuck and step into the women they were born to be.
Parthur, the Story of an Orphaned Bobcat
By Dawn Fritz Hopkins, New Mexico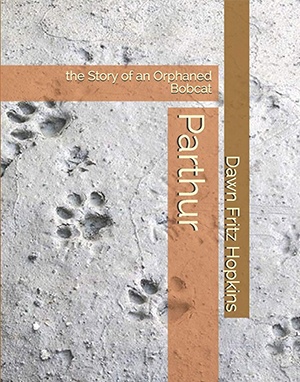 A young bobcat's mother is killed by a bounty hunter in southern Arizona, but her kitten is spared. Unable to raise the small animal, the hunter gives the kitten to Dawn Hopkins, a young school teacher in Yuma. This is Dawn's true story of rescuing and raising a four-week-old bobcat. The story twists and turns as one obstacle after another presents itself as she struggles with the knowledge that Parthur is a wild animal and needs to be returned to the wild.
Dawn was initiated into Tri Delta's Phi Delta Chapter at the University of New Mexico in 1957. She served as both collegiate chapter president and Panhellenic president. After graduation she taught at Kofa High School in Yuma for two years. She then taught on U.S. Air Force Bases in France and Germany for five years. It was in Germany that she met and married her husband, a fighter pilot.
The Parent Compass: Navigating Your Teen's Wellness and Academic Journey in Today's Competitive World
By Cindy Clumeck Muchnick, Stanford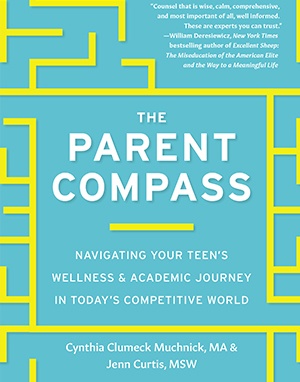 "The Parent Compass" was written to help parents understand their appropriate role in navigating the tween and teen years amidst a competitive academic environment. It provides the tools for parents to adopt better parenting behavior that leads to their children's academic success and emotional well-being.
It addresses how to help kids develop resilience, grit and intention, and it discusses failure, technology/screen time, the importance of family dinner, study skills, and much more. The goal is to help parents keep their relationship with their children intact while they help their kids develop self-reliance and find purpose in their life's journey to high school, college, and beyond.
Cindy Muchnick is an expert in the college admission process who focuses on public speaking to student, parent, school and business groups on a variety of education-related topics. "The Parent Compass" is her 10th book. 
When the Stork Passes By: A field guide to practical compassion
Dr. Julie Shannon, Stephen F. Austin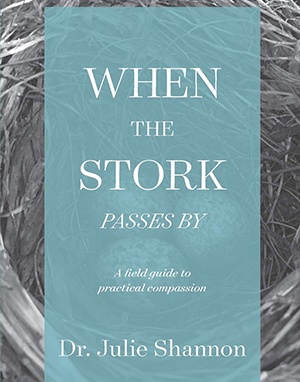 Maybe you know someone walking through infertility or involuntary childlessness and you feel helpless—not knowing what to say or do, wondering how you can help them through this time. You might be a friend, family member, co-worker, pastor, neighbor or counselor. In "When the Stork Passes By," Dr. Julie Shannon helps readers become better equipped to provide practical compassion for their friend, loved one or community member. Learn more about their realities and discover ways to offer empathy, understanding, and support.
Julie is a writer, podcaster and speaker who focuses on practical compassion in dealing with the realities of life. Her passion to encourage others comes from her own experiences on the roads of infertility, singleness and financial insecurity. Listen to Julie share her story on a recent episode of the Let's Talk Tri Delta podcast.
Working for Justice: One Family's Tale of Murder, Betrayal, and Healing
By Amy B. Chesler, Cal State/Northridge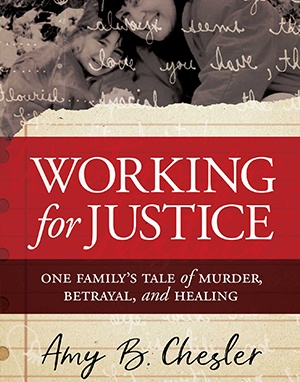 Calabasas is a quiet, well-to-do California town often referred to as "The Bubble." But on Sept. 25, 2007, that bubble burst with the murder of one of its longtime residents—high school math teacher Hadas Winnick. The upscale community was rocked by her gruesome death, but as shocking as the tragedy seemed, the years of abuse she faced that preceded it were more so. Even more devastating still, was the effort and time it took to sentence her murderer to prison, and the power that our systems-in-place allowed him while on his way there. Follow Hadas's daughter, Amy Chesler, on her often heart-wrenching—but eventually heart-warming—road to justice.
Amy is an author, award-winning blogger and actress. She discovered her passion for the literary and film worlds earlier than she can remember and has been voraciously reading, writing and performing ever since. However, it wasn't until surviving domestic violence and freeing herself from an early life of abuse that she began to pursue her dreams professionally.
Are you a Tri Delta author with a book to share? Let us know so we can highlight you in a future Tri Delta ReaDDDs.