A big part of creating memories includes traveling. That doesn't have to mean expensive vacations to faraway destinations; it can simply be experiencing something new with someone we love, traveling to see family that live in a different city or taking a weekend trip with friends and sisters. Travel is important because it helps us build connections—something that we've struggled to maintain over the last year and a half. As the COVID-19 took hold on the world, travel, as we had known it, was no longer a safe option.
"Travel was such a huge loss during the pandemic because we all lost three different boosts to our mental wellbeing," explains Melanie Fish, Southern Methodist, senior director of global PR and social media for Vrbo. "We lost the anticipation of going on a trip, we lost the actual time together with people we love, and we lost the memories we make when we travel together. Having missed those, we realize just how important travel is to making us happy."
According to Melanie, during the pandemic, families—and that includes Tri Delta sisters—discovered the value of being together. "One thing the pandemic taught me is to not put off time with the people I love."
Now, with many travel restrictions being lifted and the vaccine becoming widely available, people have a renewed focus on reuniting with loved ones, making up for lost time and slowly getting back to the lives we've missed living.
Post-Pandemic Traveling Tri Deltas
The desire for travel post-pandemic is not a new phenomenon. Exactly 100 years ago, in the summer of 1921, R. Louise Fitch, Knox, led a group of 14 Tri Delta members, family and friends on a remarkable tour of Europe. World War I had ended just three years earlier, and—like today—the world was recovering from a pandemic.
The Tri Delta European Tour took place from June 17 to Sept. 29. In England, the group saw sites such as Stonehenge and Stratford-on-Avon. They traveled to Belgium and Switzerland, where they relaxed and enjoyed the beautiful mountains and lakes before spending two weeks in Italy and then France. 
In addition to visiting tourist sites in France, they also toured rebuilding projects such as a school in Guny financed by Tri Delta and the Foyer in Tours established by Tri Delta's first war fund and serving as a women's vocational center. After visiting Paris, they toured Holland, Scotland and the Lake Country before heading back to America. 
Getting Back Out There
Reuters shares that 7.1 million people traveled through U.S. airports over Memorial Day Weekend (the unofficial start of summer), and 37 million people were estimated to have traveled at least 50 miles from home. Travel again spiked in the U.S. over the Fourth of July holiday, with AAA estimating that 47.7 million Americans traveled July 1-5, the second-highest Independence Day travel numbers ever recorded.
Post-pandemic travel continues to be on the rise as many take long-awaited trips. For some, these are trips that had been planned last year, but had to be put off because of pandemic-related travel restrictions. Others are simply ready to get out and experience new adventures after more than a year of primarily staying home.
According to Joyce Russell, Ball State, senior director of sales for Visit Indy, a recent study shows that 77% of people expect to take a leisure trip during the next three months.
Joyce cites a few trends she's seen in the increased interest in travel: "People have saved money because they didn't travel last year. Now they really want to get out there. They're also taking longer trips; they're not just taking a week, they're taking two-week vacations now."
As Joyce points out, the flexibility of working remotely has made longer vacations a possibility. "People are taking extended vacations, but they're working remotely during part of it. Whereas before they would have gone to Florida for five days, now they can go for 10 days, but they're still working during five of those days."
Going Remote Full-Time
The pandemic prompted Reagan Best Webb, Texas A&M/Corpus Christi, and her husband, Justin, to pursue their dream of traveling full-time across the U.S.
"We've always wanted to travel, we just didn't know how to make it possible or when was the right time," says Reagan. It wasn't until the pandemic that she started seeing more of the nomadic lifestyle coming to light on social media—specifically "van lifers," or people who outfit a van to live in full-time while traveling across the U.S.
"We thought it looked like fun and that it could be something we might want to do." After diving in and researching it, they thought it could be possible. They were both working remotely, so it was the perfect opportunity. A lot of planning, researching and budgeting went into the decision, but after purchasing a van and renovating it into a living space, Reagan and her husband officially hit the road earlier this spring.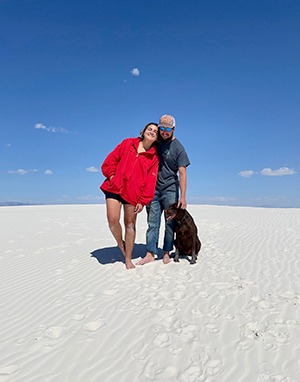 Their goal is to visit every national park in the continental U.S. within a year. Reagan, who had previously never traveled outside of the southern U.S., has enjoyed experiencing and getting to know the people, the food and the scenery of each new location.
"I really like meeting new people and finding the local hangouts. Every place is so different."
The plan for the rest of the year is to head to the Northeast in time to see the leaves change this fall and then travel across to the West Coast where the majority of the national parks are located.
Reagan says living a nomadic lifestyle is doable for any person. "You don't have to be rich or have the perfect vehicle," she says. "If you want to live a lifestyle like this, really do your research. There are people traveling in their cars, and they're able to do all the same things as those who have bigger vehicles. But research is key to doing all of this—build a budget and figure out a vehicle and design that works best for you."
Reconnecting
Debby Houser, California/Los Angeles, is a travel advisor who has been in the industry 35 years. She says that people are ready to plan that big trip of a lifetime. "During the pandemic we weren't even really able to plan because we didn't know how long it would last. Now, just the thought that your big trip might happen this year or next year has people ready to travel. They're done with looking at places online or visiting museums through Zoom—they're ready to get out there and experience it."
Anna Pinto, St. Lawrence, executive director of Micato Safaris, says, "We've all taken a check on life and realized what's important." Since the pandemic, Anna has seen that time with family has become even more of a priority.
Anna's parents founded Micato Safaris more than 50 years ago in Nairobi, Kenya. Today, Micato Safaris is a luxury safari outfitter, named the World's Best safari outfitter by Travel + Leisure. Recently, Micato Safaris saw an increase in multigenerational families booking trips together as a way to celebrate important milestones—a golden anniversary, 70th birthday or high school graduation—and spend time together again.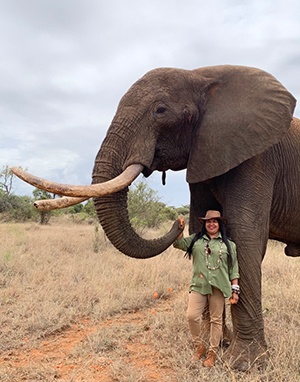 There's a sense of seizing the opportunity and living life to the fullest when it comes to travel today. Having witnessed so many lives affected by COVID-19—and so many lost—people are realizing the importance of taking those big bucket list trips now rather than waiting until later.
"People have a pent-up demand to not lose a year of their life," says Anna.
True to Tri Delta's values, Anna has also combined travel with philanthropy through her work with Micato Safaris' nonprofit AmericaShare. For every safari booked, Micato is able to educate one of the most vulnerable children from Mukuru outside Nairobi. They also provide critical necessities, such as reusable sanitary pads for girls, when many can't afford them. AmericaShare also took on an important role during the pandemic, providing cloth masks, food and other essential items for the community.
"We're very passionate about helping the children in Africa," says Anna. "When a family of four books a safari with Micato, we can educate four children from age six to high school."
Weekend Reunions
Many Tri Deltas are also making plans for group trips and reunions with sisters, reconnecting and catching up after a year, or more, of being apart.
In June, 45 Tri Deltas from the University of Oklahoma's Theta Gamma Chapter were finally able to gather at the Gaylord Texan in Dallas, Texas, for a weekend reunion, after a one-year delay due to COVID-19. Sisters traveled from as far away as Hawaii and Switzerland to reunite, and many hugs were shared thanks to vaccinations!
They enjoyed a Friday night reception to catch up, had a Saturday brunch with Fraternity President Megan Shaw James, Millsaps, and spent plenty of fun time by the pool. The group also had the chance to tour Tri Delta's Executive Office and Ginger Hicks Smith Museum & Archives. The weekend was such a hit, everyone is eager to have other reunions again soon.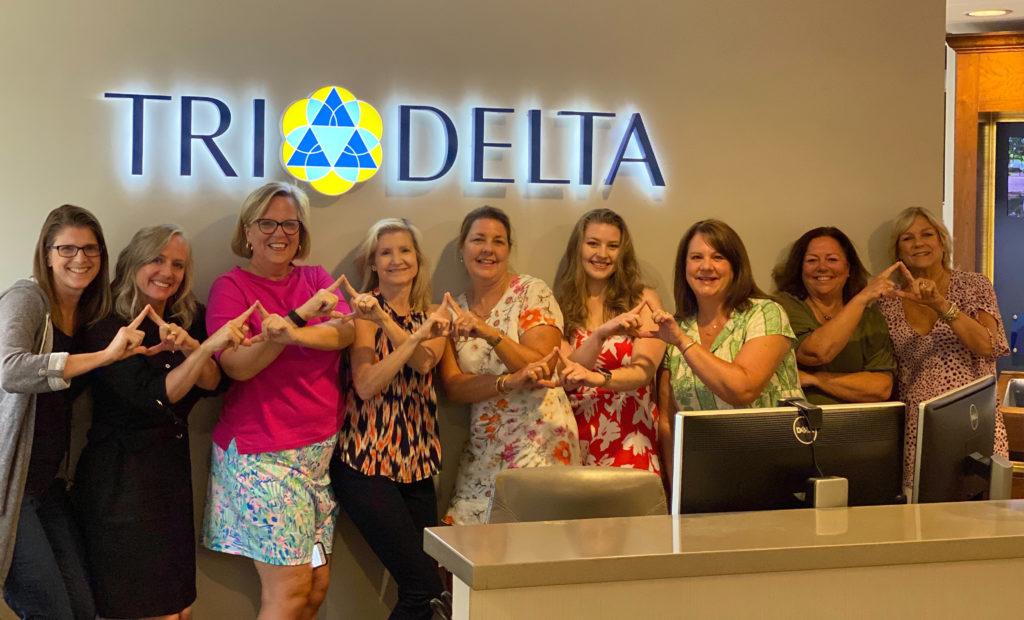 A group of 14 sisters from Brenau's Alpha Epsilon Chapter met up in May for some fun in the sun at Watercolor Beach, Florida. The alumnae came from four different states and represented new member classes from 2001 to 2006.
The idea first came up when a few sisters were talking and saying how great it would be to do a reunion. Those women got to work to make reservations and plans in early 2021.
"I think the fact that we had all been confined at home for a year helped motivate all of us to make the idea a reality," shared Amanda Dobanton, Brenau.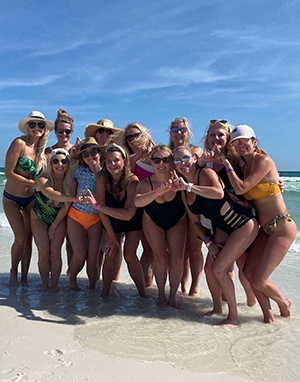 Amanda says staying together in a big house again was reminiscent of the years they spent at the Tri Delta house in college. "It was so reminiscent that we even gathered one night on the back patio and sang our recruitment songs! I know we will all remember and cherish that night and the memories made."
Amanda adds, "The most special part was truly us just picking right back up where we left off. Some of us haven't seen each other in over 10 years and yet it was as if we had been together every weekend. We talked about college days, but we also got to catch up on life and kids and jobs. The weekend cemented that the bonds and friendships made through Tri Delta will be with us through many years and multiple stages of life."  
Tips, Tricks and Trends
Certainly, travel looks different in 2021 than it has in years past. Tri Delta travel experts shared the trends they're seeing post-pandemic, along with some tips and tricks for traveling this summer and fall.
1. Consider Drivable Destinations
One trend that came out of the pandemic, according to Melanie, was the love for a drivable destination. "I discovered places I wouldn't have considered as a vacation destination within a couple of hours from my home," she says. "And I'll go back to those places again."
As Joyce points out, Indianapolis—affectionally called the crossroads of America—makes it a big draw for road-trippers. "We're uniquely poised for that travel comeback because half of the U.S. population can drive to Indy in 8 hours, and road trips are big."
2. Explore the Great Outdoors
Whether it's renting a house on a nearby lake or driving a few hours to the mountains, Melanie says both "the drivable destination and the love of the outdoor destination are here to stay."
The draw of the outdoor destination is something Micato Safaris and other outdoor adventure outfitters have seen throughout the pandemic. A safari is actually perfectly suited for social distancing, says Emily Baldwin, Micato Safaris' public relations director. "You're staying at lodges and camps in the middle of the bush, in the middle of nowhere. You travel in open air safari vehicles. It's already very safe—you can't get bigger, more wide-open spaces than the bush of Africa."
3. Plan Ahead
The increase in travelers this year, has resulted in more competition when it comes to booking accommodations, particularly vacation homes, which became more popular during the pandemic.
Melanie says, "What happened during the pandemic is that people sought out private accommodations as a place they could still get away from home and feel safe, and a lot of people tried Vrbo for the first time. This year, you have families who have gone to the same beach house or mountain cabin year after year and you have all the people who tried Vrbo during the pandemic for the first time, and you have all the people who didn't do anything during pandemic but are now trying to make up for lost time. These three groups are competing for the same beach house and mountain cabin."
Because of this, Melanie encourages travelers to plan and book far in advance. "Celebrate Christmas in July by booking your vacation home for the holidays now. Book your ski trip while you're still sweating when you step outside."
Accommodations aren't the only area where it's important to plan ahead. Debby recommends anyone thinking about traveling internationally in the next year to check their passports now. "Most countries require your passport to be valid for up to 6 months upon return to the U.S. Passport renewals are taking longer than they used to because of COVID and expediting isn't like it used to be."
4. Be Flexible
In addition to planning ahead, Melanie also says being flexible is important for post-pandemic travel this year. "There are two ways you can be more flexible in your vacation planning that may help you score that perfect vacation home. 1) Look at destinations you may not have traveled to before. 2) Look at a midweek stay. It makes sense that weekends are the quickest to be snapped up, but being flexible on when you're going on vacation will help you find something perfect for your family."
Travelers in 2021 should also be flexible with their expectations during their trip. While most destinations are beginning to lift bans and increase capacity allowances, there may still be restrictions in place. Plus, a number of businesses, particularly in places that rely on tourist dollars, closed temporarily or permanently during the pandemic.
Joyce also points out that one of the biggest challenges the industry is facing right now is a labor shortage. Many workers lost their jobs at the beginning of the pandemic, and a lot aren't coming back. "Service levels aren't quite what people expect," says Joyce.
"Travel with patience at this point," says Debby. "You don't always know what is going to be open and what isn't, what kind of lines you'll encounter or if a restaurant requires a reservation. Keep your expectations on the low side and hopefully they'll be exceeded."
5. Tap Into the Expertise of a Travel Agent
Debby adds that she recommends using a travel agent, especially with international destinations where you may face changing COVID-19 entry requirements and restrictions. "Travel agents are on the front line. They're keeping on top of all the requirements for different places. They're aware of what's open and aware of what you can do in each destination."
Depending on the country and destination, you may have to provide proof of vaccination, a negative COVID-19 test or even special travel insurance. Because each requirement differs by destination, it can be cumbersome to figure out. A travel agent can help guide you on what you need to do before you show up at the airport.
6. Do What You're Comfortable With
Debby says since the pandemic she's been seeing a lot of people wanting to stay closer to home with places like Florida and national parks being a big draw. But now, with many countries across the globe opening back up, there is also increasing interest in more unique foreign destinations like Iceland and Costa Rica.
No matter where you decide to go, Debby says, "Travel is a personal choice, and you should do whatever you feel comfortable with. I have some people not ready to get back on an airplane yet, and some clamoring for a trip to Europe." She adds: "I encourage people, when they're comfortable, to get back out there."