In the heart of Chicagoland on July 14th, more than 200 dynamic women gathered in person for LEADDD Chicago—Tri Delta's premier conference for women. It was a day filled to the brim with personal and professional development, networking and a shared sense of sisterhood, inspiration and motivation.
The lineup of speakers was nothing short of extraordinary, featuring top-notch trailblazers who ignited the room with their wisdom, vision and humor, debriefing sessions that promoted thoughtful discussion and concluded with cocktails and conversation for networking and connection. The spirit and energy was contagious, leaving everyone craving more.
Apologies in advance if this recap give you a touch of "event envy"! We hope it will also give you a curiosity to visit our speakers' websites and socials to learn more, read their books and get inspired!
Judi Holler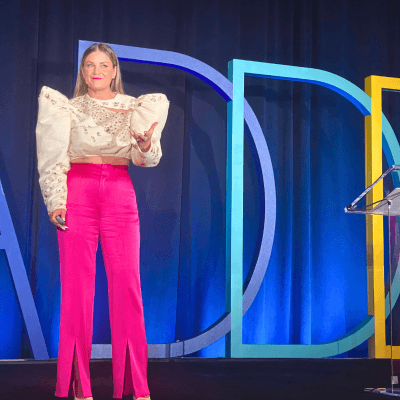 Judi Holler, alumna of the Second City Conservatory, improv enthusiast, top podcaster and best-selling author brought the funny and dropped some serious wisdom on how improv can improve and shape our lives. Judi took the stage in "Lady Gaga" sleeves to show that you can't play small or hide in a bold shoulder! Through her onstage improv—defined as two or more people collaborating in environments of uncertainty with the common goal of creating a solution—she reminded us that we improvise every day, doing hard, uncomfortable things and living to talk about them! We learned fear is responsible for stealing our joy and robbing us of our opportunities. Judi challenged us to conduct daily experiments—called exFEARiments—to bravely confront fear 3 seconds at a time.
"When we fear our fear a little less, we become more outgoing, brave and bold and lead differently to kick those doors open!" —Judi Holler
Learn more about Judi, check out "Fear Is My Homeboy" and follow her on Instagram.
Minaa B.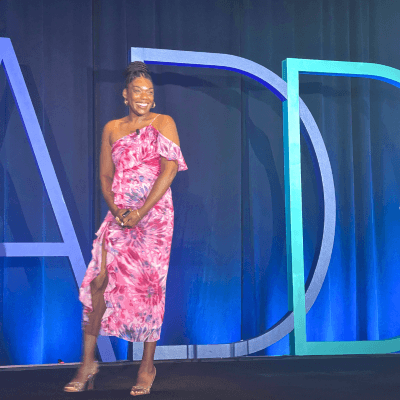 Minaa B. is a licensed social worker, writer and author of "Owning Our Struggles,". She is also a mental health advocate and the founder of Minaa B. Consulting, a mental health consulting practice. Minaa B's goal is to break the stigma around mental health, create community care that builds a society supporting wellbeing and celebrate it as part of the human existence. With our LEADDD audience, Minaa B. encouraged us to focus on self-nourishment (not just self-care!), daily habits that help regulate the nervous system, improve mental health and improve overall quality of life. Through discovering the power in the story behind your emotions, coregulation, mindful moments and breathwork, we learned to "flip the switch" from stress and burnout to restoration. Minaa B. reminded us of the power of creating boundaries and leaning into things that are healthy and familiar—like your favorite food or TV show to bring yourself back into balance. We ended the powerful session with meditation, exactly what we needed to relax and live in the moment!
"The body you hurt in is the same body that you heal in." —Minaa B.
Learn more about Minaa B., pre-order her new book and follow her on Instagram
Megan Reilly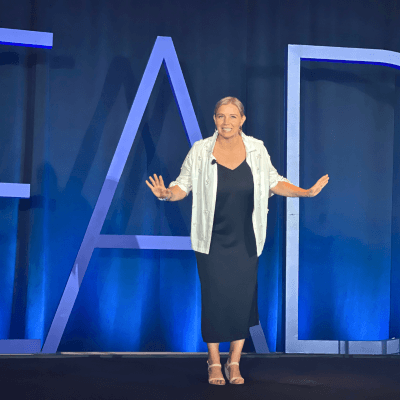 COO and co-owner of Tippi Toes® children's dance studios, Megan Reilly has helped franchise owners build and grow their own businesses around the world. As a 2012 Shark Tank alum, Megan and her business partner turned down a deal from Mark Cuban and decided to grow the business on their own. Megan's Shark Tank story was one every entrepreneur would want—a deal! They left excited but when they read the terms of the contract, it became clear they needed to turn it down. Megan shared the three biggest lessons learned from this experience and what subsequently drives all her decisions—personal, professional and everything in between. By focusing on what's in your control and what gets you closer to your goal, knowing your priorities (and making sure your actions align with those priorities!) and developing the mindset to keep going, not getting stuck in reveling in a win or wallowing in a failure, you're unstoppable!
Learn more about Megan and follow her on Instagram.
Join Us for LEADDD Orlando—and More! 
We hope you'll plan to join us in July 2024 for our next in-person event, LEADDD Orlando, and watch our site for other opportunities.
But, there's no reason to wait until next year to get more incredible connection and growth with our Tri Delta sisters. Join LEADDD Network for access to a vault of incredible, insightful past content as well as ongoing monthly sessions!