Tri Delta's 2022 Women of Achievement are servant leaders, changemakers and philanthropists who have broken bias and barriers to leave indelible marks on their communities. And they've inspired all of us—inside and outside of Tri Delta—with their tenacity, courage and service to others.
Allison Dickson, Southwestern, Leanne Pyott Huebner, Pennsylvania, and Jean Wiggin Roach, Texas Christian, were introduced during Tri Delta's International Women's Day Celebration on March 8, as we celebrated the power of women. And Sallie Krawcheck, North Carolina, was announced as our fourth 2022 Woman of Achievement at LEADDD San Diego on June 24. Here we share their stories and all the ways they are representing Tri Delta's values as they lead and serve.
Sallie Krawcheck, North Carolina
Sallie Krawcheck is the CEO and co-founder of Ellevest, a tech-first financial company, built by women for women, to help them earn more money, save more money, and invest to grow their money—by providing the products and coaching to do so—from their first dollar through to Private Wealth services.
Ellevest is one of the fastest growing digital investment platforms and has been named a #24 on CNBC's top 50 "Disruptor" list, #14 on LinkedIn's 50 "Most Sought-After Startups" (#2 in New York), and one of Entrepreneur Magazine's Top 100 Brilliant Ideas. Sallie is also the best-selling author of "Own It: The Power of Women at Work."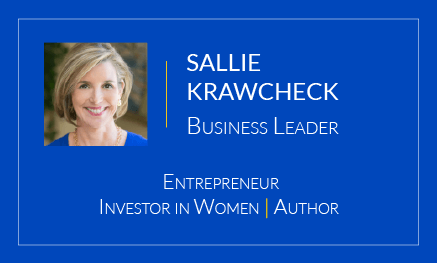 Sallie, one of the few executives to find success in large complex companies and as a startup CEO, is widely recognized as one of the most influential women in business. She has been recognized by Inc. as a "Top Female Founder," called "The Last Honest Analyst" by Fortune magazine, was named the seventh most powerful woman in the world by Forbes, was #9 on Fast Company's list of the "100 Most Creative People in Business" and is considered one of the "Most Influential People in ESG Investing" by Barron's. She has been called one of the top 10 up and coming entrepreneurs to watch by Entrepreneur Magazine and has landed on Vanity Fair's "The 2018 New Establishment List."
Before launching Ellevest, Sallie built a successful career on Wall Street: She was the CEO of Merrill Lynch, Smith Barney, US Trust, the Citi Private Bank and Sanford C. Bernstein. She was also Chief Financial Officer for Citigroup. Prior to that, Sallie was a top-ranked research analyst covering the securities industry.
Sallie received a B.A. summa cum laude from the University of North Carolina at Chapel Hill and an MBA with honors from Columbia Business School. She has two children and two cats.
Allison Dickson, Southwestern
Allison Dickson has fully lived her life motto: "I don't need easy. I just need possible." Her journey in life has been far from easy. In fact, you could say it's been courageous.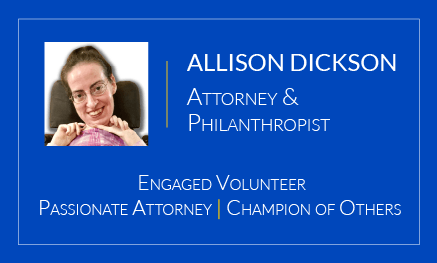 After being diagnosed with Muscular Dystrophy when she was 15 months old, Allison was given only a year to live. In overcoming this grim prediction, she realized the strength and resilience she held inside of her—along with the reality of living in a world of people looking at her in terms of what she could not do instead of what she could do. Determined to not let physical limitations hold her back, she graduated third in her class from Temple High School, summa cum laude and Phi Beta Kappa from Southwestern University, and first in her class from Baylor Law School, and she was recognized as the Baylor Young Lawyer of the year in 2017.
Allison's journey to Tri Delta was definitely not an easy one. In spring of her freshman year at Southwestern, Tri Delta released her after the second round of recruitment and on Bid Night she learned she did not receive a bid from any chapter. She recalls the pain of this experience clearly. She also recalls, though, the growth and development she built through this painful time. As Allison tells the story, several members of Tri Delta—known as kind, confident leaders on campus—reached out to her in her time of sadness.
Recruitment her sophomore year ended on a happy note with a bid from Tri Delta. As Allison approached the Tri Delta house on Bid Day, her new sisters ran to her, knowing that she was in a wheelchair and couldn't run to them. This powerful moment of sisterhood was the beginning of Allison's lifetime commitment to Tri Delta. And every opportunity she has, she tells of her love of Tri Delta to all those who cross her path.
Since her return to her hometown of Temple following law school, Allison has been an active volunteer at Temple Bible Church, Junior League of Bell County, and the Temple/Belton Tri Delta Alumnae Chapter where she currently serves as Alumnae Chapter President. She also serves on the Crescent Fund Committee of Tri Delta's Foundation.
Allison is a respected philanthropist who is known for her relentless perseverance, clarity of pursuit, faith, and positivity. Among other efforts, in four years she created and fully endowed through community fundraising three scholarships in Central Texas. When Allison humbly says she's "trying to give back," what she means is she is changing lives in Tri Delta and in the world.
Leanne Pyott Huebner, Pennsylvania
Leanne Pyott Huebner knows that access to higher education has always been key to unlocking the potential in today's young adults. A first-generation college graduate from an economically depressed rural community, she saw firsthand the impact a college degree had on her own career opportunities. She was the first person from her Title-1 funded public high school to attend an Ivy League university. It was there that Tri Delta helped introduce Leanne to community service and event planning—the seed to her life's work.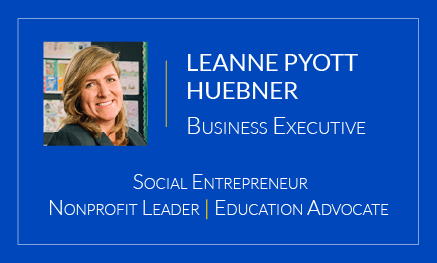 Leanne launched her career in New York City, becoming an award-winning social entrepreneur, web radio host and business executive. She led Central Business Development at Yahoo, Inc!, where she closed over $90 million in new revenue and oversaw a $500 million+ trading portfolio. Knowing she could make an impact in the world and the lives of young adults, Leanne co-founded an organization called Minds Matter to help potential first-generation students gain admission to college. Minds Matter is a comprehensive and highly successful three-year program that empowers high school students from low-income families to achieve college readiness.
Today, Minds Matter has expanded to 14 cities nationwide, and more than 2,500 young people have participated in the program. Over the course of the organization's 30-year history, 100 percent of students gained access to a four-year college or university.
Leanne says, "There's always more to work to do in leveling the playing field. Through my work with Minds Matter, I noticed how first-generation college students—like I once was—just required some extra support to truly thrive on campus."
Through her passionate work, Leanne continues to touch the lives of others by helping them soar to new heights. By breaking down barriers to education access, she's helping new generations of students become the leaders of tomorrow.
Jean Wiggin Roach, Texas Christian
Jean Roach is an icon in the Fort Worth, Texas, community, in the world of philanthropy and among thousands of Tri Delta sisters. She is admired and emulated for her visionary leadership, collaborative, unselfish volunteerism, unwavering excellence and her servant heart. Jean's commitment and unsurpassed service to Fort Worth's arts, medical, academic and charitable institutions have helped transform the city through lasting improvements and innovative endeavors.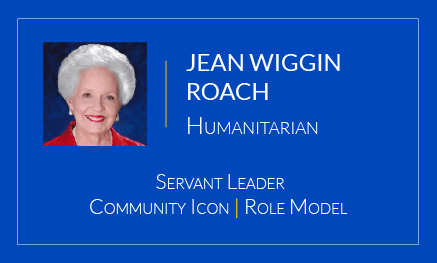 Jean is guided by the principle of "Leaving everything better than you found it." Not one to simply lend her name to a cause, Jean has a reputation for being all in—a tireless giver known for her selflessness, energy, humor and intelligence. Jean's love for Tri Delta is legendary, exemplified by 60+ years of devoted service in numerous local and national leadership roles and many awards. Her influence is felt from Tri Delta's Foundation to St. Jude Children's Hospital to Tri Delta's Phi Lambda Chapter at Texas Christian University.
In 2000, a group of young mothers approached Jean for her help. Nearly 100 infants were born in Tarrant County the previous year with Down Syndrome and there was no pre-school program in the area for those children. Jean recognized the need for resources for this tiniest and most vulnerable unserved population.
Never shying away from taking a risk, she boldly proposed the idea of a full-time pre-school for children with Down Syndrome to the Chancellor at TCU where she was a benefactor and volunteer. TCU administration embraced the idea, but only if funds could be raised to open the school. In less than six months, Jean secured a $1.5 million challenge grant along with other significant funding. Her tireless efforts have brought the highly regarded KinderFrogs School from a visualized dream to a shining community reality, filling a vital need and changing the lives of countless individuals and families.
Nominator and Phi Lambda sister Marsha Sparks says, "In Jean's hundreds of involvements and commitments, she is also known for integrity, consistency, wise counsel, tactfulness and poise. She is the consummate lady whose unassuming manner hides a steely determination and a willingness to 'go the extra mile' for the greater good. She is a beloved friend, mentor and hero to many, admired and respected by all who are fortunate to cross her path."
We are always looking for inspiring Tri Deltas to recognize as Distinguished Deltas and to consider for future Women of Achievement. Do you know an amazing Tri Delta sister? We want to know her too! Submit her information here.