LEADDD is officially back in person—for the first time in three years! We're in San Diego for a day packed with personal and professional development, created by women for women. Follow along with our live updates—we'll be updating this page throughout the day with the latest session takeaways.
4:40 p.m. – LEADDD Closing
That's a wrap on LEADDD San Diego! We had a powerful day sharpening our leadership skills and bettering our best.
Be sure to check back tomorrow for our Trident live blog during Day 1 of Tri Delta's 60th Biennial Convention.
3:45 p.m. – "She Gets It: Elevating Your Bold and Brilliant Voice!" with AmyK Hutchens
Tri Delta favorite AmyK Hutchens, California/San Diego, is back with us once again for another LEADDD presentation to close out our time together. AmyK is an international award-winning speaker, the Amazon #1 bestselling author of the books, "GET IT: Five Steps to the Sex, Salary and Success You Want" and "The Secrets Leaders Keep."
Today, she's inspiring all of us to elevate our bold and brilliant voice with her unmatched energy and wisdom.
"When your voice is bold and brilliant, you get more of what you want. And the number one way to do that is to communicate to connect."
AmyK shares her 22 magical phrases to make us amazingly brilliant at navigating tough conversations, and reminds us that "Life happens one conversation at a time."
"The world is a reflection of you, not the other way around," says AmyK. "Your world is up here: what you think is what you're going to find… Choose the story that says I'm bold, I'm brilliant I'm elevating my voice, and you'll prove yourself right."
2:15 p.m. – "Inspiring Generational Leadership" with DeLinda Forsythe
Next up is DeLinda Forsythe. DeLinda is a 35-year executive, CEO and entrepreneur in the contract furniture industry. Her company Innovative Commercial Environments (ICE), has been on the Inc. 5000 seven times in part because of her decision to partner with Millennial co-workers. DeLinda is here to share more about her journey of creating a culture of multi-generational mentorship.
When looking at the success of her company, DeLinda found that "It wasn't our products that were different. It was our people. And our people were different because our leadership skills were different."
"When you build a culture known for mentorship, coaching and encouraging other people, you build a strong brand," says DeLinda.
DeLinda has invited three guests to join us her on stage to share their stories of mentorship: Nerissa Zhang, CEO of The Bright App, whom DeLinda has mentored, Grace DeLynne, 11-year-old author of the book "The true power of Girls," and Christine Gail, best-selling author and book publishing coach.
Nerissa shares the impact mentorship had on her life from a young age. "I realized how important it is to connect with other strong women who you want to be like. When I met DeLinda I thought, 'I want to be like you—how do I do that?'"
DeLinda shares that "Being a mentor is as simple as being a keystone, making introductions. It's a ripple effect… Identify just one person you can be an advocate for and could benefit from you being their mentor."
The entire room was in awe of Grace who shared her own thoughtful insight into what she hopes to accomplish with her book.
"I want to help girls so that they don't have to go through anything as they grow older, like bullying or negative thoughts about themselves. I want to teach them that they are their own unique self, and they don't need to change anything about themselves. They can be themselves and be loved for who they are."
"We can all become mentors and consciously, meaningfully and intentionally mentor other young girls and women," says DeLinda. "The future is female…Women are poised to take on incredible leadership opportunities, and I hope you hear that and see that."
1:10 p.m. – "Diversity Done Differently" with Risha Grant
Internationally renowned diversity, inclusion and bias expert Risha Grant takes the stage to help attendees learn how to get rid of the BS—the Bias Synapse—and build an inclusive culture. She makes this tough topic engaging with personal stories and humor, as she invites the audience to explore their own biases.
Outlining the difference between diversity and inclusion, she says: "Diversity is just who you are. Point blank period. It's the thing that makes you unique…the one thing we have in common are our differences, but that's not a bad thing."
When it comes to inclusion, she says, "This is where most of us suck." She encourages the audience to consider how they can be an ally: "As women we need to support each other more, we need to be allies more. If we can support each other, we can create space for each other, we can bring each other up…Diversity is about you, inclusion is about us."
The most pervasive issues facing us, Risha says, is unconscious bias. "I can make diversity sound as cool as I want. I can make inclusion sound as great as I want to, but we have a problem with embracing it," she says. She outlines the three steps to take to get rid of the BS.
Identify your BS
Own the BS
Confront the BS
Most important, Risha says, "Confronting your BS requires unconditional love."
To truly build an inclusive culture, we must:
Unpack the boxes
Build authentic relationships
Be intentional
Question your assumptions
Challenge microaggressions
Risha leaves attendees with this thought: "There's no them, there is only us. All of us."
1:15 p.m. – LEADDD Keynote Series
We're back from lunch where attendees enjoyed the opportunity to network and connect! Karen welcomes everyone back by sharing a brief recap of Tri Delta's virtual LEADDD Keynote series, launched in fall 2021. We're taking a walk down memory lane of some of the most powerful and impactful moments from the incredible guests we've welcomed so far—and there's more where that came from! Karen announces that the LEADDD Keynote Series will be back this fall with an amazing new lineup of high impact speakers! Sign up for the mailing list.
11:25 a.m. – "Leading in High Achiever Land" with Lindsay Boccardo
Next up is our second keynote speaker Lindsay Boccardo, a familiar face to LEADDD, as she was a speaker for Tri Delta's virtual LEADDD Keynote series earlier this year! For more than a decade, Lindsay has been coaching, researching and developing programs for professional growth and emotional health in the workplace—we are so excited to have her and her incredible energy back with us (this time in-person!) at LEADDD.
Lindsay is talking to us today about how to keep our power, and how to keep our teams and sisterhood intact as we achieve.
She calls it "High Achiever Land" or "HAL" and, with humor and wit, she shares how we can identify when we're "Trapped in HAL."
"We only have so much energy, willpower and personal power," says Lindsay. "When you start to achieve more, you have to say 'no' more. You have to have clear boundaries."
There are four things Lindsay says high achieving leaders need:
Self-awareness
Compassion
Boundaries
Celebration
"This is an hour in your life," says Lindsay. "I want you to walk out of here knowing how powerful you are—feeling it, knowing I really mean it, and knowing when you look around that you see the power in this room."
10:25 a.m. – Women & Success Panel
Our session continues as we transition to a panel of powerhouse Tri Deltas who have been pioneers in male-dominated fields. Joining Sallie are three fellow Women of Achievement: 2012 honoree Dr. Beth Stewart, Missouri; 2021 honoree Gayle Jennings-O'Byrne, Pennsylvania; and 2022 honoree Leanne Pyott Huebner, Pennsylvania.
They discuss the challenges they've overcome to find success in male-dominated industries and the importance of women helping and supporting other women.
"Those opportunities aren't just going to be handed to you, you have to seek them out." Beth says. "I was lucky enough to be able to align myself with mentors who believed more in me than I ever believed in myself."
"We're always judging women when we should just be listening and partnering and finding ways we can support each other," says Leanne who offers the following advice: "When you don't have the opportunity, when the door is closed for you, try to open it up for the next person."
"This sisterhood is enough. I don't need to spend time going and creating new networks," says Gayle. "We have all the tools, treasure and talent here in this room and in the Tri Delta network…Invest in this sisterhood. Don't leave it when you leave the college campus—this is the network. This is the garden we need to water, fertilize and tend to."
10:23 a.m. – Sallie is presented with Tri Delta's Woman of Achievement Award
Because of Sallie's accomplishments and contributions to business—and how she has continued to chart a new path for women—Karen surprises Sallie by sharing that Tri Delta is recognizing her with our highest alumna honor: as a 2022 Tri Delta Woman of Achievement!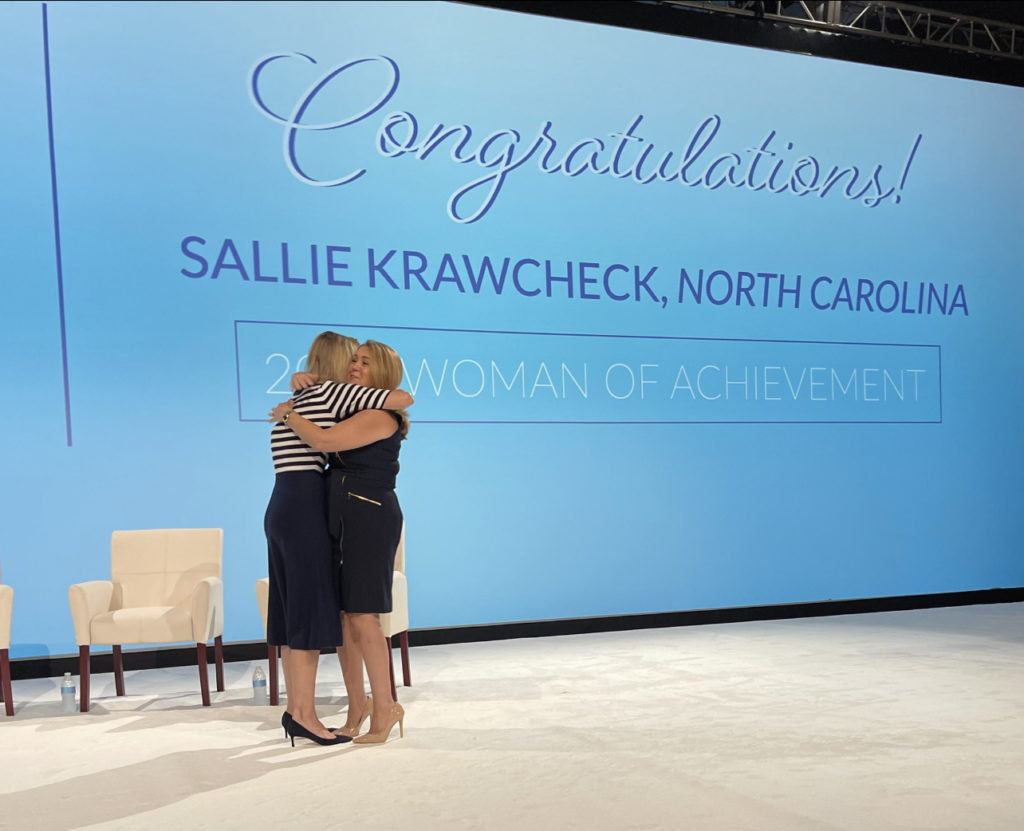 9:45 a.m. – Opening Session with Sallie Krawcheck
We're kicking off a power-packed LEADDD with a welcome from Tri Delta CEO Karen Hughes White, Georgia. Karen welcomes both our in-person audience, as well as those who are attending virtually from home before introducing our first Keynote Speaker: CEO and co-founder of Ellevest Sallie Krawcheck, North Carolina, a tech-first financial company, built by women for women to help us earn more money, save more money, and invest to grow our money.
Sallie's begins with a point she says we can all agree one: Nothing bad happens when women have more money. Studies show that when women have more money, the economy and society are better off.
She also shares the two lies women are told that keep them from getting ahead:
Lie #1 – Women aren't good with money.
Lie #2 – Business is an individual sport.
Men, on the other hand, Sallie points out, are playing business like it's a team sport: hiring each other, promoting each other, giving each other feedback.
"Our way forward is to play this as a team sport," she says. "I know we've been socialized that 'you can't lower the bar,' but the bar has always been higher for us. White men today have been promoted based on potential, while women, women of color and people of color are promoted based on achievement."
"Today we women control $7-8 trillion in investable assets. Do you know we direct 85% of consumer spending, and we're 51% of the workforce? If we woke up tomorrow and said we want to change our country, we could do it. Somehow we were convinced we had to be empowered when we had the power all along."