The first page of Emily Allen's handwritten story of Tri Delta's founding can be explored, along with the complete manuscript, at tridelta.historyit.com. 
Have you ever wondered what treasures might be found in Tri Delta's archives? Thanks to Tri Delta's partnership with HistoryIT, a premier digital archive service, the Fraternity's historical materials are now being preserved digitally and made available to explore and share online. Through this multi-year project funded by generous donors to Tri Delta's Foundation, we have already digitally preserved a wealth of historical items. More are added online every day, making a trip into Tri Delta's early history just a click away.
Saving the memories of our founding  
It was 134 years ago this fall, that two Boston University seniors put their heads together to create a new organization. Sarah Ida Shaw and Eleanor Dorcas Pond spent most of the fall semester designing every facet of the new group, including its Ritual, constitution and bylaws, and even the design of the badge. The women's differing personalities might have hindered the creation process but, instead, Eleanor's cool practicality balanced Sarah's passionate exuberance.
Sitting together in the back of the Women's Study in Jacob Sleeper Hall, Sarah and Eleanor debated their ideas for the new group and worked out each aspect together. Sarah's strong background in mathematics, mythology and the classics was key to the design of Tri Delta's Rituals, mottos and symbols. Eleanor's veto of Sarah's elaborately jeweled badge designs was key to the first badge's simple star and crescent design. Since both felt the badge was a meaningful, visible sign of their new organization, Sarah negotiated with a local jeweler so the badges would be affordable and available for each new member upon their initiation. The simple badge design was applied to thinly rolled 14kt gold, and Sarah commissioned two dozen for $1.25 each.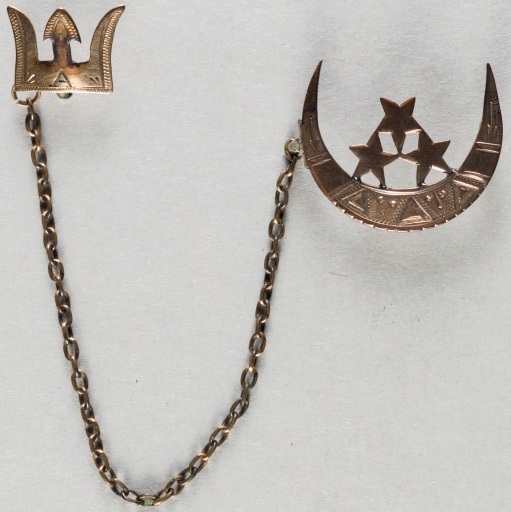 We are fortunate to have one of these original badges, along with many items once belonging to our Founders, on display at the Ginger Hicks Smith Museum at Executive Office in Dallas, Texas. But you longer need to visit EO to see these keepsakes from our founding chapter. They can now be viewed from wherever you are, whenever you want to see them, and on any device at tridelta.historyit.com! A generous donation from Ginger, longtime Tri Delta volunteer and alumna from Emory University—herself a librarian, archivist and history enthusiast, has allowed us to digitize the memories of our Alpha Chapter and give full access to these treasures to Tri Deltas around the world.
Discovering more from Alpha Chapter  
Tri Delta's Alpha Chapter boasted 21 members by May, forever captured in the iconic charter group photo. The Founders Exhibit of our digital archives provides more information on our organization's founding, the four women involved in its creation and what happened to them after they left Boston University.
Both Sarah Ida Shaw and Emily Allen, who later became the first editor of The Trident, wrote accounts of Tri Delta's founding. Their accounts were used in the founding story in the first Tri Delta history book, "A Detailed Record of Delta Delta Delta 1888-1907," compiled by Bessie Leach Priddy, Adrian. A copy of Emily's first-person handwritten account can be found in Tri Delta's digital archives.
Maud Muzzy's Stars and Crescent badge, one of the only original 24 badges Sarah commissioned, can also be found on the site. Attached to Maud's badge is one of the first tridents created when Tri Delta installed its first chapter outside of Alpha. A small "A" engraved on the trident denotes the member's Initiation chapter. The Alpha charter member photo is featured on the digital website, and many other early group photos of Alpha Chapter will soon be added.
Among other treasures once belonging to our Founders, Tri Delta has several necklaces belonging to Sarah, along with a gold mesh purse, her Stars and Crescent badge and a small hand-painted dish. In addition, photos of Eleanor in a carriage making her rounds as a physician, her Stars and Crescent badge and a silver teapot can be found in our display cases—and now online at our digital archives. Digitization not only gives you access to all these items from wherever you are, it also allows you to closely examine details of each, such as the inscriptions on the back of the badges.
Help digitize our history 
What you'll find today in our digital archives is just the beginning. We are adding to our archives regularly, so each visit to the website will uncover new pieces. But to fully digitize all of Tri Delta's history, we need your help.
The endeavor of digitizing the large amounts of artifacts in our possession will take time for both Tri Delta and HistoryIT to sift through, categorize, label and future-proof. It will also take the generosity of donors like Ginger—ensuring we have the funds to continue this lofty but necessary project. We invite you to join us in protecting and preserving Tri Delta's history.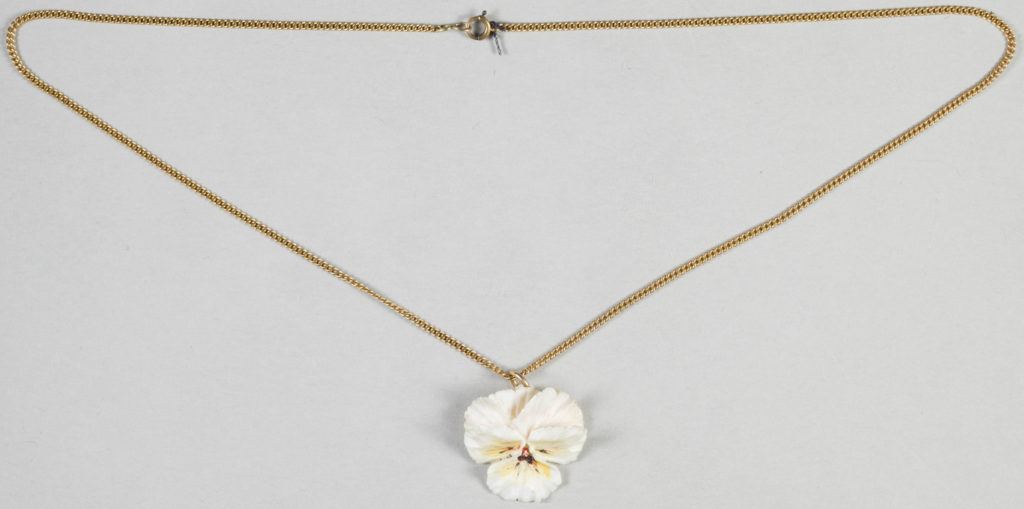 This china pansy necklace belonged to Sarah Ida Shaw and can be seen at the Ginger Hicks Smith Museum at Executive Office in Dallas, Texas, and in our digital archives.