Each month, Tri Delta publishes In Memoriam, highlighting the lives of some of our Distinguished Deltas and longtime volunteers and sharing a full list of sisters who have recently passed away. Below is the In Memoriam for October 2022.
Elizabeth Williams, Clemson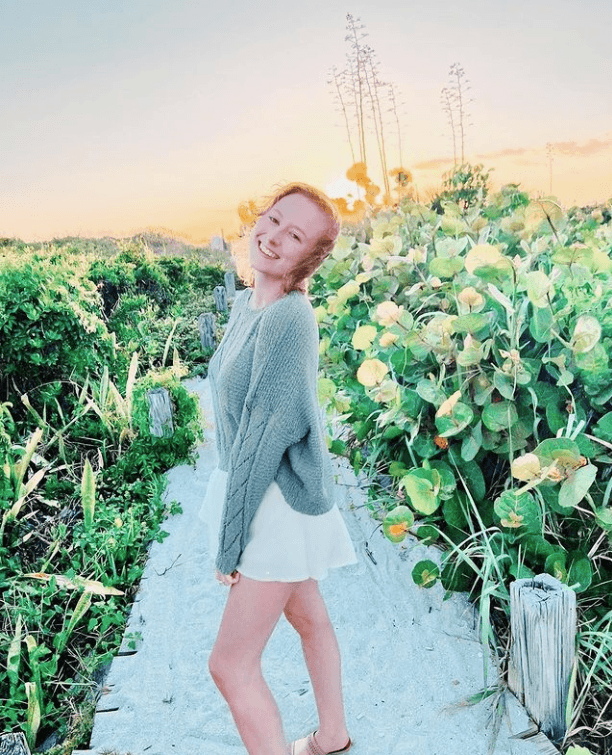 With heavy hearts, Tri Delta shares the loss of collegiate member Elizabeth Williams, Clemson, on Oct. 28, 2022. Described by family, friends and sisters as a "young lady with tremendous courage," she showed amazing strength and poise as she spent the last 5 years of her life fighting rhabdomyosarcoma. Elizabeth leaves a legacy of resilience on Beta Theta Chapter, Clemson University and St. Jude Children's Research Hospital, where she was a patient, and her chapter sisters reflected they are "lucky to have known such a kind soul."
In Memoriam
This In Memoriam list includes sisters who were reported as deceased to Executive Office October 1 – October 31, 2022. If you know of a sister who has passed away, please report her information to Executive Office by emailing memberrecords@trideltaeo.org.
Alabama
Helen McMurtray Hill '38 d. 4/2020
Arizona
Elvira Glad Barber '49 d. 10/2022
Dawn Cooper Knight '49 d. 6/2021
Arkansas
Kathryn Edwards Dickson '61 d. 10/2022
Baylor
Cindy Smith Graves '80 d. 8/2022
Beloit
Joyce Weiskopf Mansen '50 5/6/2022
Butler
Martha Wilson Lines '51 d. 10/2022
Elizabeth Stratman '43 d. 7/2006
CA-Long Beach
Marilynn Kingston Harvey '57 d. 11/2018
Maureen McNulty Rinella-Smith '61 d. 5/2020
Coe
Harriet Brooks Jackson '52 d. 9/2022
Colorado
Adele Young Baldridge '54 d. 6/2022
Delta State
Marcia Fleming Hammett '69 d. 10/2022
DePauw
Betty Jean Hendrickson Stroup '41 d. 5/2022
Georgia
Susan Temples Jones '57 d. 4/2022
Illinois
Barbara Ropers Fairfield '57 d. 6/2022
Indiana
Peggy Bentley Buchanan '60 d. 10/2022
Kansas State
Nancy Ross Coulter '58 d. 6/2022
Phyllis Gfeller Daniels '44 d. 10/2022
Phyllis Brown Goering '50 d. 3/2022
Anne Eshbaugh Klusendorf '51 d. 4/2021
Judy Haskard Schrater '61 d. 10/2022
Millikin
Barbara Vangundy Wills '53 d. 5/2021
Mississippi
Carol Anderson Porter '59 d. 10/2022
Missouri
Cynthia Roemer Stehl '77 d. 9/2022
Nebraska
Elizabeth Costelloe Metzler '43 d. 10/2000
Nevada
Mary Barnard MacHabee '62 d. 9/2022
New Mexico
Angela Amorous Lodin '58 d. 6/2021
Barbara Hough Smith '54 d. 10/2019
North Carolina
Mary Frances Allsbrook Fisher '53 d. 10/2022
Northwestern
Marcia Denherder Kempers '49 d. 7/2021
Ohio Wesleyan
Mary Stewart Rutchow '57 d. 10/2022
Oklahoma
Amy Maloy Lindsly '53 d. 9/2022
Oregon State
Edith Willing Clarke '45 d. 1/2022
Kathleen Taylor Davis '53 d. 10/2022
Pat Shaw Lewis '50 d. 12/2021
Mary Clark Schroeder '58 d. 3/2022
Oregon
Barbara Denniston Peterson '48 d. 4/2022
PACIFIC
Beth Frackelton Condon '86 d. 3/2019
Puget Sound
Dolores Weeks Tolles '55 d. 8/2022
Southeast Missouri ST
Barbara Serb Hantak '59 d. 7/2022
Syracuse
Nancy Perkins Scarton '53 d. 6/2022
Ruth McEuen Wright '59 d. 8/2022
Texas Christian
Karen Yohe Lynch '68 d. 6/2022
Texas
Bonnie Blades Allen '51 d. 8/2022
George Ann Brown Bahan '45 d. 9/2022
Stancy Stribbling '71 d. 12/2021
Toledo
Helen Diver Dunlap '52 d. 10/2022
Toronto
Barbara Appleton Reid '51 d.1/2021
Tulsa
Joan Smith Lukeman '48 d. 10/2022
Utah State
Pamela Andersen Jensen '62 d. 2/2022
Vannene Andersen Partington '59 d. 10/2022
Utah
Janet Christensen Cummings '52 d. 5/2021
Jacqueline Anderson Eddington '46 d. 5/2022
Janet Oberg Gill '50 d. 8/2021
Mary Javaine '59 d. 6/2022
Mary Moran '49 d. 5/2021
Sharon Richards Snider '60 d. 9/2022
Vermont
Candice Carter '64 d. 5/2022
Washington State
Joyce Henderson Wills '53 d. 1/2022
Washington
Joann Thackston Happy '51 d. 7/2021
Wyoming
Jane Pierson Williamson '59 d. 8/2022