Check out these three sisters who are cooking up success in the food industry—Julia Finfrock and Sarah Chappell, both Vanderbilt, have paired up to bring freshly baked bread to their campus and beyond, and Kellie Conant, Southern Methodist, is treating Dallas, Texas, to local, handcrafted ice cream.
Getting the Scoop
After leaving her desk job in 2018, Kellie found her calling in ice cream. She and Brandon Stoll co-founded Parlor's, which sells handcrafted ice cream across Dallas. As Kellie explains, the two were inspired to create the business when they struggled to find ice cream that was up to their standards. They felt the city was missing an ice cream company that made their ice cream from the ground up, used high-quality, local ingredients, and supported small local businesses while doing it.  
"It's hard to find a good old scooped ice cream shop out there that makes ice cream the way it used to be made: handcrafted, minimal ingredients and classic flavor offerings," she says.
Parlor's makes their ice cream from scratch using local ingredients, and one of the best parts of the business, according to Kellie, is the chance to support so many other local companies with the ingredients they use.
"It feels so good to support people we know and trust, especially in times like these when there's so much uncertainty and hardship for so many people."
Kellie also credits Tri Delta with providing her with experiences that have benefited her as a leader and entrepreneur. "When I joined Tri Delta in college, I was surrounded by such a diverse group of women," she says. "We all had distinct personalities, ideas, and interests. Not only did I get to learn to interact with all of these different kinds of people, but I learned to lead amongst them and to not be afraid to do things that made me feel uncomfortable. Having that experience undoubtedly made me who I am today."
But the best part of scooping ice cream, Kellie says is seeing the smile on the customer's face when they take a bite. "It's just me and my business partner right now, so we are the people who hand the scoop or pint to our customers from off of our cart. Seeing them enjoy our ice cream makes all of the hard work and long hours worth it."
You can find Parlor's on Instagram.  
Rising to the Occasion
Tri Delta sisters and college seniors Julia Finfrock and Sarah Chappell turned a quarantine baking experiment into a full-fledged business when they established Early Risers, their bread-baking venture this year. The duo sells sourdough bread loaves to students across the Vanderbilt campus.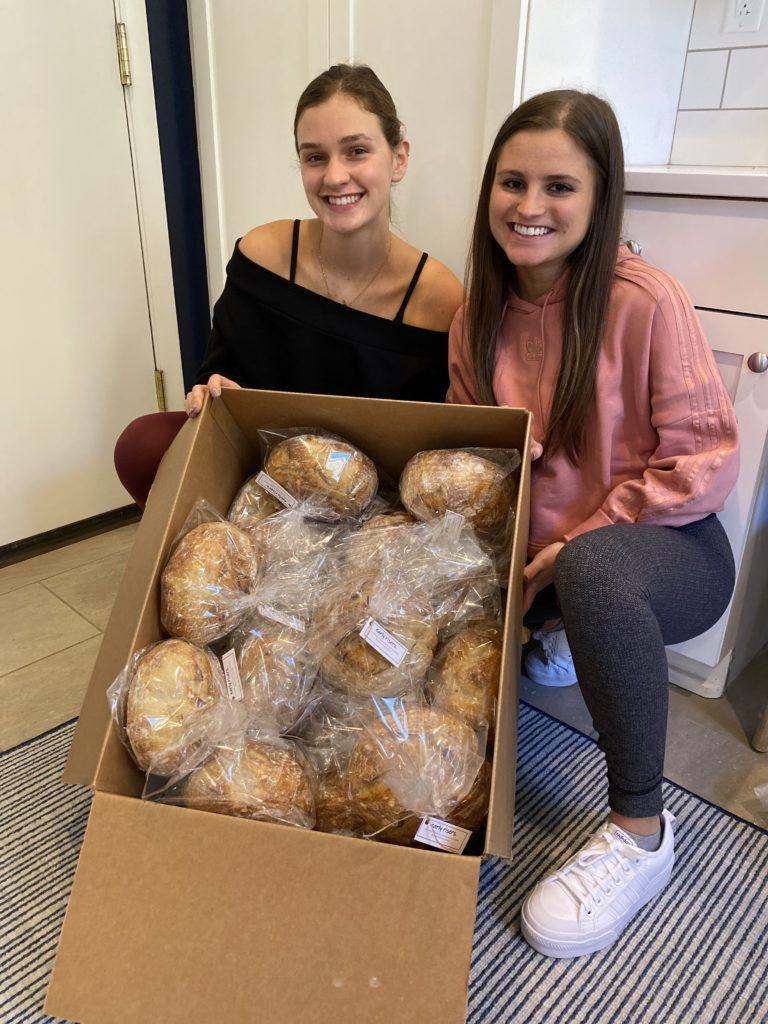 The business came about by chance—Sarah's dad received a sourdough starter from a friend and was trying to make loaves over the summer.
"When we got to campus, we continued what they had started and perfected our recipe over the first few months," says Sarah. "Our roommates liked it so much that we decided to start selling it! What we thought would be a few sales a week has turned into almost 100 a week."
The two plan to continue baking and selling bread over the winter break, and when they return to campus in the spring semester.
Sarah and Julia say their favorite part of the business is working together as a team to figure out ways to improve their efficiency and up their profits. "It's really given us a glimpse into the life of small business owners."
They also credit Tri Delta with being a big part of their success—both by providing support from sisters as well as helping them develop the leadership skills needed to run the business.
"Our sisters have been overwhelmingly supportive and were some of our first customers. We really appreciate them!" says Sarah. "As leaders in our chapter, we learned how to work with other people and stay organized. Our positions have prepared us well to deal with a large volume of communications and manage our time effectively."
You can find Early Risers on Instagram and Facebook.