As part of our LEADDD Now plan to create an equitable and inclusive lifetime membership experience for Tri Delta's Black, Indigenous and Sisters of Color Tri Delta's Convention delegates voted in July to expand the number of Executive Board members by two and asked the Leadership Development Committee (LDC) to fill those vacancies with Black, Indigenous and Sisters of Color.The LDC has recommended and the Executive Board has approved the addition of Emily Greer, Rhodes, and Tycely Williams, Wake Forest, as members of the Executive Board.  The entire 7-person board will be installed in a few weeks together as they begin service for the 2020-2022 biennium. We know their collective wisdom, expertise and voice will create a memorable and meaningful lifetime member experience for all Tri Deltas.
To read more about the LEADDD Now plan go to: tridelta.org/LEADDDNow.
2020-2022 Executive Board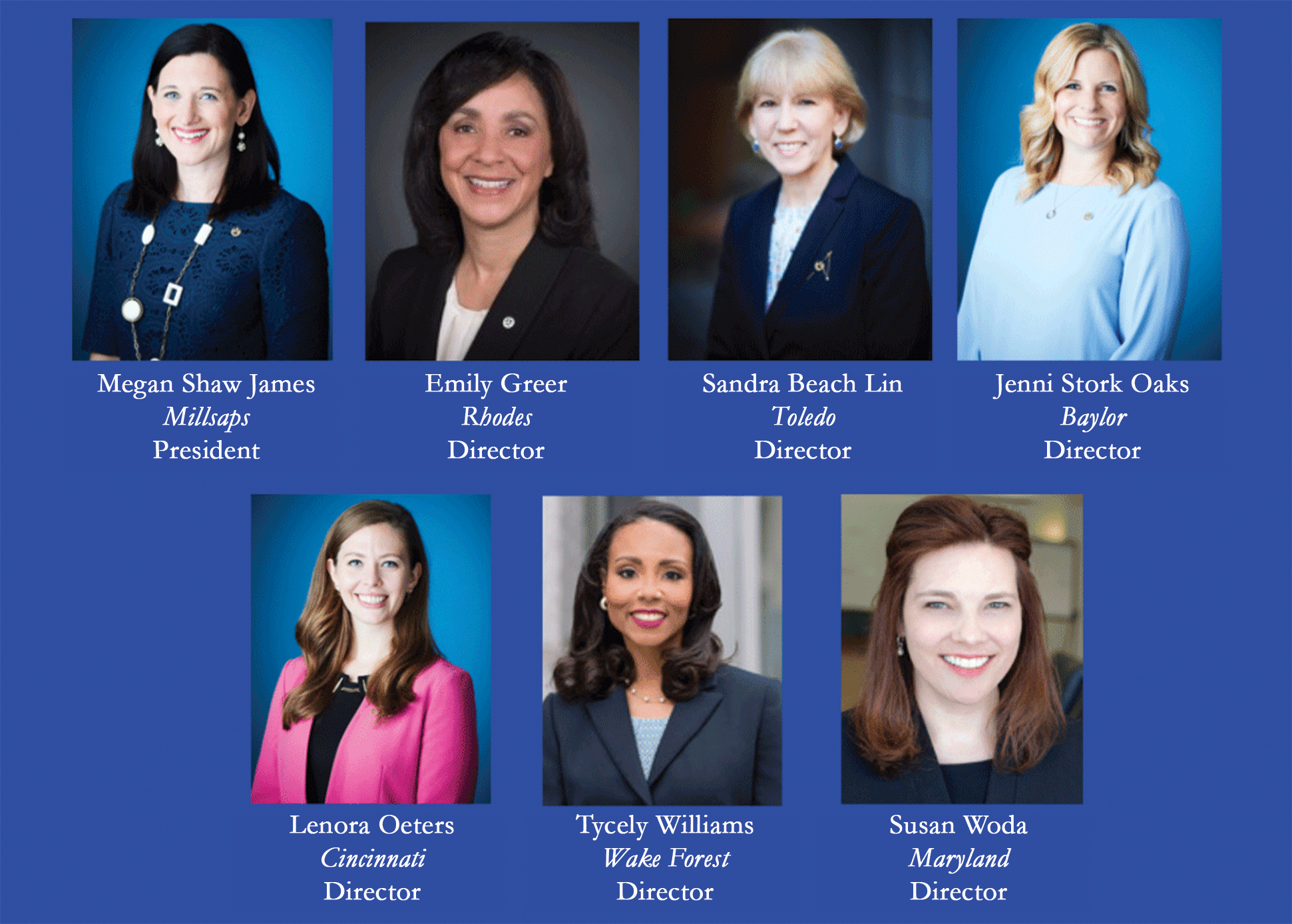 Fraternity President – Megan Shaw James, Millsaps
Megan attended Millsaps College where she earned her Bachelor of Arts degree in psychology with a minor in Spanish. She served Gamma Zeta Chapter as collegiate chapter president, vice president of chapter development and secretary. Megan then received her Master of Education degree specializing in higher education administration from North Carolina State University.
As an alumna, Megan has served Tri Delta as an Executive Board Director (liaison to the Tri Delta Housing Board and Ritual Committee), chair of the Member Discipline Innovation Team, Extension Team member, Leadership Development Committee member, collegiate district officer and chapter development consultant.
Professionally, Megan serves as an Alumni Engagement Associate in the Office of Institutional Advancement at the University of Mississippi Medical Center. She focuses on establishing strategic relationships with a wide range of alumni to ensure positive relationships with volunteers and campus constituents. Megan previously served as the Assistant Dean of Students at Millsaps, advising fraternity and sorority life in addition to new student orientation.
Megan is married to Ricky James and has two children, Henry and Catherine. She enjoys reading, volunteering at her children's school and traveling.
Director – Emily Greer, Rhodes
Emily graduated cum laude from Christian Brothers University with a Bachelor of Science in Marketing and Management. She earned her certification as a Senior Professional in Human Resources through the Society of Human Resources Management, and in 2006, earned her Executive Master of Business Administration from the University of Memphis.  She joined Tri Delta in 2015 as an Honor Initiate of the Delta Psi Chapter at Rhodes College in Memphis, TN.
As Chief Administrative Officer for ALSAC, the fundraising and awareness organization for St. Jude Children's Research Hospital, Emily Greer is responsible for leading the day-to-day administrative operations for ALSAC and serves as the No. 2 executive behind the Chief Executive Officer. Emily's responsibilities include Business Continuity, Human Resources, The Office of Diversity, Equity and Inclusion, Security/Safety, Facilities Management, Information Security, Supply Chain and Leadership and Cultural Development.  She also oversees Internal Audit on behalf of the CEO.
Emily serves on a number of community boards in Memphis, including Christian Brothers University and the Greater Memphis Chamber. She was recognized by her alma mater as a Distinguished Alumna in 2018 and was named one of 25 Influential Black Women in Business by The Network Journal.
Emily is married to her husband, Jarvis, and they have two children, McKenzie and Jarvis Junior, and five grandchildren.
Director – Sandy Beach Lin, Toledo
Sandy was initiated at and graduated from the University of Toledo with a Bachelor of Business Administration. She also holds an MBA from the University of Michigan. Sandy's industrial business career has included executive roles at Honeywell, Alcoa, Avery Dennison and Celanese. She built her career through the sales and marketing functions, leading to general management roles, the most recent of which was Chief Executive Officer of Calisolar Inc. (now Silicor Materials), a provider of raw materials for the solar industry. Sandy currently serves on the Board of Directors of American Electric Power, PolyOne Corporation, Interface Biologics and Trinseo S.A.
She is Co-Chair of the Paradigm for Parity® Coalition, which is focused on achieving gender parity in corporate leadership. Sandy and her husband, Pat, have two adult daughters, Emily and Clemonse. The family has had the good fortune to travel and live many places globally, and she's happy to call the Dallas Metroplex home.
Director – Jenni Stork Oaks, Baylor
Jenni earned a B.A. in journalism with a minor in marketing while at Baylor. Upon graduation, she traveled to Tri Delta chapters throughout the U.S. as a chapter development consultant (CDC), and she assisted with the establishment of new chapters at Pepperdine University and Rose Hulman Institute of Technology.
Following her time as a CDC, Jenni was hired as a Change Management Consultant at Accenture. During her nearly 18 years at Accenture, Jenni served clients in the chemical, utility and energy industries. She supported global change management programs within Accenture; led business development, community outreach, and people engagement in one of the major U.S. offices; and provided program management for a U.S. local market growth initiative. Jenni served as Chief of Staff to the North America CEO for three years prior to leaving Accenture in late 2014.
Jenni is married to Brian and they have twins, Connor and Sydney, who are 13. Jenni volunteers at her children's school, teaches women's Bible studies, and helps lead a group for moms of middle school and high school kids. When not spending time with her family, enjoying her kids' various sporting events, or volunteering, Jenni enjoys exercising, taking her dog, Stanley, for walks, and watching the Great British Baking Show.
Director – Lenora Oeters, Cincinnati
Lenora earned a Bachelor of Arts Degree in communications & public relations from the University of Cincinnati. As an alumna, Lenora has served Tri Delta as an Executive Board Director, 2018-2020; Streamlined Governance Steering Committee member, 2017-2018; Chair, Inclusion Task Force, 2016-2018; Atlanta Alumnae Chapter President, 2016-2018; Extension Team member, 2016-present; young alumnae focus group member, 2016-217; Atlanta Alumnae Chapter Vice President of Philanthropy-Care Affair Chair, 2014-2016; recruitment specialist, 2012-2016 and chapter development consultant, 2010-2011.
Professionally, Lenora serves as the National Strategic Director, Distinguished Partners Events for the American Cancer Society. In this role, she oversees the development of the nationwide strategy, execution and training for the American Cancer Society's $30 million-dollar Gala product. Lenora was named the Tri Delta Atlanta Alumnae Chapter's Woman of the Year in 2015 and was recognized as a member of Atlanta's 30 Under 30 community in 2017. Personally, Lenora enjoys spending time with her wife Stephanie, daughter Lilly Kate, three rescues dogs and rescue cat, training for triathlons, volunteering and traveling.
Director – Tycely Williams, Wake Forest
Tycely Williams is the Chief Development Officer for America's Promise Alliance, the driving force behind a nationwide movement to improve the lives and futures of America's youth. An experienced servant leader and Certified Fundraising Executive (CFRE), she has encouraged investments of more than $100 million toward social good at organizations including the YWCA USA, American Red Cross of the National Capital Region and YMCA of Metropolitan Washington.
A servant leader with decades of experience in volunteer service, Tycely chairs the Greek Alumni Advisory Board at Wake Forest University and is the Co-Chair of Philanthropy in the Washington, DC Metro Alumnae Chapter of Tri Delta. Tycely chairs The Nonprofit Alliance Foundation and Monument Academy Public Charter School, while serving on the board of Rising Media Stars. A lifetime member of the Girl Scouts and Leadership Greater Washington, she holds an Executive Masters in Leadership from The McDonough School of Business at Georgetown University, is a cum laude graduate of Wake Forest University with a BA in communication with distinguished departmental honors and a minor in journalism.
Initiated in 1995 in the Gamma Kappa Chapter of Tri Delta, she is a proud Life Loyal member of Tri Delta.
Director – Susan Woda, Maryland
Susan joined EAB Global (formerly known as the Education Advisory Board) in 2011, drawing on her 15+ years on campus, her experience as Senior Director of Operations for Tri Delta and The Center for Living, Learning and Leading, and a term on the University System of Maryland's Board of Regents.  Today, she partners with the faculty, executive leadership teams and Boards of colleges and universities across the country in the areas of institutional strategy, academic planning, program development, public policy, resource allocation, advancement and strategic finance.
Her education includes a degree in finance and human resource management from the University of Maryland, College Park and a master's degree in public policy from the University of Texas at Austin.  Her doctoral coursework and research in education policy and leadership focused specifically on higher education policy, leadership and finance.
In Susan's "other life" she continues her work with ArtSupport, a nationwide arts education advocacy group, and coaching young women on interview and public speaking skills as part of their community service efforts.