That's a wrap on Volunteer Leadership Conference 2023! Tri Delta's biennial training and development conference was held in person (for the first time in four years!) July 14-16 in Chicagoland. More than 400 dedicated volunteers whose roles support our collegiate chapters through recruitment, financial management, housing and membership experience gathered in person to receive job-specific training, hear inspirational keynote speakers, attend brainstorming sessions and soak in all the connecting, networking and having fun!
Here's the weekend in review (to relive the excitement or see what you've missed):
Shifting Mindsets, Connecting Generations 
The conference kicked off Friday evening with aunt and niece duo Dr. Mari Ann Callais, Tri Delta's Sr. Director of Strategic Initiatives, and Emily Hines, Rhodes, sharing their personal journey to good communication between generations. Sponsored by Tri Delta's official jeweler Herff Jones, their presentation, twenty years in the making through their own attempts to communicate with each other, was a valuable and entertaining session that emphasized the importance of bridging the gap between generations.
We were reminded that the responsibility to bridge the generational gap and build a culture of belonging falls on all of us—and it's a lifelong journey. The session concluded with a powerful quote from Founder Sarah Ida Shaw, reminding us that the true glory of life lies in giving, loving and serving. And that's good advice no matter your age!
"Build a culture of belonging and bring one another along." —Dr. Mari Ann Callais 
Regional Team Time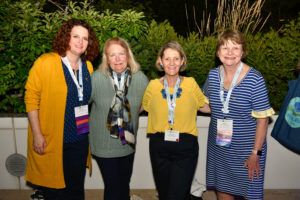 Engaging was a huge part of the weekend, which is why we loved watching teams bond during the regional reception and morning regional team breakfasts. Volunteers used the opportunity to caffeinate and connect before diving into their daily training tracks.
Today's College Student: A Panel Discussion 
We had the opportunity to hear from five experienced student life professionals—who also happen to be Tri Delta volunteers! Our panel included: Fraternity President Megan Shaw James, Millsaps, Dean of Students at Millsaps College; Megan Bullard, Creighton, Director of Volunteer Services for Beta Theta Pi Fraternity; Dr. Tim Miller, member of Theta Chi and Vice President of Student Affairs at James Madison University; Lindsy Perry, Illinois State, Coordinator of Fraternity & Sorority Affairs at Austin Peay State University; and Monica Schnapp, Pacific, Assistant Director of Sorority & Fraternity Life at the University of California at Irvine.
We compiled their wisdom into the top five takeaways for better communication and relationships with today's college students:
Competing priorities: Today's college student juggles many commitments, from Tri Delta involvement to exciting job and internship opportunities. Embrace their multifaceted lives by redefining participation and celebrating their unique ways of engaging.
Communication: Connect by explaining the "why" behind your preferred communication methods. If you're able and the message allows, adapt to the platforms they use most and communicate through them, recognizing that email is likely not their go-to channel.
Authenticity matters: Your actions make a meaningful impact, even if they don't immediately realize it. Trust in your authentic self and show that you genuinely care about them as individuals.
Passionate changemakers: Today's college students are driven to create a better world. They care deeply about social justice, belonging and supporting one another. Encourage their problem-solving mindset and empower them to take action by understanding their desire to question (everything!).
Speaking their language: Every generation has its own unique slang. Don't be cheugy. It's all about understanding and embracing their vibe, even if it's cringe. So, don't be a total noob, dive into the world of their lingo and watch your relationships level up! No cap.
iDDDeation 
This session was an opportunity for attendees to connect with subject matter experts, ask questions and share ideas around all things Tri Delta. Tables to visit ranged from alumnae chapter by-laws, LHC annual reporting requirements to collegiate member recruitment and retention and DEIAB. Conversations bubbled and brains expanded with new ideas!   
Tri Delta Celebrates! Awards & Milestone Ceremonies 
A highlight of VLC is the opportunity to recognize, acknowledge and celebrate the accomplishments of our dedicated volunteers and alumnae chapters. The night started with a big thanks and standing ovation to Collegiate Volunteer Coordinator Karen Doran, Duke as her six years of service in this role comes to an end. Thank you, Karen, for your commitment and dedication to Tri Delta. Check out all the evening's winners HERE.
We also honored members celebrating 10, 25 and 50 years in Tri Delta. A streamlined ceremony combining our Pearl Circle, Silver Circle and Golden Circle milestones was the perfect way to highlight the beauty of lifelong membership and sisterhood! 
Educational Tracks 
Our volunteers were busy learning throughout the weekend in their role-specific educational tracks. Volunteers were guided by experienced facilitators sparking curiosity as they engaged in lively discussions and exchanged ideas and best practices.
Tri Delta Central 
Tri Delta Central was buzzing with action throughout the weekend as attendees visited spaces showcasing Tri Delta Housing, Tri Delta's Foundation, alumnae engagement opportunities, the Leadership Cultivation and Selection Committee (LCSC), Perpetual Napa Valley, Herff Jones and Shop Tri Delta (powered by The Letter Market) and of course our traveling Ginger Hicks Smith Museum & Archives.
A few highlights from all the activity: Tri Delta's Foundation raised more $26,000 from 85 generous donors, welcoming 25 new Stars & Crescent Society members and 12 new Friendship Society members. And we added 25 new members to the LEADDD Network for personal and professional development and even more connections with sisters!   
Alumnae Initiation
Welcome to Sarah Brown, Rosella Garcia, Tanei Livingston and Madison Oelkers, initiated at VLC 2023. Your lifetime in Tri Delta starts now and we are thrilled for you to begin your journey! 
Closing Session 
It's never easy to say goodbye after such an inspiring and enriching weekend, but we had to close up VLC 2023! Our closing included big thank-yous, raffle winners, the volunteer oath, candle lighting and chapter roll call.
"As you return home, know that we have perfect confidence in each of you as you head into these volunteer roles. Thank you for continuing to say yes to Tri Delta and giving your time and talents to serve our members." —Fraternity President Megan Shaw James, Millsaps