The Women of Achievement Award was created to recognize Tri Deltas who have demonstrated achievement and leadership in their volunteer, philanthropic, civic or professional pursuits. The unique accomplishments of each award winner honor the values of our sisterhood and illustrate Tri Delta's commitment to our members' growth and development into well-rounded, successful women. These women were recognized at Tri Delta's 58th Biennial Convention in Dallas/Fort Worth, Texas, on July 3, 2018, at the Cerulean Celebration Awards Dinner.
Tri Delta is pleased to recognize the following five women as our 2018 Women of Achievement!
Arlene graduated from the University of Toronto with a degree in English and psychology, and a master's in library sciences. Now a retired librarian, she shares her passion about Chinese Canadian history at schools, libraries and community organizations. She is the author of seven books about the history, culture and traditions of the Chinese in Canada, several distinguished with award nominations, including the Heritage Toronto Book Award.
Arlene is the founding President of the Jean Lumb Foundation that supports a Canadian national scholarship program for students of Chinese heritage, and a board member of Little Pear Garden Dance Company. Her volunteerism as a community advocate and collaborator across many organizations has been recognized with the Queen Elizabeth II Diamond Jubilee Award, Heritage Toronto's 2017 Special Achievement Award and Tri Delta Toronto Alumnae's 2016 Dorothy Cody Award. In 2016, she was selected to present the Annual Toronto History Lecture by the City of Toronto Archives. She is especially honored to be a two-time member of the Canadian National Women's Dragon Boat Team that won eight gold medals at the World Championships in Tampa, Florida, (2011) and Hungary (2013)
An Emmy and duPont-Columbia Award-winning journalist, number one New York Times bestseller and the youngest elected state judge in Texas, Catherine Crier has had a remarkable career in the fields of law, journalism and publishing.
A Dallas native, Catherine earned her Bachelor of Arts degree in political science and international affairs from the University of Texas and her Juris Doctor from Southern Methodist University School of Law. First an Assistant District Attorney and Felony Chief Prosecutor, then a civil litigation attorney handling complex business and corporate matters, Catherine's legal career culminated in her 1984 election to the 162nd District Court in Dallas County.
In September 1989, Catherine was hired to co-anchor the premiere evening newscast on CNN. Additionally, she co-anchored Inside Politics, all election coverage, and hosted Crier & Company, a talk show covering news, politics and international issues.Crier joined ABC News in 1993, and was awarded a 1996 Emmy for Outstanding Investigative Journalism for her work on the segment "The Predators" which examined nursing home abuses throughout the United States.
Catherine joined Court TV's distinguished team of anchors in November 1999. She served as Executive Editor, Legal News Specials, while hosting her daily interview program, Catherine Crier Live, until joining Cajole Entertainment in 2007 as a founding partner. Catherine released her first book, the New York Times bestseller, "The Case Against Lawyers" in October, 2002. Her second book, "A Deadly Game: The Untold Story of the Scott Peterson Investigation" became a number one New York Times bestseller.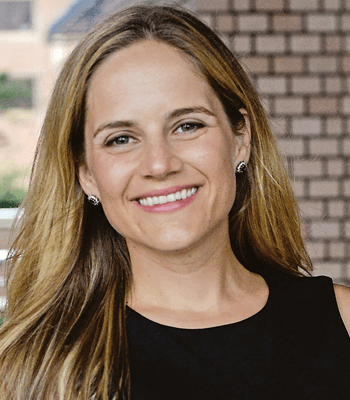 Elizabeth Dearborn Hughes, Vanderbilt
Elizabeth moved to Rwanda a few days after graduating from Vanderbilt University in 2006. After volunteering with grassroots projects, she co-founded the nonprofit Amani Africa to provide scholarships to street children, support an orphanage in Kigali, and organize reconciliation and conflict resolution conferences for genocide survivors.
In 2008, Elizabeth and her husband, Dave Hughes, began working with business and civil society leaders to analyze the training needs of the Rwandan private sector. In 2010, they founded the Akilah Institute – the only women's college in Rwanda – to provide market-relevant education and career development to promising young female leaders. Today, the Akilah Institute is an accredited college offering diplomas in entrepreneurship, information systems and hospitality management.
Newsweek and The Daily Beast recognized Elizabeth as one of the 125 Women of Impact. She was recognized as one of the World's Most Influential Female Social Entrepreneurs by Forbes Magazine. Acumen founder Jacqueline Novogratz named Elizabeth one of The 5 Most Powerful Women Changing The World With Social Entrepreneurship. Elizabeth received the Woman of Peace Award from the Women's Peace Power Foundation in October 2009.
Kelly has 35 years of experience at the Boeing Company in system engineering, software engineering and executive program management for large military development programs.
She provided leadership and engineering to many programs over her career, including Secure Border Initiative Network program for Department of Homeland Security and military communications such as Family of Advanced Line of Site Terminals, which modernized military satellite communications for the Air Force, and Joint Tactical Radio System Ground Mobile Radio for the Army.
She is now retired from the Boeing Company and owns a small consulting firm called SchlegelTech. She has expanded her engineering consulting to include career counseling and lifestyle coaching especially for early career people.
Kelly donates her time to many ministries at church and has a passion for young people getting started on the right foot.Kelly graduated with a B.S. from the University of New Mexico, and she holds an MBA from the University of Redlands. She has been married 37 years to a high school science teacher and has two sons. Kelly enjoys cooking, camping and holistic health studies.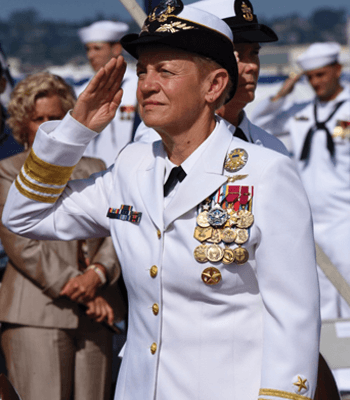 Vice Admiral Nora Wingfield Tyson, Vanderbilt
Nora Tyson served over 38 years on active duty in the United States Navy, retiring as a Vice Admiral. She is a native of Memphis, Tennessee, and a graduate of Vanderbilt University. She received her commission through Officer Candidate School in Newport, Rhode Island, and earned her Naval Flight Officer wings in 1983. She is a 1995 graduate of the U.S. Naval War College with a Master of Arts in National Security and Strategic Affairs.
Nora's operational assignments include leading the Navy's initial disaster relief efforts on the U.S. Gulf Coast in the aftermath of Hurricane Katrina, and deploying twice to the Persian Gulf in support of Operation Iraqi Freedom. She also led the USS George H.W. Bush Strike Group on its maiden deployment in support of combat operations in both U.S. 5th and 6th Fleet areas of responsibility. Nora's last active duty assignment was Commander, U.S. 3rd Fleet, commanding all Naval Forces on the West Coast to the International Dateline.
She serves on the Vanderbilt University Board of Trust, the Los Angeles Fleet Week Leadership Council and is active as a motivational/leadership speaker and a defense and leadership consultant. Her current passion is playing golf and traveling with her husband, Wayne, also a Navy Veteran.
View previous recipients of this prestigious award on tridelta.org.