More than 700 collegiate chapter officers gathered in Dallas, Texas, for Tri Delta's Collegiate Leadership Conference (CLC) April 8-10, 2022—our first in-person event in two years!
Designed to prepare and inspire newly elected officers for their leadership journey ahead, CLC offered attendees engaging keynotes, educational tracks and innovative learning sessions—with an extra dose of sisterhood and celebration. In just 72 hours, these sisters formed new friendships and strengthened old ones, learned, got inspired, networked and celebrated big goals!
Opportunity, Innovation and Empowerment
Fraternity President Megan Shaw James, Millsaps, kicked off CLC with her Tri Delta Today keynote and three powerful words: opportunity, innovation and empowerment. These three words set the tone and theme for the entire weekend.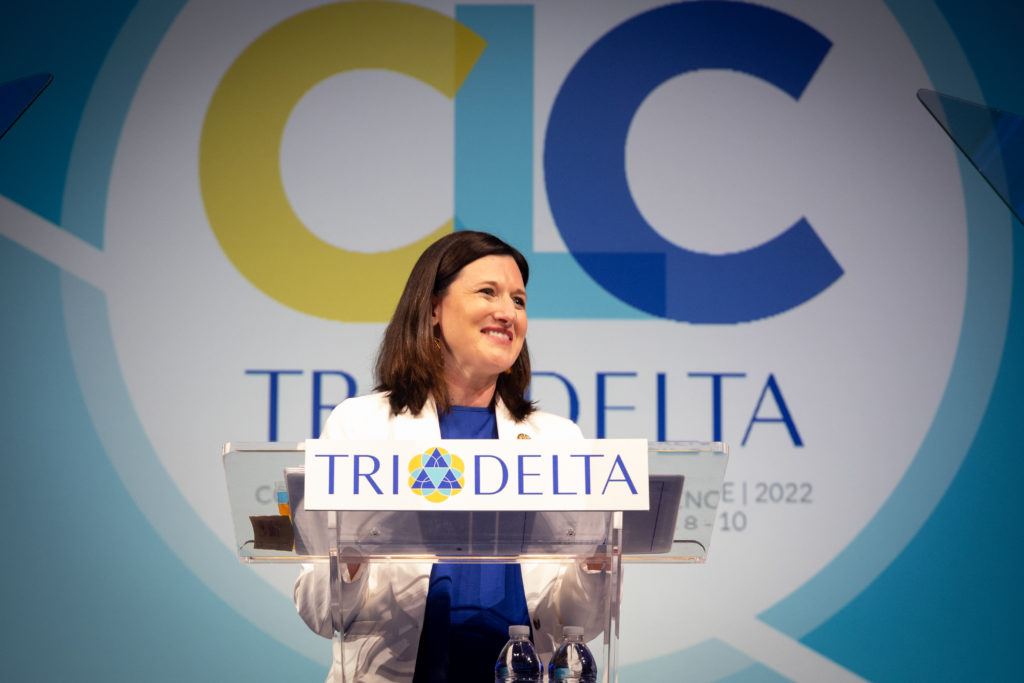 "If the WHAT in Tri Delta is opportunity, the HOW is definitely innovation. I truly believe one of the best ways we step into the opportunities in front of us and reach success is by being brave, bold and creative."

—Megan Shaw James, Millsaps
Opportunity to Get Gutsy
One of the highlights of this year's conference was our inspiration session: "Get Gutsy" featuring Vernice "FlyGirl" Armour. FlyGirl brought her authentic self to CLC, challenging attendees to embrace the mindset "one mission, one goal, one team, one sisterhood" and think about the "what" and "why" behind their roles. We were inspired to make gutsy moves (not just think gutsy thoughts!) and frame obstacles as opportunities.
"When things get tough, acknowledge the obstacles, don't give them power."

—Vernice "FlyGirl" Armour
Sharing Innovation at Delta Demos
Delta Demos was back at CLC 2022, and 17 different chapters shared their creative programming ideas with attendees in this science-fair style setup. Attendees had the chance to learn and share new ideas to take back to their chapters and make the Tri Delta experience all it can be for our members!
Empowering Chapter Leaders
CLC is all about learning, and there was plenty of it! Our chapter officers attended educational tracks tailored to their roles as they discovered ways to empower their chapter and members to realize their potential and soar to new heights.
Celebrating $60 Million in 8 Years!
We did it! Tri Delta has fulfilled our 10-year, $60 million fundraising commitment to St. Jude … a full two years ahead of schedule! During CLC, we took a moment to celebrate at the slumber party-themed St. Jude Experience. This milestone achievement happened because of Tri Deltas coming together to support this goal—from writing letters to flipping pancakes and walking/running for St. Jude! And we plan to keep the celebration going at Tri Delta's 60th Biennial Convention this summer! Read more about this BIG announcement.
Snaps for Our Award Winners
We couldn't conclude CLC without celebrating all the accomplishments of our collegiate chapters and members! Read more about our 2022 Collegiate Chapter Award winners and runners-up and our Sarah Ida Shaw Award nominees and winner, Claire Meakem, Cornell.
CLC is in the history books but the friendships, learning and celebration will forever stay with us!