Named after our beloved Founder, the Sarah Ida Shaw Award is Tri Delta's most prestigious collegiate award. Our winners exemplify devotion to the ideals of Tri Delta while significantly contributing to their chapter through selfless leadership, an emphasis on sisterhood and the promotion of chapter unity. The caliber of award nominees this year was truly astounding.
On Sunday, April 10—during our Collegiate Leadership Conference (CLC)—Tri Delta celebrated our 2022 Sarah Ida Shaw Award Winner Claire Meakem, Cornell, along with three runners-up: first runner-up Sahiba Singh, Towson; second runner-up Shayla McPherson, Southern California; and third runner-up Kate Massey, Furman. Each of these women embodies Tri Delta's values as they lead in their chapters, on their campuses and in their communities. Get to know these incredible women:  
2022 Sarah Ida Shaw Award Winner Claire Meakem, Cornell
Claire believes that the bonds made within Tri Delta have the power to transform lives.
She used the stage at CLC to share a powerful story from the perspective of her friend Katherine. A Tri Delta sister literally saved Katherine's life when Katherine was found unresponsive and seizing in her room. Katherine spent the next three weeks in a coma, and Tri Deltas of all ages donated to her GoFundMe and reached out to their own networks to help support her and her family. Returning to school after a two-year recovery was hard for Katherine as most of her friends had already graduated. Claire shared Katherine's words: "Coming back to Tri Delta made me feel secure because I knew it was a space where I belonged."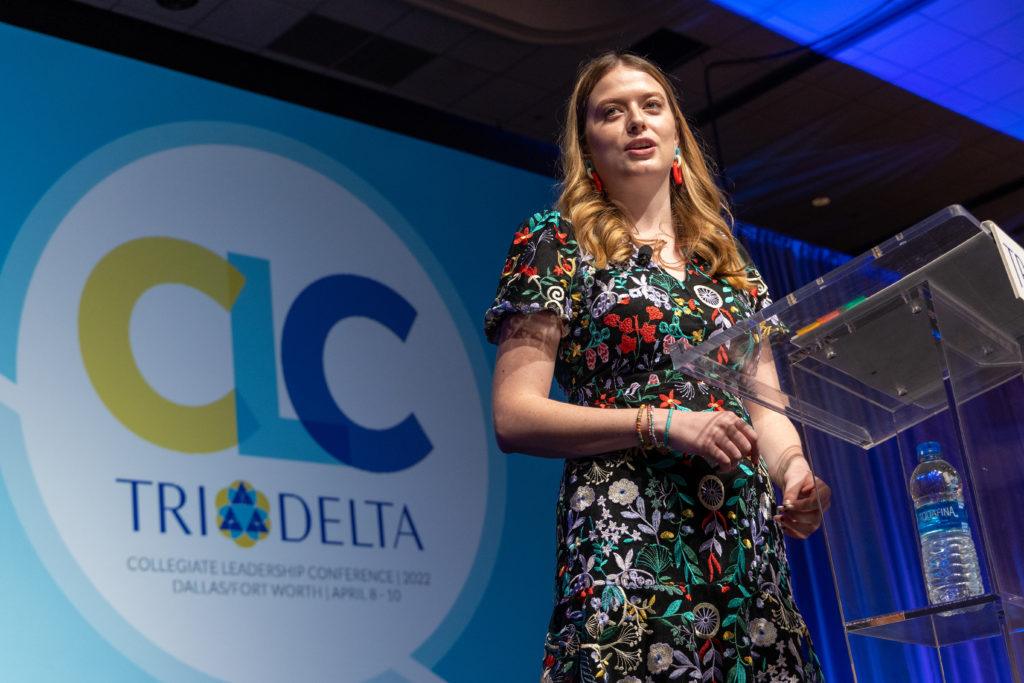 This was just one story out of many, Claire said, of how Tri Deltas make an impact. Serving as collegiate chapter president for her chapter during the pandemic, Claire focused her energies on helping the chapter adjust physically, mentally and financially. It was important that she speak the truth during this time while keeping her sisters well-informed. With a decline in chapter membership and finance concerns, Claire addressed these situations with care and concern both for members and for the future of Alpha Beta Chapter. She said, "While this role requires big energy and commitment, I have found that the results and sacrifices are very rewarding. Not only has our chapter become a more stable institution for women on our campus, but it has also been able to empower women in their communities to do and be more."  
Claire is also a leader outside of Tri Delta, having served as the Dean of American Legion Auxiliary Keystone Girls State where she led a staff of 26 women, managed all programming and oversaw 100 campers. This program critically informed her leadership experience and taught her how to provide value in young women's education.
In her acceptance speech, she said, "For each one of us, our jobs as a leader within our chapters is to serve and promote communities of genuine investment. But this work does not end in Tri Delta. Because when we graduate, the skills we learned as leaders rooted in a foundation of being brave, bold and kind will follow us as we shape the next community each of us join."
First Runner-Up Sahiba Singh, Towson
Sahiba's goal is to empower and provide members with the tools to be their best selves. One of her most successful projects has been the mental health book club, a group that meets weekly to provide sisters a confidential space to reflect, critically think, debate and develop their ideas and beliefs regarding relevant topics in pop culture. Members are able to challenge their current beliefs against what they learned from the books they have all read in order to unpack societal influence and norms.
Sahiba is grateful to be a part of a community that has embraced her as she is rather than trying to push her into a mold. Tri Delta has given her a platform to advocate for what is right and the compassion to educate her when she is wrong. And she has made a tremendous impact on her chapter through her willingness to put members first, her trustworthiness and her work ethic as an officer.
Her advisor said, "She comes from the place of I, meaning she uses her experiences and knowledge to enhance discussion and does not act as if she has walked in another person's shoes. She shows empathy and compassion regularly and consistently to all."
Second Runner-Up Shayla McPherson, Southern California
Shayla is a member committed to kindness, supporting her fellow officers and campus and community DEI efforts. In the wake of criticism after the Black Lives Matter movement, Shayla worked with DEI chairs of other sororities to create a Panhellenic DEI plan and has helped ensure that they hold themselves and their respective houses accountable. As a group, they also provided continuing education, hosted discussions, raised money and more. She was happy to take on various responsibilities, no matter how small, as she understood that the "little" tasks can often make a large difference.
One chapter volunteer noted, "She is often the 'go-to' officer for many members. She works closely with other officers and always has the chapter's best interest at heart. She uses her position to champion initiatives to combat racial disparities and inequities within communities." Another said, "Her vision, her passion and her desire to make our organization better are a testament to the type of woman she is."
Third Runner-Up Kate Massey, Furman
Kate has boldly experimented with new leadership strategies. She changed her chapter's attitude around their philanthropy fundraiser by inviting guest speakers, making informative graphics for social media, sharing resources for best fundraising practices and providing timely updates to members throughout the duration of their fundraiser. Kate shared, "In 48 hours, we crushed our goal by raising over $8,000, and we doubled our goal within the first 24 hours. I was so proud of this bold change in our chapter's fundraising."
Kate is an aspiring educator who uses her free time to pursue meaningful experiences and avenues to help children. Within the education department, she was selected to serve on the Education Recruitment Committee where she works alongside professors to discuss methods for recruiting students to the education major.
In their recommendation, her chapter shared, "Kate serves as a role model for her sisters, friends and third grade students she works with every day. Kate beautifully exemplifies passion, thoughtfulness and drive with whatever she sets her mind to, which makes her a strong role model for students of all ages. Kate is a light that shines so brightly—our chapter benefits greatly from her consistent positive support and her dedication to leadership and excellence."
Congratulations to the following nominees for being recognized with Honorable Mention and High Honors!
Honorable Mentions
Taylor Carlson, Iowa
Allison Favaloro, Texas Christian
Kaitlyn Little, Nebraska
High Honors
Natalie Seiler, Michigan
Congratulations to all our 2022 Sarah Ida Shaw Award nominees!