As part of our Collegiate Leadership Conference weekend on April 8-10, Tri Delta celebrated the accomplishments of our collegiate chapters and honored them (in person!) among their peers. The past few years have brought unique and new challenges to collegiate chapter life, and we are so proud of how our chapters thrived in the face of these obstacles, providing meaningful experiences for our members through innovation, connectivity and Purpose. Our chapters—and especially the following award winners—have shown the world just how brave, bold and kind Tri Deltas can be!
Congratulations to all of our award winners and runners-up!
Margaret Paddock Haller Award 
This year, we had not one but three winners of the Margaret Paddock Haller Award!
Winner: Phi Mu Chapter – Southeast Missouri State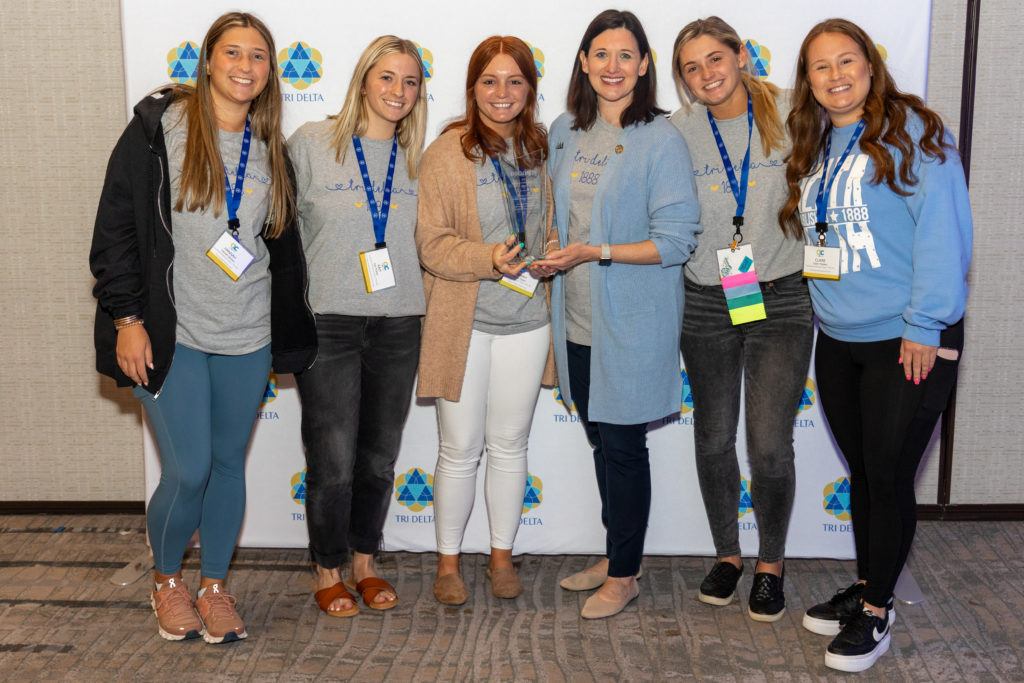 This year, Phi Mu Chapter has emphasized members' health above all else and have utilize new programs to support members' overall wellbeing. They also offer members professional growth by encouraging them to take internships, externships and other learning opportunities to fulfill their academic and professional pursuits. Above all, they encourage their members to remember the value of friendship, and how the friendships they foster in our years as active members will last a lifetime. 
Winner: Chi Chapter – University of Mississippi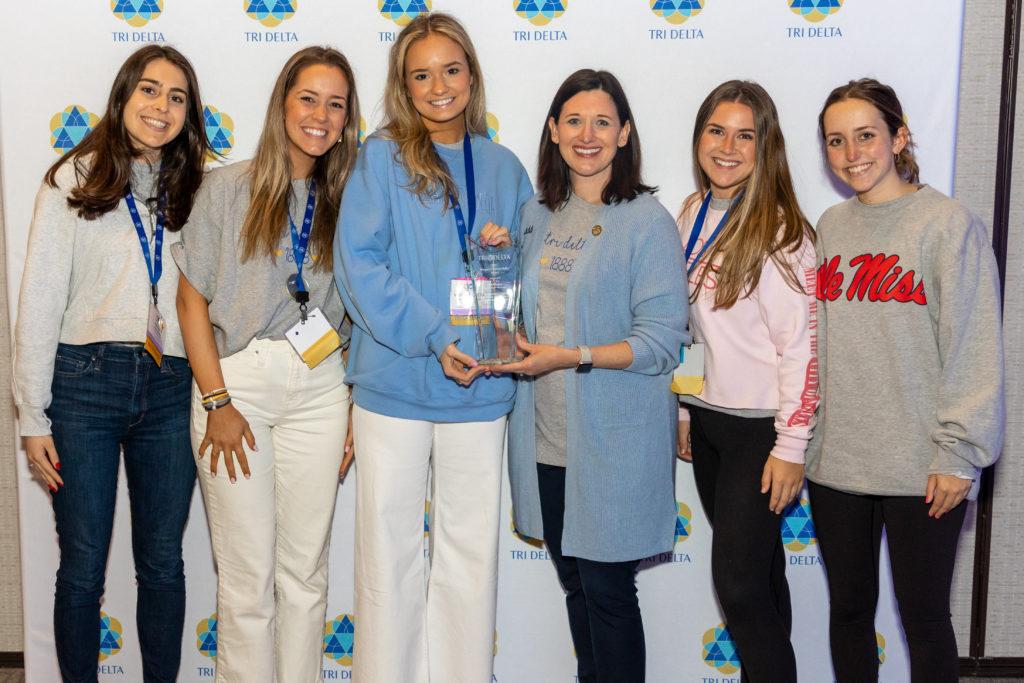 This year, Chi Chapter has focused on professional development to assist in building life and career skills after college through speakers, resume builders and professional photos. As a larger chapter, they established weekly awards for members to stay engaged and promote overall retention. The chapter has also created outreach and hosted events for multicultural chapters in their home. Chi Chapter has gone above and beyond to ensure a quality member experience.
Winner: Theta Tau – University of Idaho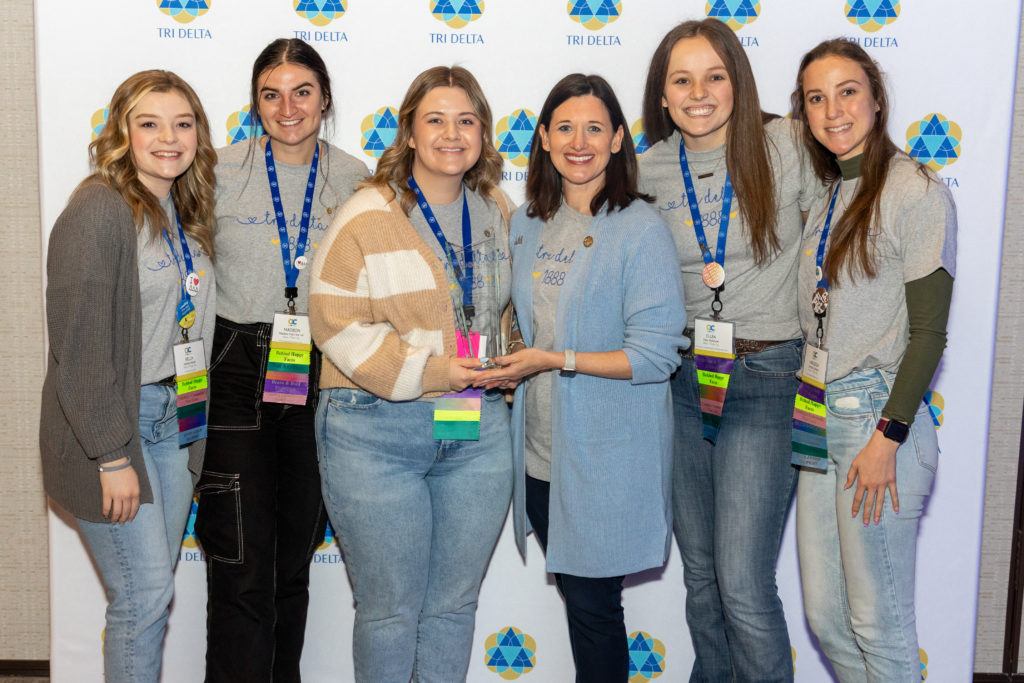 Theta Tau Chapter actively engages with alumnae and volunteers through social media connections, electronic newsletters and a newly introduced alumnae pen pal program. They've advocated for making mental health a priority, established safe spaces for members and had stress management professionals lead workshops for their members. Their holistic approach to their lifetime member experience makes them deserving of this honor.
Kathleen Davis Nye Excellence in Panhellenic and Community Relations 
Winner: Theta Omega – University of Kansas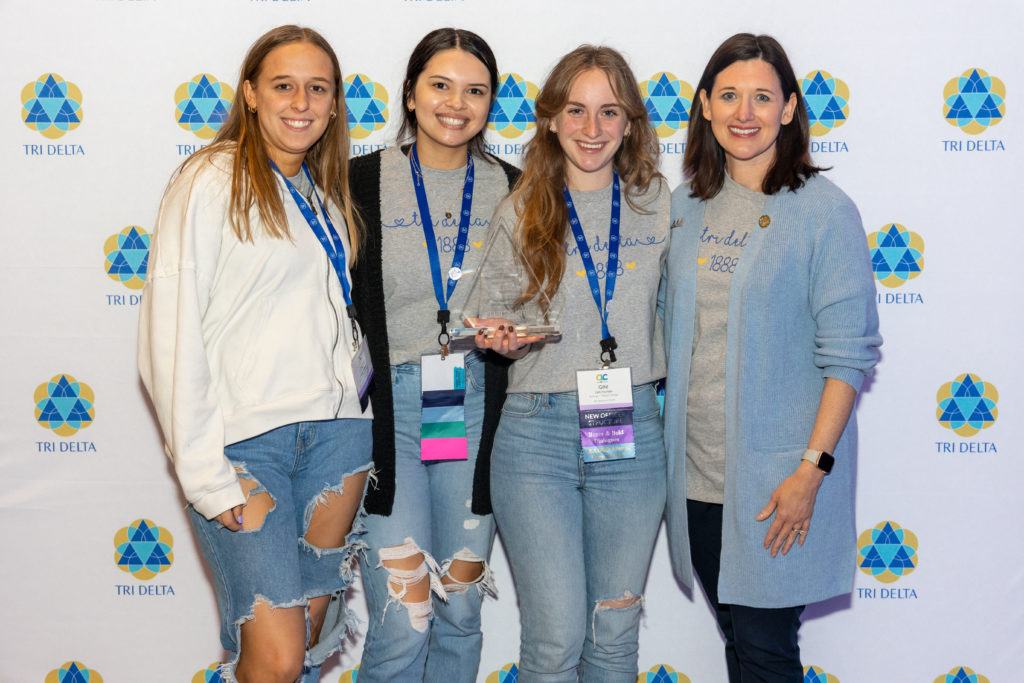 Theta Omega has supported other Greek organizations by giving small gifts and treat baskets to chapters during recruitment weeks, finals weeks, holidays and as they see fit throughout the semester. The chapter has paired up with other Sorority and Fraternity Life organizations for Rock Chalk Revue, contributing over 2,500 hours of community service and helping raise over $1.5 million for local charities.
Runner-up: Epsilon Phi – Temple University 
Excellence in Alumnae Connection 
Winner: Pi – University of California-Berkeley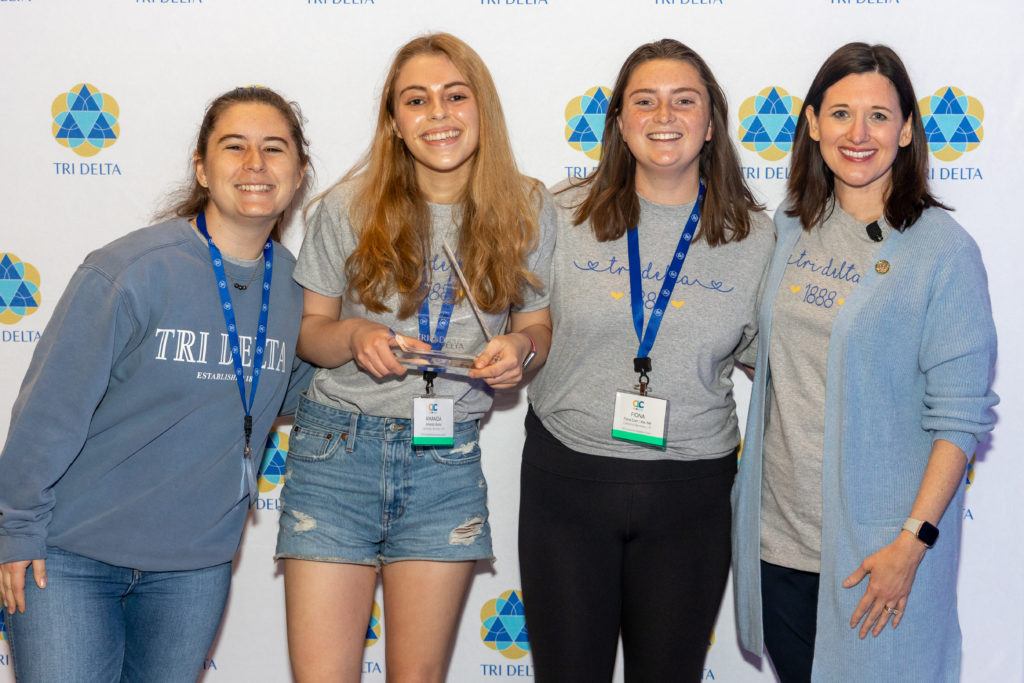 Though the pandemic has made in-person communication more difficult during the last year, Pi Chapter has countered those limitations with a renewed focus on alumnae communication and engagement. This involves more frequent check-ins with local alumnae chapters as well as inviting alumnae to all types of events. The chapter has also created relationships between alumnae and active members through their Pansy Pals pen-pal program, where local alumnae are paired with active members with similar interests.
Runner-up: Pi Upsilon – Oklahoma State University 
Excellence in Member Experience 
Winner: Gamma Xi – Furman University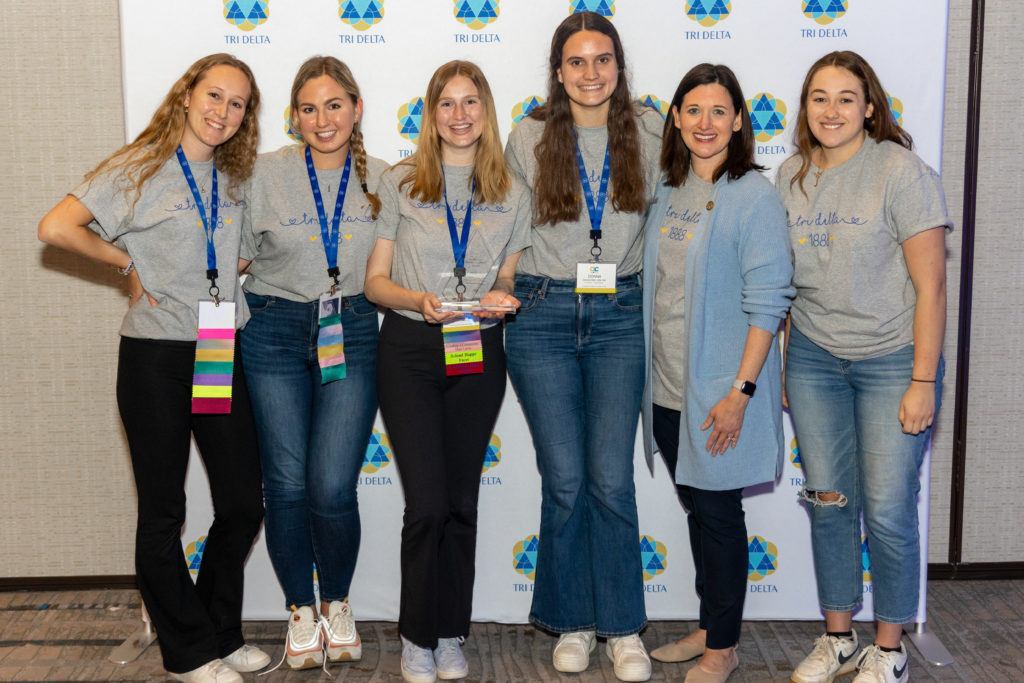 Gamma Xi Chapter makes overall risk reduction a priority in all activities. Their wellness committee has promoted wellness and positivity, leading an open chapter each semester and creating safe spaces and resources for the chapter to discuss healthy habits, workout ideas and more. They have also recently implemented new weekly activities after chapter meetings for optional mental health care. These 30-minute additional opportunities for wellness allow members to dedicate time to relaxing, releasing stress and enjoying time with other chapter members.
Runner-up: Phi Alpha – Toledo 
Excellence in Recruitment and Retention 
Winner: Zeta – University of Cincinnati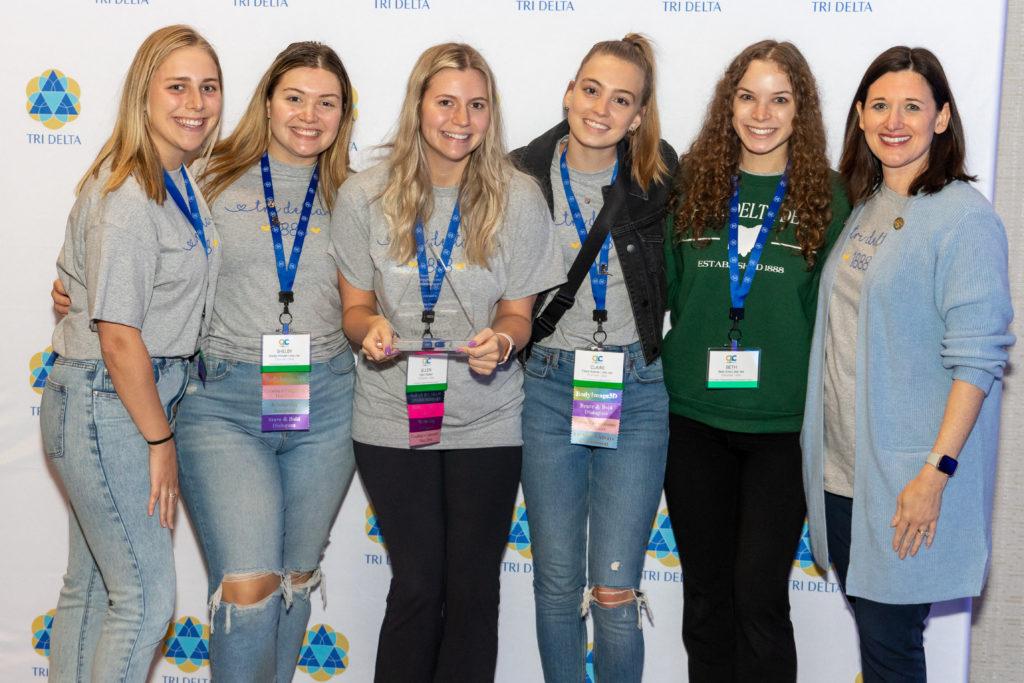 This year, Zeta Chapter experienced a recruitment unlike any other. With the introduction of hybrid recruitment (virtual or in-person options), their members faced many new challenges at once—but this didn't stop them from thriving throughout the recruitment process. The chapter utilized themes, an end-of-week celebration and reflections on their chapter's history to get members excited to live out Tri Delta's values, spend time together and reflect on their chapter's growth.
Runner-up: Mu – University of Wisconsin 
Excellence in Academic Programming 
Winner: Gamma Sigma – Colgate University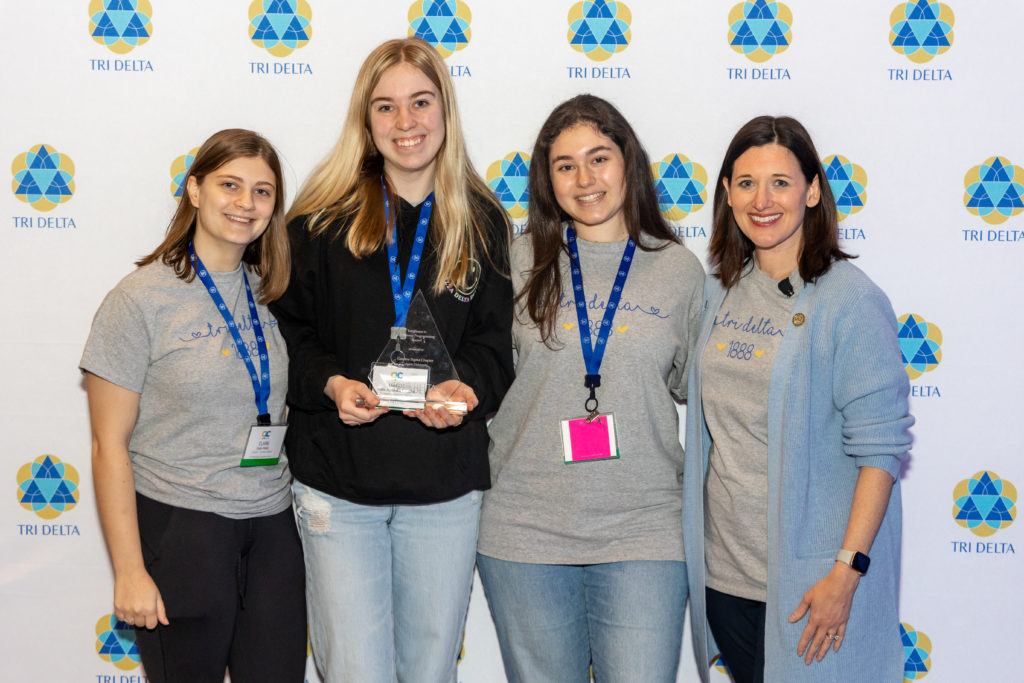 Gamma Sigma Chapter has promoted academic excellence by having chapter reward cups for members who had As or perfect attendance, recognition of members with 4.0 GPAs, and a modified faculty tea that included thank-you notes to faculty and small tea gifts. As a result of this focus on academics, Gamma Sigma Chapter has the highest sorority and Greek life GPA on campus and are above the average women's GPA!
Runner-up: Gamma Chi – University of Denver 
Excellence in Philanthropy 
Winner: Epsilon Mu – Creighton University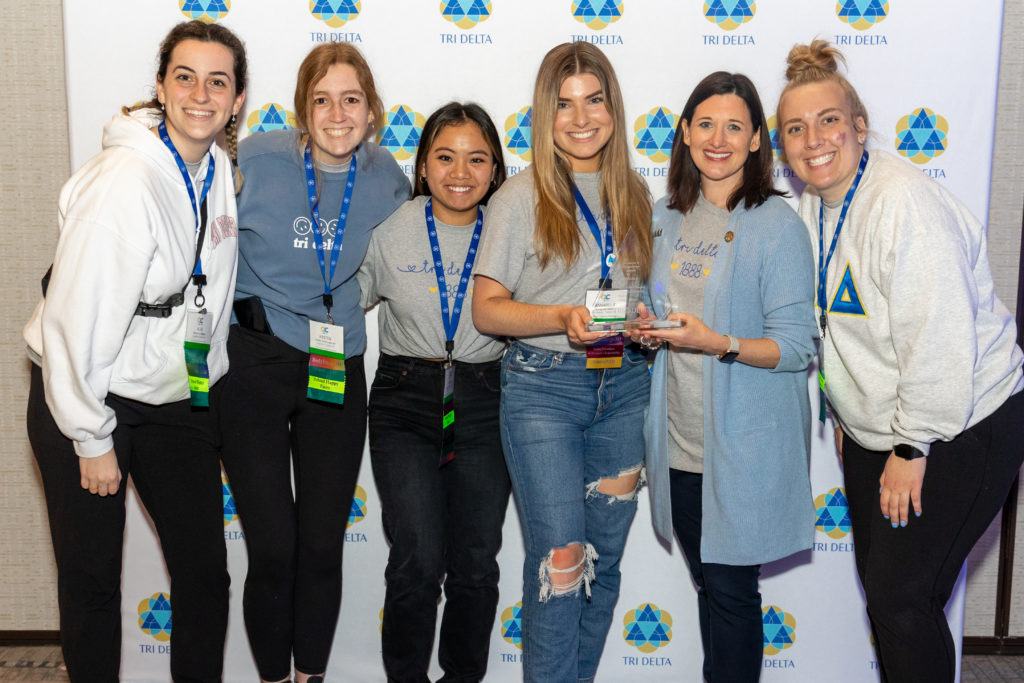 Last spring, Epsilon Mu Chapter participated in a virtual Sincerely Yours campaign for St. Jude. The chapter passed out the packets of 25 letters and envelopes to each member. Members were motivated to take the time to hand write personal letters, and, through this effort, they raised more than $20,000 for St. Jude! Other events included the Delta House of Pancakes (DHOP) at their local Children's Museum and Gabe's Goals, an online fundraiser for a young boy in treatment at St. Jude. They've also participated in events for Children's Miracle Network and service for the local Families in Action.
Runner-up: Gamma Alpha – Texas A&M University 
Excellence in Community Service 
Winner: Theta Omega – University of Kansas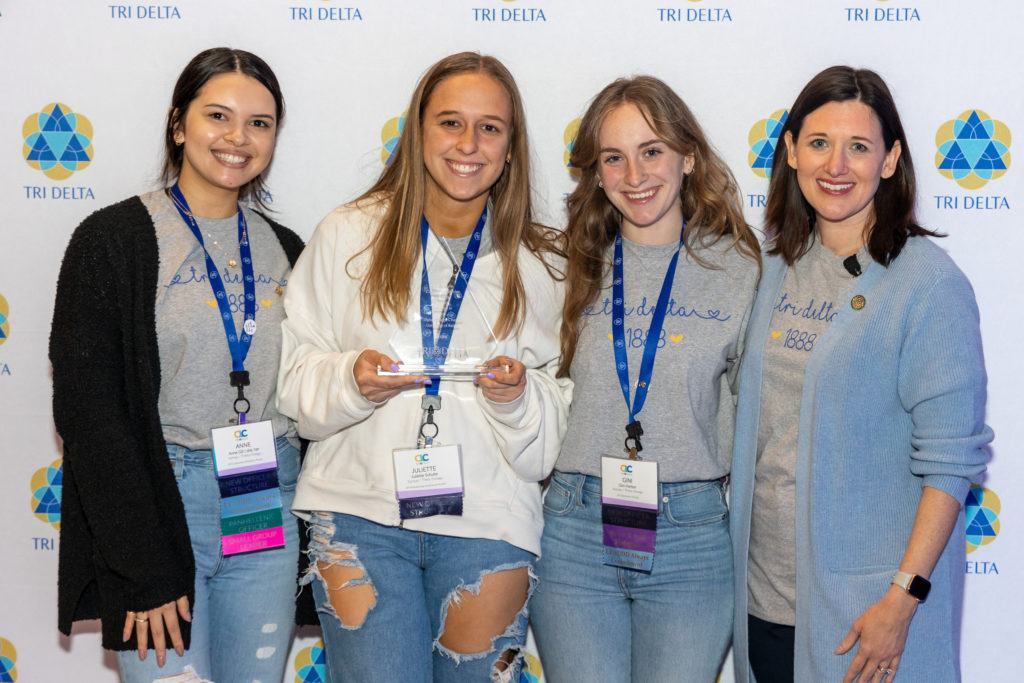 Theta Omega regularly holds community service events at the chapter facility, including packing emergency kits for the United Way. Most recently, they repainted a literacy trail in Douglas County. Due to COVID, the chapter has seen much more variety in the organizations their members are serving, furthering their reach in the community. Many women volunteer at hospitals, churches and teaching or helping students at the Boy and Girls Club.
Runner-up: Eta – University of Vermont